The Rockies Greatest – From A to Z
When your local teams are out of the playoffs and kick-off is still months away, the mind starts to wander.  Mine wandered to a routine afternoon game between the Colorado Rockies and the Chicago Cubs in which Nolan Arenado had his 15-game hitting streak snapped, despite the 3-1 Colorado victory.
Arenado is having another sensational year hitting .332 with 16 HRs and 54 RBIs.  With six straight Gold Gloves and over 200 career homers, I thought to myself, is Nolan Arenado the greatest Rockie of all- time?
To find out the answer I put it to my research department, meaning my laptop and the Starbucks barista that handed me my iced latte, then rummaged through hours of subjective statistics.  The unofficial results seemed to show that Arenado was not the greatest Rockie of all-time, but was the greatest Rockie whose last name begins with the letter A.
Which got me thinking…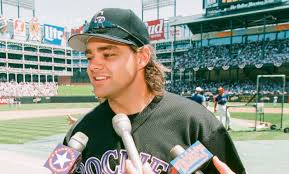 The late Don Baylor was a legend, Charlie Blackmon won a batting title, and Ellis Burks once hit .340 with 40 HRs, 45 doubles, 128 RBIs, while stealing 32 bases.  But the letter B goes to Dante Bichette and his signature mullet.  Bichette played seven years with the Rockies and lands in the top-five of most statistical categories, including second all-time in RBIs and third in average.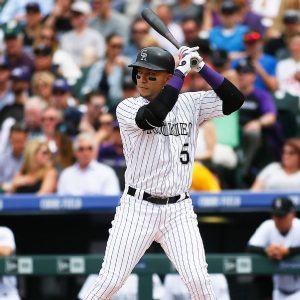 Vinnie Castilla, Jorge De La Rosa, Scott Elarton (who didn't do much for the Rockies, but the letter E is limited, and he went to high school in Lamar, Colorado), and Jeff Francis.
The letter G was tough.  Carlos Gonzalez or Andres Galarraga?  While wearing a Rockies uniform, Cargo tops Galarraga in pretty much every statistical category, which makes sense considering his 10-year stay with over 5000 plate appearances.  But despite only five seasons in purple, Galarraga's career stats morph Cargo's with 399 HRs and 1425 RBIs.  I've decided to give the letter G to Gonzalez based on loyalty to the team (and questionable long-term contracts that kept him here).
H is, and will always be for, Todd Helton.

The letter I goes to Chris Ianetta.  Not so much as a reward for his longevity with the team, willingness to platoon as a veteran catcher, or his lifetime .231 batting average.  But more for the fact that he is the only Colorado Rockie that has ever played a game with a last name that begins with the letter I.
Ubaldo Jiminez, Mike Kingery, and DJ LeMahieu.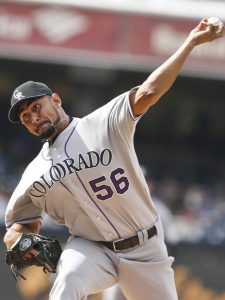 For the letter M, I'm going with Franklin Morales.  Morales pitched for Colorado for six years, compiling a record of 13-20 with an ERA of 5.10.  As a rookie, Morales relieved Jeff Francis in the 2007 World Series against the Boston Red Sox, allowed three homers, six hits, seven runs, and was called for a balk in just two-thirds of an inning.  Awful stats, but with apologies to Kazuo Matsui, any Rockies pitcher that makes it to a World Series gets the nod.
Juan Nicasio, Adam Ottavino (Although I was thinking of going with Ian Desmond for the letter O, because every time I look in the box score, he's gone 0 for 4), Neifi Perez, and Omar Quintanilla.
For the letter R, I'm going with Mark Reynolds.  But the 2017 version that hit 30 HRs and drove in 97 runs.  Not the current version that's hitting .178.
Trevor Story, Troy Tulowitzki, Juan Uribe, John Vander Wall, and the great Larry Walker.
For the letter X, it has to be Dale Murphy.  The (e)x– Colorado Rockie only played 26 games for the team as an aging 37-year-old, but he's a two-time MVP and the Atlanta Braves retired his number.
Eric Young, and finally, Todd Zeile.
Zeile hit 18 HRs with 87 RBIs back in 2002, which gave him a slight edge over former catcher, Greg Zaun, who never actually made an opening day roster, and was the only other Z name listed according to research.
An alphabetical list of greats that include Scott Elarton, Mike Kingery, and Omar Quintanilla.  Which means one of three things.  The Rockies need to make a run soon, I need some fresher ideas, or we all have to wait until September for the NFL to start.
Images via cbssports.com, newarena.com, espn.com, fantasylabs.com, usatoday.com, si.com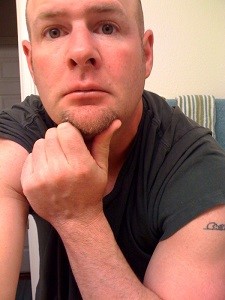 Alan Tapley is an educator, author, and blogger who has lived just outside of Boulder for the last twenty years.  His published work includes two novels, two children's books, a series of cartoons in the Minneapolis Star-Tribune, and multiple sports related articles. His love for family and the state of Colorado is only matched by one thing, his passion for sports.  The first baseball game he ever attended was at Wrigley Field, before there were lights.  At the final Bronco game at the old Mile High, he allegedly cut out a piece of his seat in the South stands.  But regardless of being here for the Avalanche's last Stanley Cup, the Rockies only World Series appearance, and all the Broncos' Super Bowl Victories, his wife never fails to remind him that he wasn't at the University of Colorado in 1990, like she was.  The year the Buffs football team won the National Championship.