The Restaurant to End All Food Decision Feuds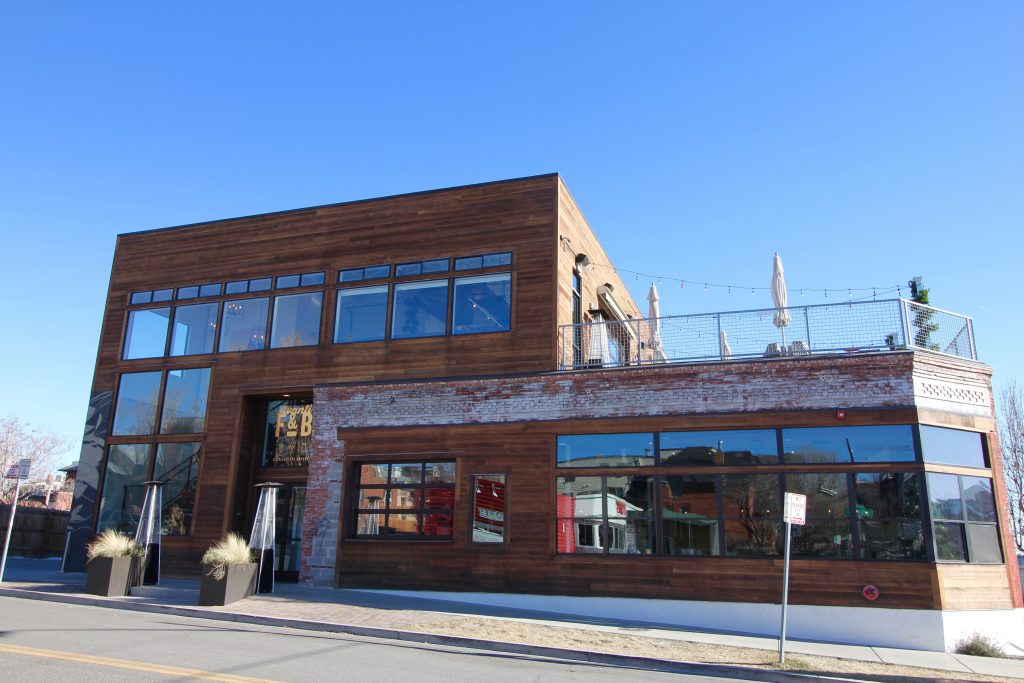 So you're out with a group of friends looking for somewhere to eat. Inevitably, you're going to run into the all-too-familiar problem of deciding exactly where to go. One person wants Asian, another wants Italian, you happen to hate both of those and just want a good burger…so where do you go? Instead of talking in circles for forty-five minutes, only to compromise on a place that leaves one person disappointed, I have the solution for you. Avanti Food and Beverage, located in the uniquely popular neighborhood of LoHi.
We walked to the corner of W 32nd Ave., and N Pecos St. to find ourselves looking at the outside of a beautiful wood restaurant with a spacious outdoor patio. Once inside, we were greeted by a friendly hostess who explained how everything worked. This wasn't a normal restaurant, it was actually a combination of seven different restaurants in one building. She explained that it was all self serve, and that each of the restaurants were contained in a decorated shipping container. Feeling super excited for what types of food awaited us around the corner, we set off on our food exploration.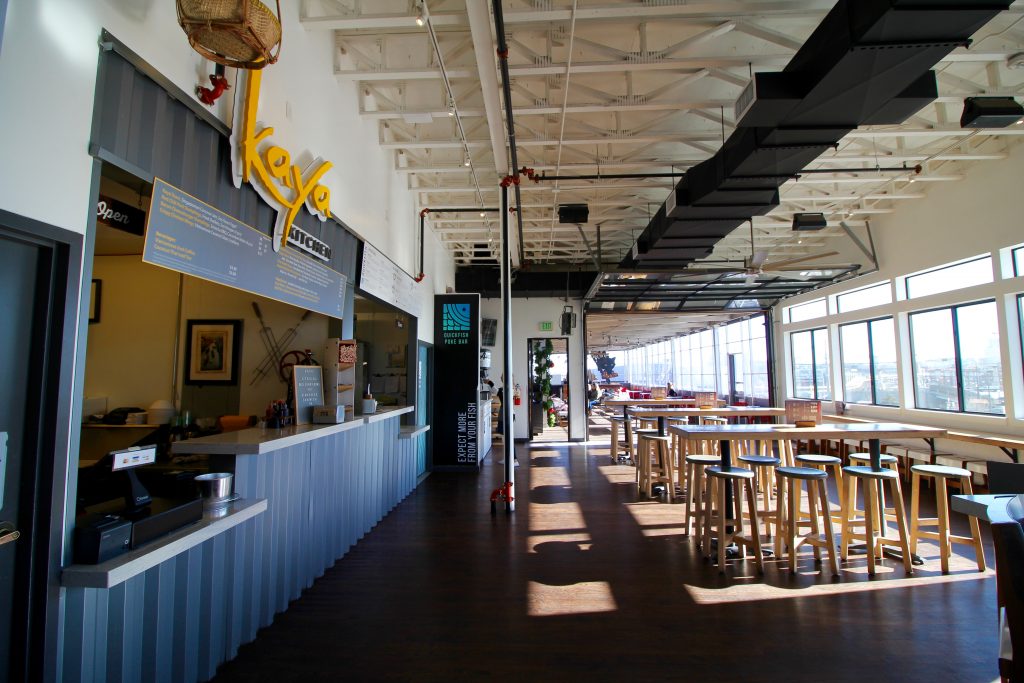 Immediately to our right was a huge bar stocked full of all kinds of alcohol you could imagine, along with tons of craft beer of course. As we walked further in, the room opened up to what I can only describe as an awesome upscale food court. There were tables and chairs in the middle of the room, with the restaurants lining the outside walls. The excitement started to build as I saw the variety of food that awaited. The five restaurants that were downstairs were as follows:
"American Grind": Drive-in style burgers and ice cream made from scratch
"Brava! Pizzeria Della Strada": Wood fired pizza with locally sourced ingredients
"The Regional": A variety of modern American food with a new style
"Chow Morso": Fresh Italian style street food
"Quiero Arepas": Traditional Venezuelan arepas
Once we saw all of the places downstairs, we decided to check out the other two restaurants upstairs. The upstairs was a similar layout, except there was a really neat outdoor patio with lights strung up above. The other two restaurants upstairs were as follows:
"Kaya Kitchen": Popular modern and traditional Asian street food
"Quickfish Poke Bar": Sustainable, economically sourced, and fresh poke bowls
After seeing so many mouth watering dishes being prepared, I finally made up my mind and opted for Brava!, the pizza place.
I ordered,
-"Fun Guy-Mushroom Pizza": Garlic infused olive oil, goat cheese, fresh mozzarella, oyster and button mushrooms, and truffle oil on top
My mom loves grits, so she headed for "The Regional", but she also wanted to try a veggie burger, so she went to "American Grind" as well.
She ordered,
-"Shrimp and Grits": Shrimp sautéed in butter with creole seasoning and hot sauce-served atop stone ground grits. Finished with celery leaves, green onions, and micro-greens. Gluten and nut free.
-"Veggieburg": Sweet potatoes, beets, carrots, chickpea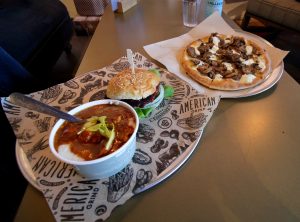 We took our food to a table with a couch and some cozy looking rocking chairs by a fireplace. I bit into the warm, soft crusted pizza, and was extremely surprised by how flavorful it was. The two cheeses were incredibly creamy and light, making for a perfect "sauce" to compliment the mushrooms. The mushrooms were soft and perfectly cooked, not chewy or rubbery at all. The oils in and on top of the pizza added just the right amount of extra flavor to bring it all together. Nothing overpowered anything else, and the cherry on top was definitely how delicious the crust was. It was slightly crunchy, not too thick, and tasted very fresh and warm. I wouldn't have changed anything about the pizza.
My mom really enjoyed her meal as well. She said the grits were nice and creamy, but found them to be a little too spicy. Luckily, a lot of the spice was on top, so she was able to
spoon some out. The veggie burger itself was really good, the ingredients were evenly mixed and it had a lot of flavor. We both agreed however, that it could have done with a more exciting bun.
Of course after the meal we had to pick a dessert since there were so many to choose from. I went back to "Brava!" for their tiramisu in a jar, and my mom opted for pistachio gelato at the Italian place, "Chow Morso".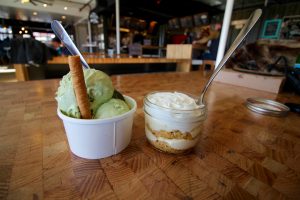 The tiramisu was very different than other ones I've had before. The whipped cream on top was very light, fluffy, and sweet. The cream portion was a little more wet, and the ladyfingers were more crumbly than I'm used to. Also, I like coffee flavor, but it was definitely very strong in this tiramisu. Overall, I thought it was okay, but my mom loved it. Gelato is definitely one of those desserts you need to get the consistency right for, and luckily, "Chow Morso" managed in a great way. It was super creamy and thick, and had a light enough flavor for me that it didn't taste overpowering. I'm not a big fan of pistachio gelato, but I liked it better than my tiramisu actually.
This type of restaurant is a great way to end family and friendship feuds, and to instead, bring everyone together in their differences of food opinions. So if you're looking for a place with a great atmosphere, relaxed and comfortable seating, and a delicious and endless selection of food, Avanti is definitely the place for you…just don't forget a large appetite.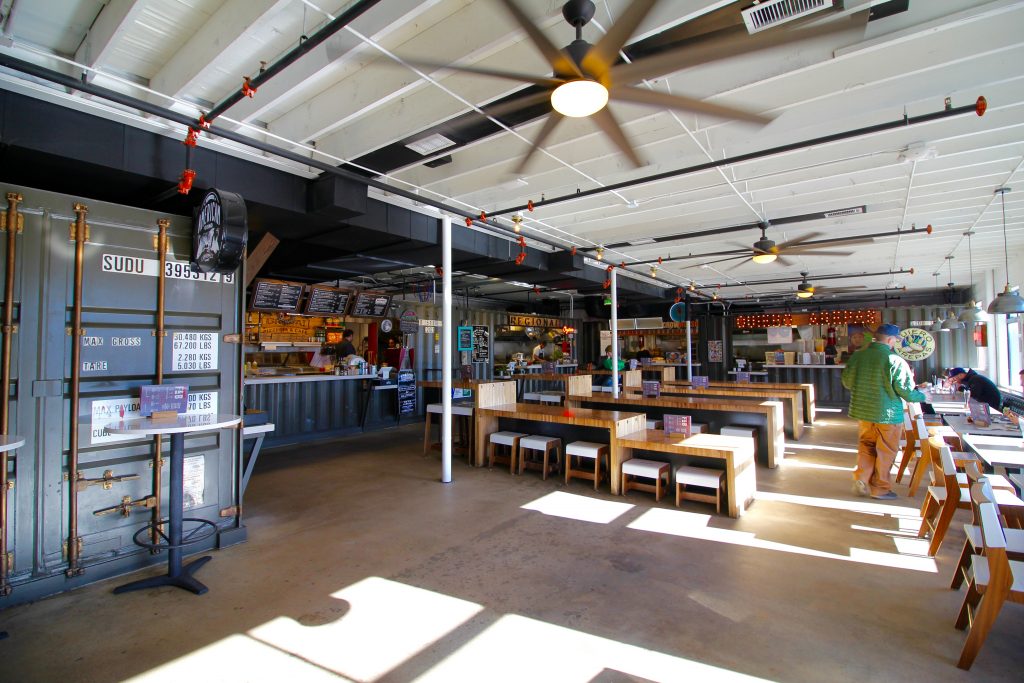 The Place: Avanti Food and Beverage
The Address: 3200 N Pecos St., Denver, CO 80211
The Goods: American, Italian, Regional, Venezuelan, Asian, and much, much more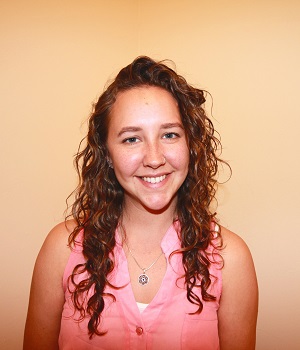 Alicia, a twenty-four year old East coast native, began her writing journey in elementary school with fictional short stories. Her love for writing about foreign people and places continued throughout the rest of her school days, but really began to take off once she graduated college. With a Philosophy degree under her belt, and an aching feeling of wanderlust, she packed up her life and headed off on a solo cross-country road trip. She drove to California where she spent her time blogging her experiences, taking pictures, and exploring the beautiful state by car. After five and a half months, she eventually ended in Colorado where she will continue her love for writing, travel, and grand adventures.