The Palette of Grief
The day my father died began the same way as any other day. The Earth turned, the sun came up. At the time, I was a hilariously mediocre college student, blissfully pissing away my higher education. That evening, my brother called. He told me that our father was struck down by a combination heart attack and asthma attack as he was on the way to the mailbox. Dead within seconds.
Within the seconds between my brother uttering the words, "Dad died," over the phone line, and my stammered response, the world shattered. The world was considerate enough to put itself back together again, only now it was jagged, its edges rubbing against me. I wanted everything to just stop for a moment so that I could deal with the loss. But the Earth turned, and the sun came up.
All of us have to process a death, usually more than one. Our loved one wastes away from Alzheimer's, is killed in an overseas battle, expires on the operating table. They leave behind emotional wreckage that we have to navigate. Like all emotions, the color palette of grief is wide and deep. The loss you feel of a beloved pet is no less profound than that of a sibling. The difference is in the shading. Kenneth Lonergan's newest film, Manchester by the Sea, is an examination of grief, one that is smart, profound, and often really funny.
We meet Lee (Casey Affleck), a janitor living in a crappy basement apartment in Quincy, Massachusetts. He handles the maintenance needs of four apartment buildings but keeps the inhabitants at arm's length. During the evenings, Lee drinks too much and picks fights with strangers. Once in a while, a woman might look at him a certain way. He doesn't make eye contact, speaks the bare minimum of words, and shuts down.
His brother Joe (Kyle Chandler) has a congenital heart defect and doesn't have much time. Joe is a fisherman in the coastal Massachusetts town of Manchester-by-the-sea. He's a man who's well-liked and well-respected, and his teenage son Patrick (Lucas Hedges) seems to be going places. It would all be perfect, if not for Joe's health issues, and the fact that his wife Elise (Gretchen Mol) is divorcing him and grappling with addiction.
Things get bad for Lee when he learns of Joe's abrupt death. He rushes home to make funeral arrangements and look after Patrick. Things get worse when he learns about a provision in Joe's will naming Lee as Patrick's guardian. Why would Joe assign such a manifestly unqualified person that responsibility? When the community isn't whispering about a massive tragedy that befell Lee some years ago, they are baffled by Joe's decision.
Lee is even more astonished, yet he tries to do his best out of loyalty to his brother. He spends a great deal of time as Patrick's chauffeur since the teen has high school, hockey practice, two girlfriends to juggle, and a truly terrible band to play in. Patrick excels at giving Lee agita by being a mouthy pain in the ass. Lee also hasn't been in touch with his ex-wife Randi (Michelle Williams) in years, but now he's back and can't help but run into her. That's the curse of a small town.
Manchester by the Sea is a small gem of a movie. We don't have characters saving the world or dramatically changing history. What we do have are three-dimensional characters living their lives and dealing with the end of a life. We also have a perceptive examination of grief and the different ways that it's experienced. Lee is intimately familiar with death. He responds by throwing up walls and engaging in self-destructive behavior. Patrick, on the other hand, has been expecting his father's death for a while. He deals with it by not dealing with it. Instead, he dives into hedonism and works really hard at losing his virginity.
This all probably sounds like a wildly depressing slog of a movie, right? I won't lie to you, there are scenes in Lonergan's screenplay that make this film one hell of a tough sit. There's a particular scene in the last third of the film involving a conversation between two characters, where the tension is just mercilessly cranked up, and the end result is shattering. Having said that, a stream of humor winds its way through the film. If you saw Kenneth Lonergan's first film, the excellent You Can Count on Me, you know that he's finely attuned into the absurdities of human behavior. A small moment where a group of emergency medical technicians battle with the legs of a gurney that won't lock into place nicely undercuts tragedy and transforms it into farce.
Lonergan not only excels at establishing finely calibrated moments but also working with his actors to provide performances that feel honest and authentic. As Patrick, Lucas Hedges is charming and witty, but we see his control over his emotions slip occasionally. It's a highly disciplined and precise performance that's among the best of the year. As usual, Michelle Williams continues to be one of the most talented and honest actors working today. She's only in a handful of scenes, but she's an absolute powerhouse. Even smaller roles, like Matthew Broderick as a blandly kind evangelical, feel honest.
I'm wondering if this is the film that's going to nab Casey Affleck an Academy Award for Best Actor. If you've been following his career, you know that he's been quietly creating a truly impressive filmography, with amazing performances in films like Gone Baby Gone and The Assassination of Jesse James by the Coward Robert Ford. Here, Affleck and Lonergan are too smart to waste time with a Sad White Guy movie. We get the sense that, even without the tragedies befalling him, Lee would still be a disaster. He's a masochist, and he wallows in physical and emotional pain as a response to guilt. Affleck doesn't show us his character with soaring Oscar bait speeches. Instead, we listen as his voice cracks in frustration while on the phone with the funeral home, and we see him with his hands jammed in his pockets and his eyes glued to the floor. He's just trying to get through it, and he's wondering when he's going to be used as God's cat toy again.
Most people go out of their way to avoid a film like this. I get it, I really do. Most people aren't keen on the idea of packing their beloved into the car on a Friday night to watch a meditation on death. Sometimes, though, with the right filmmaker, a heavy subject can be presented with compassion, intelligence, and more than a little humor. Manchester by the Sea is one of the best films of the year. It's cathartic, and it reminds us that even in the dark waters of grief, we're never truly alone.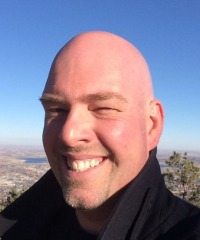 Tim has been alarmingly enthusiastic about movies ever since childhood. He grew up in Boulder and, foolishly, left Colorado to study Communications in Washington State. Making matters worse, he moved to Connecticut after meeting his too-good-for-him wife. Drawn by the Rockies and a mild climate, he triumphantly returned and settled down back in Boulder County. He's written numerous screenplays, loves hiking, and embarrassed himself in front of Samuel L. Jackson. True story.