The NBA All-Thanksgiving Team
In celebration of the Denver Nuggets hot start and with next week being Thanksgiving, I've decided to name my 2019 NBA All-Thanksgiving Team.  Apologies to Aaron, Justin (both on the Pacers), and Jrue Holiday (Pelicans), who were just too obvious to make the cut, but there's always next year.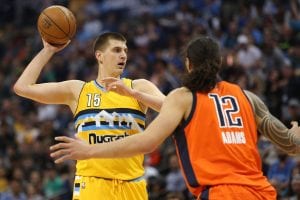 Nikola Jokic – Denver Nuggets The big man makes the All-Thanksgiving squad because he loves to dish, is lousy at stuffing, and often gets burnt on the defensive end.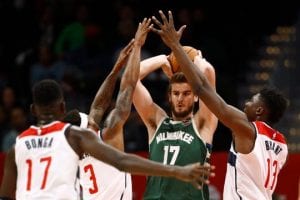 Dragan Bender – Milwaukee Bucks   I don't know about you, but every Thanksgiving I tend to go on a Bender, and for the rest of the weekend I'm Dragan.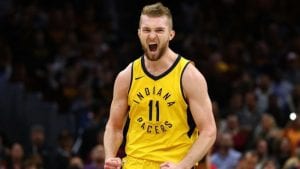 Domantas Sabonis – Indiana Pacers   After the turkey, stuffing, wine, and football…the pumpkin pie is just Sabonis.
Gordon Hayward – Boston Celtics   As in, "Hayward you pass me the sweet potatoes."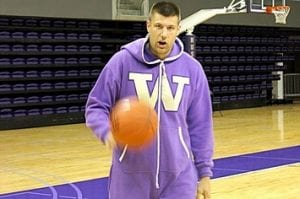 PJ Dozier – Denver Nuggets   Whether it's all that food, the wine, the carbs, or simply the tryptophan from all that turkey, but when I'm done with Thanksgiving all I want is to do is climb into my PJ's and take a little Dozier.
Mo Bamba – Orlando Magic   It's Thanksgiving!  I'll take mo turkey, mo stuffing, mo pie, and Mo Bamba.
I would have invited Dion Waiters and Jimmy Butler of the Miami Heat to make the team, but having Waiters and a Butler at your Thanksgiving is a little pretentious.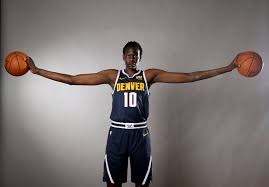 Bol Bol – Denver Nuggets   Makes sense to put him on the team because one Bol at Thanksgiving is usually not enough.
DeWayne Dedmon – Sacramento Kings   All I know is that if I arrive at my in-laws house for Thanksgiving and there isn't enough alcohol…someone is a Dedmon.
I was going to pick up the phone and invite Collin Sexton (Cleveland Cavaliers) to be part of the NBA-All-Thanksgiving Team.  But it's a little inappropriate for someone to be Sexton while at the dinner table.  And that sound of the kitchen timer going off made me think of Grandma's turkey, and the Chicago Bull's Kris Dunn.  Unfortunately, most years the turkey ends up being a little Cam Reddish (Atlanta Hawks).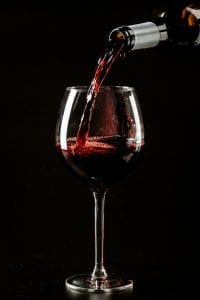 Kristaps Porzingis – Dallas Mavericks Pour the gravy, pour the wine, Por Z Ingis….but just keep pouring!
Allen Crabbe – Atlanta Hawks, Jeremy Lamb – Indiana Pacers, and Dwayne Bacon – Charlotte Hornets   For the non-traditionalist and those who understand that bacon works great at any occasion.
DeAndre Ayton – Phoenix Suns   The turkey was great, the stuffing to die for, those rolls were so flaky, and the wine was very nice.  I just shouldn't have Ayton that second piece of pie.
Hopefully, you're not too disappointed with a Thanksgiving-themed blog filled with poor joke writing and silly puns, quickly put together in order to meet a deadline before jumping on a plane to see relatives.  Otherwise, you're probably not going to be thrilled with my Christmas edition that includes Nerlans Noel (Oklahoma City Thunder), DeMarre Carroll (Brooklyn Nets), and the return of former Denver Nugget, Darvin Ham.  Apologies to those who lean more towards Brooklyn Nets Small Forward, Garrett Temple.
Images via facebook.com, denverstiffs.com, milwaukeejournalsentinel.com, yahoosports.com, buzzfeed.com, sportsyahoo.com, freepik.com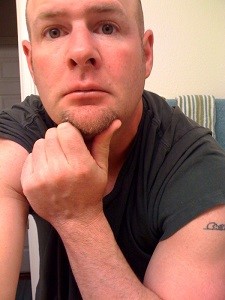 Alan Tapley is an educator, author, and blogger who has lived just outside of Boulder for the last twenty years.  His published work includes two novels, two children's books, a series of cartoons in the Minneapolis Star-Tribune, and multiple sports related articles. His love for family and the state of Colorado is only matched by one thing, his passion for sports.  The first baseball game he ever attended was at Wrigley Field, before there were lights.  At the final Bronco game at the old Mile High, he allegedly cut out a piece of his seat in the South stands.  But regardless of being here for the Avalanche's last Stanley Cup, the Rockies only World Series appearance, and all the Broncos' Super Bowl Victories, his wife never fails to remind him that he wasn't at the University of Colorado in 1990, like she was.  The year the Buffs football team won the National Championship.