Synesthetic Ciphers at Walker Fine Art
Walker Fine Art is one of Denver's premier contemporary galleries. The lofty venue hosts rotating group and solo shows from exceptional regional and national artists. Their exhibitions showcase the latest trends in a variety of media including painting, sculpture, photography and installation. Currently on display is a group show called Synesthetic Ciphers, featuring six exciting member artists.
We have an innate drive to attribute meaning to patterns and symbols. The artists in this series challenge and deconstruct traditional modes of language to discover new meanings behind written word. They question if artwork derived from transcription is tangible, or strictly metaphoric. By breaking traditional language down into simple mark-making, Synesthetic Ciphers encourages audiences to rethink the role of language altogether.
Deidre Adams is a Denver based artist working with a wide variety of mixed media. Using paint, textiles, paper, found objects, and photography, she creates abstract works exploring color, shape, and texture, as well as themes like transformation and the effects of time. Her latest series focuses on mass media messaging, and discourse in our current society. In response to the overwhelming cascade of daily news and social media response, she sees her traditional mark-making practices as a restorative countermeasure. Her works incorporate a sort of quasi-language, derived from the written characters of a number of languages.
Bonny Lhotka is a painter, printmaker, author, and inventor who sees painting and printmaking as more than just visual art forms. Her works combine traditional painting and printmaking techniques with the latest digital technology.  In her latest series, she has re-invented her style, viewing her work from a new perspective, and experimenting with different ways to express her creativity. These pieces depict elements of nature and are done with embossed pigments on aluminum and acrylic panels.
Doug Haeussner is a local mixed media artist. His works include deconstructed photographs, oil paintings, and prints. Regardless of his chosen medium, Haeussner likes to isolate minute details and re-frame them in a different context. His selected works are large scale collages, made from vintage record jackets, articles from iconic magazines and oil paints. They explore ideas of media narratives, repurposed headlines, and manipulation of language.
Sammy Lee is an interdisciplinary artist and founder of Studio SMLK. She specializes in sculptures and installations, often using a paper-based technique called joomchi. Her latest installation features a Baoli structure, accompanied by her signature paper castings of lotus leaves and text. Shaped like an inverted pyramid, a Baoli is an Indian stepwell used to draw water and cool down. Beyond pure utility, Baolis are a meeting place for the community, fostering conversations and the exchange of ideas. At the center of this installation, a table marked with an ancient language called Devanagari reflects the potential outcomes of social interactions held here. As the Baoli acts as a vessel to contain communal connections, the Devanagari is the medium that retains the content of its conversations.
Blair Vaughn-Gruler's style revolves around the process of mark-making, repetition, accumulation, erasure and the viscosity of paint itself. As the mark-making is deconstructed into lines, language is referenced, but the significance remains ambiguous. Meanings emerge only to gradually disappear back into the background. Vaughn-Gruler's work speaks to information overload, organizing and compartmentalizing, and making sense of chaos through visual linguistics.
Also featured are works from the late Roland Bernier. For more than 50 years he sought to expand boundaries, creating conceptual art far ahead of his time. Some of his most famous works featured letters, words, and phrases taken out of context. Many try to find meaning in his word choice, but he often chose them at random from the dictionary, or picked words based on their visual characteristics more than their actual meaning. Bernier passed in 2015, but his brilliance lives on through his work.
Synesthetic Ciphers will be on display from Friday, January 10th thru Saturday, February 29th. The gallery will also host artist talks featuring all of the contributing artists on January 31st, from 6-8 pm. Walker Fine Art is located at 300 W. 11th Avenue in Denver. Hours are Tuesday-Saturday, 11-5 pm.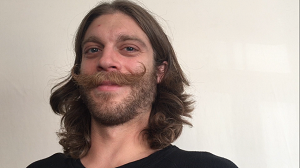 Jared is a local content contributor and aspiring author. He was fortunate enough to grow up in Golden, Colorado and graduated from MSU Denver. While an insatiable love of travel lures him all over the world, his roots remain firmly planted here. He enjoys writing short stories, poetry, children's books, societal observations, and everything else. A nature enthusiast and sunshine connoisseur, Jared is perfectly at home on any mountaintop or patio. He frequents art galleries and concerts, poetry readings and breweries, museums and bookstores. When he isn't making neighbors cringe at his musical attempts he can be found on a snowboard or sailboat, depending on the day. A perpetual adventurer and eternal patron of the road less traveled.