Street Artist Abram Aleo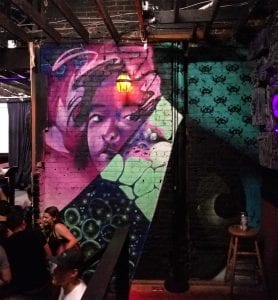 I feel like it goes without saying that Denver has one of the most rapidly expanding art scenes in the country. We live in an artistic oasis, smack dab in between Chicago and Santa Fe, with entire districts dedicated to galleries. I recently had the pleasure of talking to one of Denver's many prolific artists, Abram Aleo, about his work and some of the trends blossoming out of alleyways and gallery windows all over the city.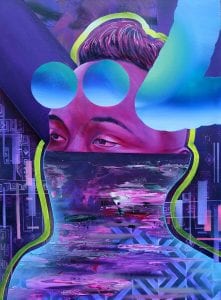 Aleo is a self-taught visual artist, with a broad skill set and seemingly infinite creativity. He specializes in acrylic paintings and large-scale murals. These two disciplines have developed a symbiotic relationship for him. Paintings done in the studio are planned and perfected in a controlled environment with no audience or time constraints. Murals, on the other hand, can be unpredictable. The space is typically public and exposed to the elements. Corrections are time consuming and expensive. Going from a studio setting to painting a mural is like going from a climbing gym to an actual rock face. That being said, he prefers to approach them intuitively. Whenever possible, he likes to freehand his murals, using little more than some spray cans and rough sketches.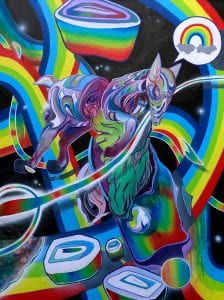 We spoke at length about the evolution of art and the progression of tools, mediums, and ideas. He said that artists have always used the latest technology available to expand their creative abilities. Whether it's the invention of a new kind of paintbrush or digital editing techniques, they're just steps in the evolutionary process. Aleo often uses Photoshop to help design his large-scale works. He still paints them by hand, however, using acrylic paint to capture the look and feel of digital images with traditional methodology. His style bridges the gap between digital and analog.
Aleo has always been interested in anime and discovered a love of drawing at a young age. He later progressed to painting and gravitated towards street art. He was drawn to artists like Banksy and Shepard Fairey, who were not only talented, but also had a message and used their art as a platform to broadcast their ideas. He was also intrigued by the inherently larger, more diverse audience involved in street art. Paintings in a gallery are confined in a building and separated from the general public. You have to actually put in effort to see them. Murals on the sides of buildings are for the general, often unsuspecting public. They offer a moment of beauty in a monotonous commute; a splash of color in an otherwise drab cityscape.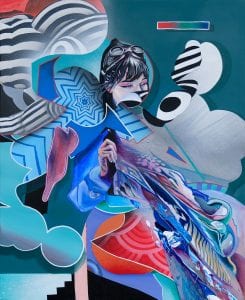 It's always interesting to hear about an artist's influences and inspirations. It sheds some light on the creative process behind the work. Aleo draws influence from people like James Jean, Erik Jones, the muralist Curiot, street artist and illustrator Smithe One, and Denver painter Jake Amason. He says the progression of an artist's career is different than an athlete's. They don't necessarily peak in their youth—their style continuously develops. Some of his favorite artists are in their 40s and still coming out with new ideas.
If you want to see Aleo's work for yourself, he has quite a few events coming up. This weekend he'll be up in Fort Collins working with the Fort Collins Mural Project. He's part of a group show at Mirus, premiering August 6th. That show is called Psychonaut and is curated by Paul Hemming. He'll be doing some live painting sessions at Arise Music Festival on August 2nd. Beginning on August 17th, his work is showing at the Threyda Gallery on Santa Fe, and in September he's collaborating on a mural with Chicago artist Natalie Shugailo. You can see much more of his work at www.aleoart.com.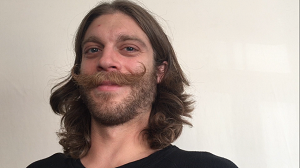 Jared is a local content contributor and aspiring author. He was fortunate enough to grow up in Golden, Colorado and graduated from MSU Denver. While an insatiable love of travel lures him all over the world, his roots remain firmly planted here. He enjoys writing short stories, poetry, children's books, societal observations, and everything else. A nature enthusiast and sunshine connoisseur, Jared is perfectly at home on any mountaintop or patio. He frequents art galleries and concerts, poetry readings and breweries, museums and bookstores. When he isn't making neighbors cringe at his musical attempts he can be found on a snowboard or sailboat, depending on the day. A perpetual adventurer and eternal patron of the road less traveled.