"Stickwork" at Chatfield Farms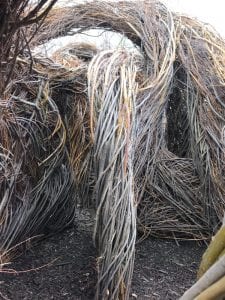 The Denver Botanic Gardens is one of the city's most popular attractions, and for good reason. It holds thousands of regional species as well as exotic plants that can't be seen anywhere else (like Stinky, the corpse flower). It's known not just for the flora, but for art installations as well. Who could forget Dale Chihuly's intricate glassworks, or Alexander Calder's surreal sculptures? The installations chosen complement the natural beauty of the gardens without stealing the show. They have so much to offer that it can't all be contained in one place. The easiest solution was to open another, bigger location, called Chatfield Farms.
Chatfield Farms is an enormous native plant refuge in Littleton. Their 700 acres of space runs along Deer Creek, and is home to a variety of wildlife. Spring is a fantastic time to visit the gardens. There are fields of lavender, wildflowers, all kinds of herbs, cherry and plum orchards, and a dye garden where they grow plants used to make natural dyes. There's also a butterfly house where visitors can see hundreds of native butterflies. They put on tons of family friendly events like a corn maze and a pumpkin patch in the fall. Most of the food grown there supplies local farm stands in places that have limited access to fresh vegetables. If all of that isn't enough to peak your interest, they recently unveiled a new art installation from world-renowned artist, Patrick Dougherty.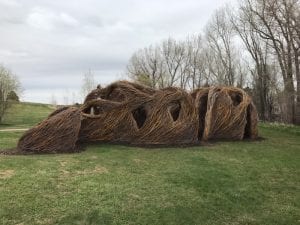 Patrick Dougherty is an installation artist from North Carolina specializing in natural construction methods. Over the last three decades he's built hundreds of site-specific sculptures. He holds degrees from the University of North Carolina and the University of Iowa. His works have been commissioned by venues nationwide and globally, including the U.S. Embassy in Belgrade, the Atelier 340 Museum in Brussels, the Jardin des Arts in France, and Deokpyeong Ecoland in Seoul.
Dougherty's latest project for the Denver Botanic Garden was built using his signature natural construction techniques. Dubbed, "Stickwork," the giant maze-like sculpture sits on a grassy knoll between the Visitors Center and the Deer Creek Stables. It's made entirely from willow and chokecherry saplings, sustainably harvested from local farms. This is an interactive installation, and visitors can wander through the tangled passages and woven atriums. The structure took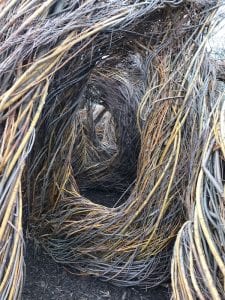 Dougherty, working with a team of volunteers and staff, about three weeks to complete.
Dougherty's natural architecture is perfectly suited for Chatfield Farms. This semi-permanent addition will degrade and unravel over time, but similar installations have remained intact for years. Despite the indecisive weather, spring is indeed here, and everything is just about to burst into bloom. It's a great time to get out and enjoy some of the outdoor activities that everyone moves here for. Chatfield Farms is located at 8500 Deer Creek Canyon Rd. in Littleton. Hours are 9-5 daily and admission is $5 per car. For more details, including information about memberships and donating, visit www.botanicgardens.org/chatfield-farms.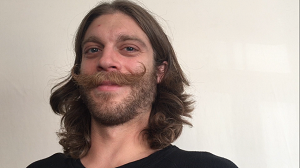 Jared is a local content contributor and aspiring author. He was fortunate enough to grow up in Golden, Colorado and graduated from MSU Denver. While an insatiable love of travel lures him all over the world, his roots remain firmly planted here. He enjoys writing short stories, poetry, children's books, societal observations, and everything else. A nature enthusiast and sunshine connoisseur, Jared is perfectly at home on any mountaintop or patio. He frequents art galleries and concerts, poetry readings and breweries, museums and bookstores. When he isn't making neighbors cringe at his musical attempts he can be found on a snowboard or sailboat, depending on the day. A perpetual adventurer and eternal patron of the road less traveled.