Steve Atwater and the Art of the Jersey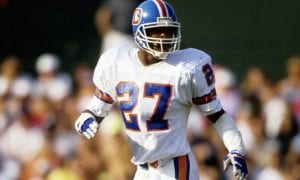 The year was 1996 and my first as a Denver Broncos season ticket holder.  The seats were located in the south stands at the old Mile High Stadium, where thousands of us sandwiched ourselves on the cold, uncomfortable benches of yesteryear.  The south stands lacked arm rests, seat backs, cup holders, and the appropriate amount of restrooms, but the seats were a mere $20 a piece and with little-to-no need for security at that time, we could bring in as much blankets, beer, and food as we wanted.  Life was good, as was the team.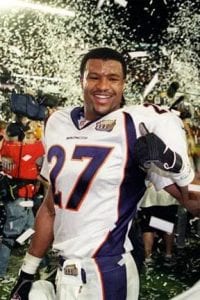 The first order of operations was to purchase a jersey to wear proudly each Sunday, and with players like John Elway, Shannon Sharpe, and Terrell Davis on the roster, the task would be difficult.
My wife would quickly decide on the jersey of number 91, Defensive End, Alfred Williams.  Her logic was simple: Williams was a former first-round pick out of the University of Colorado, her alma mater, and that was good enough for her.  My decision would take more time.
During that time period the stadium was filled with Elway jerseys as far as eye could see, but I was looking for something that stood out in the crowd.  I ended up with number 27, and the legendary Steve Atwater.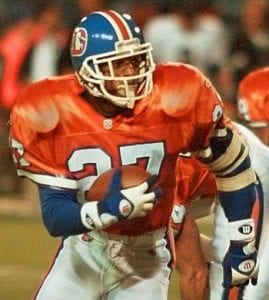 The jersey was perfect.  Atwater was going into his 8th year as the team's starting safety, an All-Pro six years in-a-row, and beloved by everyone who bled orange and blue.  At 6'3", 218 lbs., Atwater had the speed to help in coverage, the brains to jump a route, and the size to destroy any receiver willing to test the middle of the field.  Atwater represented the tough, smart, physical player that I wanted to be…if I wasn't busy eating nachos in the stands.
Wearing my 27 jersey, Denver went on to win sixteen games in-a-row in which I attended, took their first Super Bowl win with a thriller against the Packers, and followed that up with another Super Bowl victory over Atlanta one year later.  Despite the beer spills, food stains, and obvious fading due to the occasional wash on the gentle cycle, my Atwater jersey couldn't be stopped.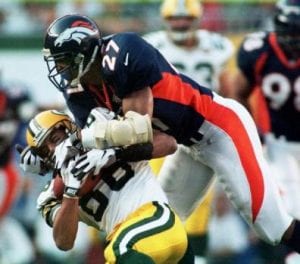 A few years later things had changed.  Elway had retired and Atwater would play his 11th and final season, not with the Broncos, but with the New York Jets.  Our jerseys changed too.
Alfred Williams retired, so my wife would trade in her jersey for Defensive End Neil Smith and his number 90, and then switch to Linebacker Al Wilson's 56 jersey when Smith left for San Diego.  I would hang up my number 27 and replace it with Denver's top young Linebacker, John Mobley and his number 51.  Denver stopped winning and our jerseys kept becoming obsolete.  Mobley and Wilson both retired before the age of 30 due to injuries.
Ticket prices soared in the new stadium, kids took priority, the team kept fluttering, and my Atwater jersey found a home in the far corner of my closet.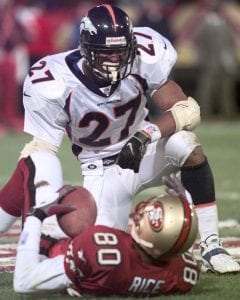 Things got so bad that for Christmas of 2010 my family jokingly bought me a Tim Tebow jersey.  There was never a question about Tebow's character, leadership qualities, or popularity.  But there was plenty of questions about his quarterback ability. I wore the jersey for two playoff games.  Tebow would be out of the league two years later.
That's when I decided to take my Atwater jersey out of retirement permanently.  Old number 27 has made it through last second playoff losses to Baltimore, embarrassing defeats to the Seahawks, and Super Bowl parties versus Carolina.  The numbers are fading, the lettering is rough, and based on the Broncos lately, the jersey seems to be losing some of its magic. Or so I thought.
Last week, Atwater was elected to the 2020 class of the National Football League's Hall-of-Fame.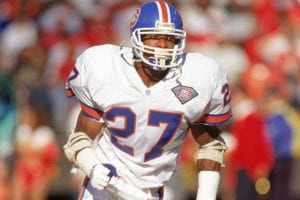 After attending a recent game with a friend, my wife returned home to show me the new jersey she had purchased.  Phillip Lindsay, number 30, Aurora native and former running back for the University of Colorado.  Her alma mater.
As for me.  I have a Hall-of-Fame, Ring-of-Fame, Atwater 27 jersey that is hanging on by a thread, and only to be washed when absolutely necessary.  I'm good.
Images via gameusedforum.com, thecoloradoan.com, denverpost.com, coloradospringsgazette.com, bleacherreport.com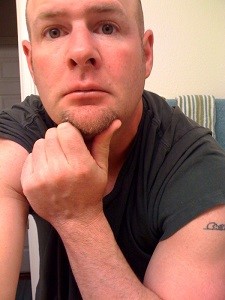 Alan Tapley is an educator, author, and blogger who has lived just outside of Boulder for the last twenty years.  His published work includes two novels, two children's books, a series of cartoons in the Minneapolis Star-Tribune, and multiple sports related articles. His love for family and the state of Colorado is only matched by one thing, his passion for sports.  The first baseball game he ever attended was at Wrigley Field, before there were lights.  At the final Bronco game at the old Mile High, he allegedly cut out a piece of his seat in the South stands.  But regardless of being here for the Avalanche's last Stanley Cup, the Rockies only World Series appearance, and all the Broncos' Super Bowl Victories, his wife never fails to remind him that he wasn't at the University of Colorado in 1990, like she was.  The year the Buffs football team won the National Championship.