Start Your Morning by Hitting Snooze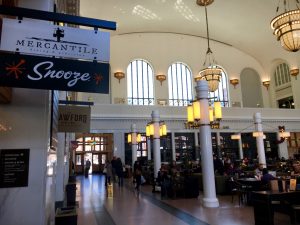 So, you're on your way to catch a train, and absolutely starving. You're not fond of the slap-dash bagel places or the egg sandwiches you can buy at the kiosk in the train stations, so you don't know what to do. You turn around and there it is, staring you in the face. Snooze the restaurant. You walk up to it and are immediately energized from the atmosphere. You sit down in the packed breakfast eatery, stare at the mouth, watering menu, and live happily ever after.
Although Snooze has multiple locations throughout Colorado, California, Arizona, and Texas, I happened upon their location in Union Station in Denver. I had been in Union Station before, and noticed there were a couple of cafes and small restaurants, but I didn't know there was this restaurant called Snooze I had been hearing so much about. I walked in, and was greeted by an energetic host who told me it was a thirty minute wait, but I was more than welcome to sit at the bar. I opted for the bar of course, since I was starving. But, a thirty-minute wait for a restaurant at a train station meant it must be good. I sat down and looked over the menu at all of the different breakfast options. There were all kinds of options from the extensive list of egg dishes, to pancakes, to french toast, to sandwiches, to even a breakfast pot pie. It was a tough decision, but seeing what the girl next to me had that looked delicious, I had to go for the breakfast tacos.
I ordered:
Juan's Breakfast Tacos: Three fresh corn or flour tortillas topped with scrambled eggs, shredded hash browns, jack cheese, green chili hollandaise, and pico de gallo.
I added spinach, mushrooms, and red peppers.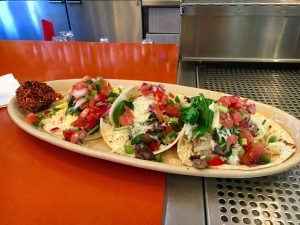 The three huge, fully stuffed tacos arrived, and I couldn't wait to dig in. I picked one up, and took my first bite of deliciousness. I didn't really read what was in them before I ordered because they looked so good, so I was pleasantly surprised to find the hash browns, which were perfectly crispy. The scrambled eggs were nicely done, and of course paired perfectly with the jack cheese. The fresh veggies and the pico de gallo spiced it up a bit, while the green chili hollandaise added a much needed liquid component to balance out the thick hash browns and eggs. It was hard to tell everything apart because it all went so well together, but it was everything that I had imagined it would be. Breakfast tacos at their finest.
Snooze definitely exceeded my expectations, but even more impressive was that this location was in a train station. It's a very fitting place for the philosophy of the restaurant, which is all about starting a journey by celebrating each day. The way they give back to the community and the Earth through service and sustainability makes it even harder not to love and celebrate this place.
The Place: Snooze an AM Eatery
The Locations:
Denver:
Union Station
Denver Ballpark
7th and Colorado
Centennial
Boulder
Ft. Collins
Lone Tree
Westminster
The Goods: Vast array of breakfast and lunch options, cafe alcoholic/non-alcoholic beverages, goodness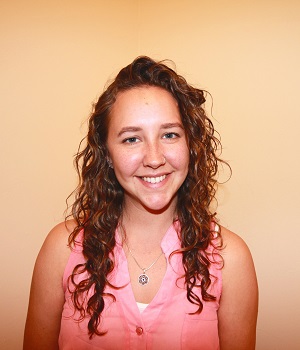 Alicia, a twenty-four year old East coast native, began her writing journey in elementary school with fictional short stories. Her love for writing about foreign people and places continued throughout the rest of her school days, but really began to take off once she graduated college. With a Philosophy degree under her belt, and an aching feeling of wanderlust, she packed up her life and headed off on a solo cross-country road trip. She drove to California where she spent her time blogging her experiences, taking pictures, and exploring the beautiful state by car. After five and a half months, she eventually ended in Colorado where she will continue her love for writing, travel, and grand adventures.