Sparrow Hawk Knives and Kitchen Utensils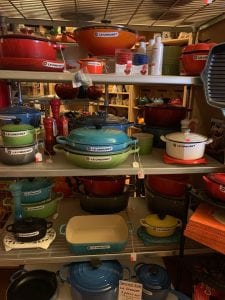 Any local cooks are all too familiar with where to buy good kitchen utensils like kitchen knives, measuring devices, whetstones; you name it, any slew of kitchen professionals will mention one or two local shops that'll give you what you are looking for, such as Sparrow Hawk. First founded in 1979, Sparrow Hawk, a local family-oriented cookware shop owned and operated by Sam and Allen Eppley, focuses on providing quality kitchen products at, or even below, market cost value. Sam and Allen even bring in custom made kitchen knives from companies such as Mattia Borrani, the pioneer of America's first culinary blade shape, Promethean Knives. When approached, a few of our local culinary professionals were all too happy to comment on the shop.
"I love Sparrow Hawk! Hands down one of my favorite shops in Downtown Colorado Springs. When I purchased my knife kit there everyone was super helpful and knowledgeable about their products, and since I was working on a tight budget, they helped steer me to their sale items while still keeping my needs in mind. Even if I just stopped in to browse what they have in stock, they're always really friendly and helpful, and Allen is a sweetheart, says Caitlin Knight. Knight has been focusing her efforts to get her food truck up and running and has shopped at Sparrow Hawk on multiple occasions.
Harrison Rieping, who was so kind as to comment for our last article "I'll Have A Corona… Virus" gave us his first impressions as he has only stopped in to take a look at Sparrow Hawk one time to date: "I would say the shop itself is pretty inviting. Allen makes you feel welcome whether you know what you are looking for or have no clue at all. He can help any skill level, home cook or professional alike. You can't even start to cook without the equipment, so for him to give a lot of people a good foundation is pretty important to the expansion of the culinary industry. If anyone is afraid of not knowing what they need or where to start, I'd recommend Sparrow Hawk, and you'll feel right at home."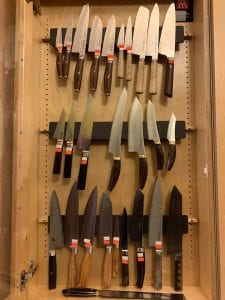 It is important to actually go out and feel these products yourself instead of going online to order it, you never know if it'll feel just right in your hand, or whether it hits all the wrong points. This is why shops like Sparrow Hawk are so important—they give you the opportunity to really educate yourself on the products you are looking for alongside knowledgeable staff who really want to help you make the right decision.
Allen Eppley, owner of Sparrow Hawk, said, "In general, anyone looking at the kitchen side of things, I assume that anyone who comes in is looking for better quality. Obviously, we, also, have things like funny mugs, and towels, for the casual browser. On everything we carry we are very competitive with online pricing, whether it's knives, or cookware, or even dinnerware. But everything we carry is in general better quality, and not going to be cheap. It will also be genuine, which is not always the case online."
Speaking of online shopping, Allan said that the current crisis is still allowing for sales. "Right now, people are free to call us and place orders, and we will run it out to your car!"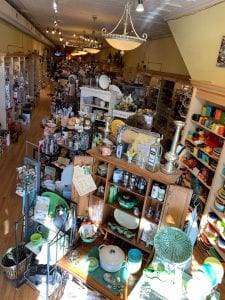 Considering that we have all been affected by the spread of the coronavirus, it is apparent how so many small businesses are trying to adapt to the changes in current society and how to stay alive. As stated in my previous article, it is apparent that we all must work together to make it through this pandemic to better help society as a whole; this goes back to purchasing gift cards, shopping small businesses however possible, ordering caterings or to go items from local restaurants, the list is endless much like the imagination. I would like to thank Mister Allen Eppley of Sparrow Hawk, and our local professionals, for contributing to this piece. Stay safe, everyone.
Social Media: Instagram- @caileananderson
Facebook- Cailean Anderson
E-Mail- cailean_anderson@protonmail.com
Notes: If you have any comments or concerns regarding my material, please, feel free to contact me!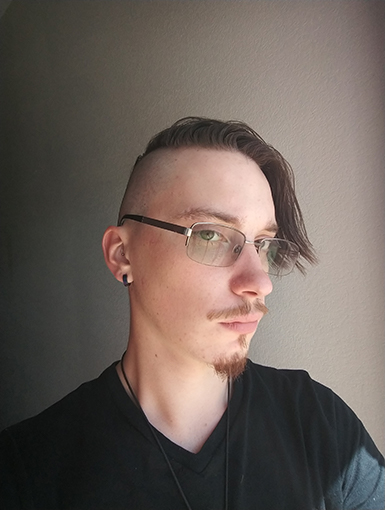 Cailean has lived in Colorado his entire life, a 22 year old young man located in the heart of Colorado Springs. He has worked as a freelance writer for clients around the United States, and took the initiative to get first hand experience "behind the scenes" of the culinary industry here in Colorado; at the age of 5 he was reading college level books, and had already begun writing his own stories. In his free time he can be found exploring the state of Colorado, playing music with friends, or continuing to gather knowledge of the local culinary industry, it can be mentioned by his friends and family that he never really stops working- his mind always goes back to the same thing: stories. There are so many stories around Colorado that he wants to bring right to your fingertips.