Sassafras: A Brunch to Remember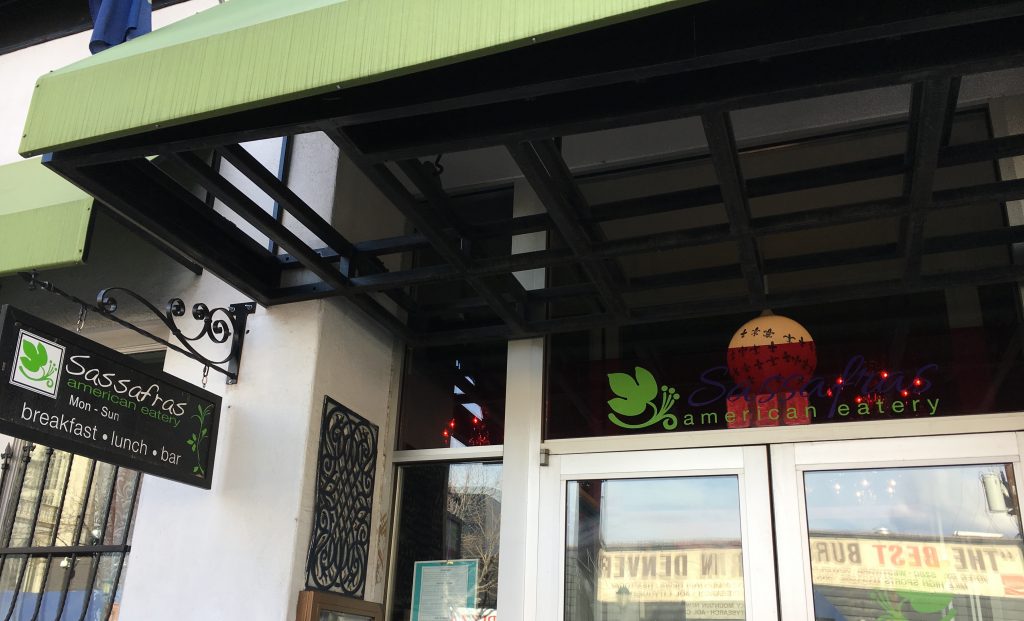 When you think of Denver in relation to food, naturally the first things that come to mind are steak and potatoes right? Well, as true as that statement may be, one restaurant in particular has rivaled a Colorado staple with its American southern charm. I'm talking about the ever famous restaurant, Sassafras. Biscuits and gravy, shrimp po' boys, bbq mac n' cheese, and an endless cocktail menu are just a few of the mouth-watering menu items at this homey and hearty establishment.
Walking down E. Colfax on a beautiful Saturday afternoon, I decided to stop into Sassafras for some brunch, knowing fully well how popular it was. To my surprise, there wasn't a wait at all, however the restaurant was still packed full. As my waitress showed me to my table, I noticed the atmosphere was very bright, cozy, and inviting, almost like you were dining at someone's house. I sat down and ordered a drink before I took my time looking at the menu. My "Harmony" mimosa, consisting of pineapple, cranberry, lavender hibiscus, simple syrup, and sparkling wine, showed up in a cute mason jar with a pineapple slice on the rim. I took a sip, and it immediately made me feel like I was at the beach soaking up the sun with cocktail in hand; it was delicious. It took some time to decide what I wanted since everything on the menu looked really tasty, but eventually I landed on the French Toast Dip.
I ordered:
"French Toast Dip": egg challah, egg custard, over easy eggs, Sassafras bacon, organic maple syrup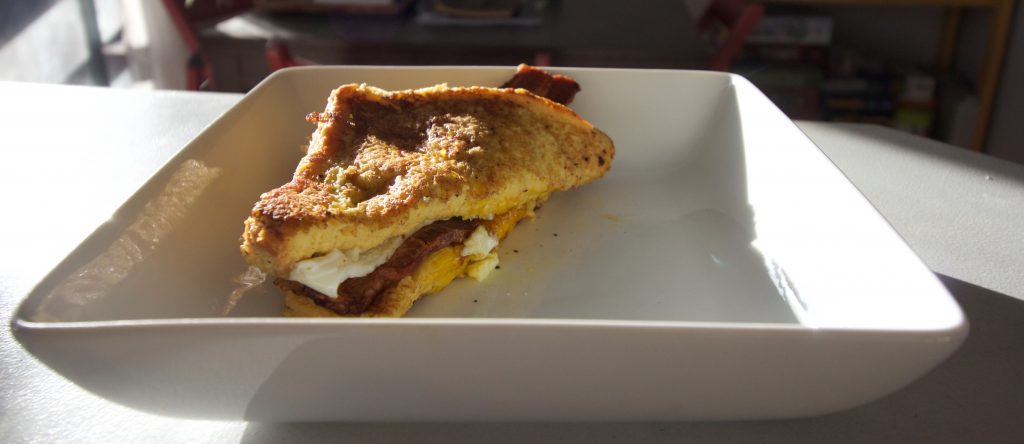 It arrived with layers of egg and custard in the middle with one fat strip of bacon, all sandwiched between two thick pieces of challah french toast. Challah bread has got to be one of my favorites because of how fluffy and sweet it is, so I was super excited to dig in. I took a bite, and it all immediately melted into my mouth. I couldn't tell where the egg custard began and the french toast ended. The runny, over easy eggs blended really well with the egg custard, giving it a little more thickness. The bacon was a great combination of crunchy and chewy, with a really nice salty flavor. And the challah pulled it all together perfectly, giving everything a little extra bit of sweetness and gooey fluff to soak up the eggs. Everything was so deliciously filling that I couldn't finish it, so of course I took it home to enjoy later…as in twenty minutes later.
I would love to go back again and try out something else on the menu since it was so extensive. Although it is a majority of brunch foods, they also have a variety of starters, salads, soups, entrees, mac n' cheese, and smoothies. Apparently, they are known for their amazing milkshakes, which I will absolutely have to have next time I eat there. If you're missing the comfort of good, home style southern cooking, or you're in the mood for a delicious brunch cocktail, or you just really want to know what a po' boy is, Sassafras has you covered on all of those bases. It's safe to say, you'll never be bored of choices at this popular Denver restaurant.
The Place: Sassafras American Eatery
The Addresses:
Jefferson Park
2637 W 26th Ave
Denver, CO 80211
–
Capitol Hill
320 E. Colfax
Denver, CO 80203
–
Downtown Golden
1027 Washington Ave
Golden, CO 80401
The Goods: Southern style cooking, creative cocktails, delicious milkshakes, and so much more!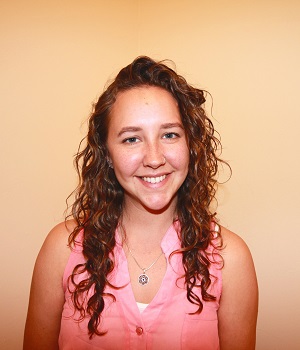 Alicia, a twenty-four year old East coast native, began her writing journey in elementary school with fictional short stories. Her love for writing about foreign people and places continued throughout the rest of her school days, but really began to take off once she graduated college. With a Philosophy degree under her belt, and an aching feeling of wanderlust, she packed up her life and headed off on a solo cross-country road trip. She drove to California where she spent her time blogging her experiences, taking pictures, and exploring the beautiful state by car. After five and a half months, she eventually ended in Colorado where she will continue her love for writing, travel, and grand adventures.