Running in Denver- Can't get away, escape to one of my three favorite running areas in Denver
Getting out of the city for a run is not always easy. That's why it is important to know your options when it comes to running in Denver. Below are my top three places to run in Denver.
The Classic: Washington Park
Washington Park has been a Denver favorite for years. With two lakes, a great path around the edges, and a big lawn for volleyball or other lawn sports; Washington Park offers about 160 acres of pure fun. All the outdoor activates easily make it one of Denver's favorite parks. The park is full of dogs, cyclists, and (you guessed it) joggers. This 2.5 mile gravel path around the perimeter of the park has mile markers to help you keep track of your run. When you finish, enjoy the views or jump into a game of volleyball.
Going for Distance: The Cherry Creek Trail
The Cherry Creek Trail offers about 40 miles of paved path. It starts at Confluence Park in Denver (near REI), goes all the way out to Cherry Creek State Park, loops around the park, and ends in Franktown. This trail is really cool because you can see so many of Denver's attractions in one run. That includes Union Station, LoDo, Cherry Creek Mall, The Denver Country Club, and so much more. Don't feel like you must do the whole trail!
Running with Options: City Park
City Park is located on the east-central side of Denver. This 330-acre park is where you will find the Denver Zoo, Denver Museum of Nature and Science, two Lakes, lawn games, tennis courts, and three options for running. Your first option is to run around the perimeter of the park. This paved path is about 3 miles long and gives you views of the entire park, downtown, and the mountains. Your second option is to run on The Mile-High Loop. This trail is a little of 3 miles and goes around the larger lake through the center of the park. You will be close to the zoo, so you might hear a variety of animal noises on your run. The third option is to actually run in the zoo! This option does not allow your furry friends to join and you do have to pay an admission for the zoo; but you get to see unique animals throughout the 2.5-mile loop.
With these runs, you will be able to enjoy the outdoors even within the city limits. Since you are in the city, do not expect to be alone during these runs. Take the opportunity to meet new people. And the best thing about city running is the unlimited options for food and drinks when you are finished. So, grab a drink and some grub with your new-found friends when you finish! I would love to hear about your favorite Denver runs, feel free to share them.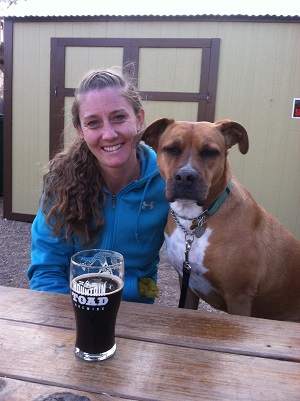 Christie is an outdoor enthusiast from Golden, Co that LOVES doing everything outside. She has an MBA with an emphasis in Sustainability from Brandeis University and a passion for helping others, which she turned into a consulting career. Whether you are looking for social media, marketing, or business strategy, Christie will help grow your business. In her spare time, she enjoys the outdoors and sharing her stories with others through blogs. Christie loves Colorado and hopes her stories help others see Colorado in a way they have never experienced before.