Robischon Gallery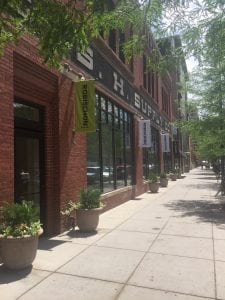 Since 1976, the Robischon Gallery has featured a wide variety of contemporary art. Located at 1740 Wazee street, it boasts 9,000 square feet of showroom space. With ample room for large installations and a huge artist list, it's frequently called Denver's best gallery. From sculptures to photography, to site specific paintings, the rotating exhibits are always intriguing. Here's a preview of the artists currently on display.
Amy Ellingson is an accomplished artist from the Bay Area. Much of her work is created using traditional oil paint on paper. She paints large, site specific creations using numerous lines and geometric designs to create complex layers. Her current exhibition is called Sweetbitter Beast. Some paintings in this series are done using countless tiny lines that come together to form chaotic abstract designs. Others are done using thicker, bolder shapes giving them a three-dimensional look.
Ted Larsen is a Sante Fe based artist with a very unique style. He refers to his work not as minimalist, but as reductionist. He takes materials like plywood, steel, or rubber, and strips them down to their basics. He then combines them, adding his own brand of creativity, culminating in a new, re-purposed visual display. Larsen often leaves the original paint and scratches on bits of metal or wood, to incorporate the history of the material into his work. Part of the viewing experience is recognizing what each piece used to be. Larsen's current display is titled, Act Naturally.
Kate Petley is an internationally recognized artist based in Colorado. She specializes in printmaking, painting, and photography. She uses an array of brushstroke variations and bold
layering techniques to form intriguing visual concepts. Her mix of distinct line work and blurred background shapes add multiple focal points to her paintings. She often uses slight color variations in her works to add an almost veiled look. Her series is called, Repositioned.
Katy Stone is a Seattle based artist known for her sculptural installations. Her work has been shown all over the US as well as in South Korea, Taiwan, and Vienna. Her style is definitely outside of the typical sculpture/metalworking genre. Stone's current exhibition, Transmissions, features what would almost be called sculptures affixed to the walls. The intricate designs are made up of multiple small metal pieces, painted and assembled to create larger abstract images. Some of the works in this series also incorporate interesting backlighting and shadow effects.
Marcelyn McNeil has a more abstract painting style. She's been featured in dozens of shows all over the country, but calls Houston home. Typically working with oil and canvas, she seeks to
"animate the inanimate." Many of McNeil's paintings are large and full of vibrant color. Her current exhibition, called Lead Heavy Feather Light, takes some time to absorb. In this series, she explores the use of contrasts; light and dark colors, blurred and definitive lines, hard angles and rounded shapes.
The Robischon Gallery has been showing both well established and emerging artists for decades. They feature artists specializing in all types of styles, media, and techniques. The atmosphere is upscale but relaxed. Exhibits typically run in four-week rotations and admittance is free. For more info check out www.robischongallery.com.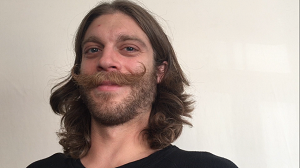 Jared is a local content contributor and aspiring author. He was fortunate enough to grow up in Golden, Colorado and graduated from MSU Denver. While an insatiable love of travel lures him all over the world, his roots remain firmly planted here. He enjoys writing short stories, poetry, children's books, societal observations, and everything else. A nature enthusiast and sunshine connoisseur, Jared is perfectly at home on any mountaintop or patio. He frequents art galleries and concerts, poetry readings and breweries, museums and bookstores. When he isn't making neighbors cringe at his musical attempts he can be found on a snowboard or sailboat, depending on the day. A perpetual adventurer and eternal patron of the road less traveled.