Robert Bell at The Matchbox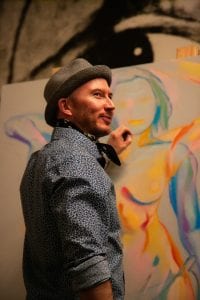 Robert Bell is a visual artist based in Denver. He specializes in abstract paintings and figure drawings. He was born in Japan, raised in Colorado, and received his BFA from CSU. He's also studied at the Santa Chiara Art Center in Italy and the Rocky Mountain College of Art and Design. His process is an ebb and flow of creativity and improvisation, an exploration of color, lighting, shapes, and textures. Bell draws inspiration from a wide variety of sources including music, his everyday surroundings, and of course, other artists. He has a deep admiration of abstract expressionist Mark Rothco's color field techniques and a fascination with Egon Schiele's figure work. Bell is rethinking the connection between the artist and the audience, and unabashedly venturing outside traditional art concepts and spaces.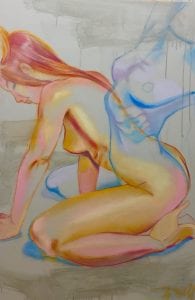 For most artists, presentation is key to their work; a huge part of that is the venue. The proper space will have the right lighting, maximum public exposure, and an affordable price. Often times, galleries check the most boxes. They do come with a downside however. Galleries make their money from selling art, and many are forced to take large percentages from the artists to cover operating costs. They're also subject to space and scheduling restraints, which can cause a lack of diversity among their artists. Luckily, there are alternative options. Some outstanding local bars have been stepping up and offering their walls as exhibition space. This is more affordable for artists, and it helps introduce unsuspecting art lovers to their work. Bars are also more approachable for audiences who like a less formal setting. Whatever the reason, local tap houses have proven to be ideal venues for Bell to showcase his talents.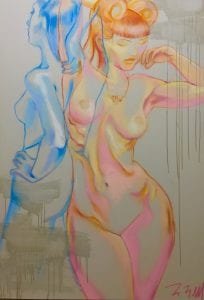 His last exhibition was hosted by the Infinite Monkey Theorum and featured his signature pastels. The event included live painting and was a huge success for both the venue and artist. His next series will be on display at The Matchbox through the end of October. It will include six large scale figure drawings and will be stylistically similar to his last, with a few fundamental changes. While his previous show focused on showing feminine duality through different poses, this will be centered around multiple genders. Half of the models will be women, and the other half will be men dressed as women. Bell aims to add an element of confusion for viewers, causing them to question both their first glance and first impressions of gender more broadly. The opening reception is at 7 pm on October 4th and is free to the public.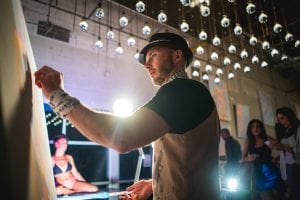 Bell averages four to five shows per year, and his work has been part of collections in Boston, Aspen, and all over the Denver area. He has plans for more expansion into national markets next year with his sights set on Austin and Atlanta. If you missed Bell's last show, or want to see more of his work, stop by The Matchbox during the month of October. You can also check out his portfolio at robertbellfineart.com.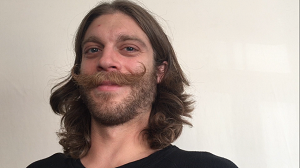 Jared is a local content contributor and aspiring author. He was fortunate enough to grow up in Golden, Colorado and graduated from MSU Denver. While an insatiable love of travel lures him all over the world, his roots remain firmly planted here. He enjoys writing short stories, poetry, children's books, societal observations, and everything else. A nature enthusiast and sunshine connoisseur, Jared is perfectly at home on any mountaintop or patio. He frequents art galleries and concerts, poetry readings and breweries, museums and bookstores. When he isn't making neighbors cringe at his musical attempts he can be found on a snowboard or sailboat, depending on the day. A perpetual adventurer and eternal patron of the road less traveled.