Rising Appalachia – Local Boulder Folk Music Event
According to a Freudian worldview, your Ego is the bossypants part of your psyche who's always super worried with appearances and logic and avoiding risks. The Id is the wild child who wants illogical, contradictory, glorious gratification of desires. Denver is where I live out my Ego, and Boulder is where my Id wants to rule. My Id loves Boulder like my Ego loves dominating the other parts of my psyche.
I visited Boulder this weekend to attend a concert by Rising Appalachia and Lyla June, a duo of folk-singing sisters and a Native American singer-songwriter-poet. The duo's most recent project has been a concert tour where they travel by train to avoid excessive carbon emissions. I was not certain if my Ego or my Id would win out when judging this experience because my Ego thinks that sisters playing banjos on a train requires drinking a lot of metaphorical Kool-Aid. My Id, on the other hand, babbles with joy at the thought of it.
I showed up at the Boulder Theater, where the line for the entrance snaked out the door and around the corner. The event was sponsored by Guayaki Yerba Mate and their dude was moving up and down the line with an airpot of the brew, handing it out to all the chilly takers. I happily accepted a paper cup of it, which promptly steamed over my glasses. It was scalding hot, and as dry and bitter as my soul. It's not Kool-Aid, but well worth drinking on a freezing night at a folk concert.
When I got up to the door, the spaced-out doorman took my ticket, stamped my wrist, checked my ID (my identification, not my psyche), and applied a wristband. Then immediately seemed to forget our entire interaction.
"Wait. Did I get your ticket."
"Uh, yeah. It's right there."
"Oh, yeah. There is it. Did I see your ID?"
"Yeah, man."
"Did I stamp you?"
"Yep."
What can I say? It's Boulder.
Once inside, the Guayaki people handed me more tea, this time from a nitrogen frother that made the entire cold cup into liquid foam. It was weird, but not bad, like drinking the head on a pint of beer made from clover hay. I got through it and then moved on where I feel most comfortable: the bar. The chalkboard advertised a "3G" cocktail, made with a dash of yerba mate over grapefruit, ginger ale, gin. Yes, sir, I'll take that. Antioxidants can taste like a cup of hot ass and they're much better when concealed in the vehicle of gin, which is also bitter and herbal, but alcoholic, too. It was a pretty decent cocktail.
I attended the event solo, which was fine. I'm not on the market or anything, but it would have been pleasant if I had passed the time before the show chatting with an attractive man. Instead, I was drafted into conversation with the Colorado facsimiles of Candace and Toni. The people-watching in the theater was amazing. The concentration of white people with dreadlocks was unrivaled. "Buddy clothes," where couples wear matching clothing is replaced with "buddy
locks," where both partners have dreadlocks. Lots of shapeless dresses and dudes in headwraps. Hard to tell if people are dressed in festival wear or if it's just, you know, Boulder.
Lyla June opened the show with a rap song, well-executed. It was a bit of a non-sequitur to see a Native woman in full Native garb performing an art that is so rooted in African-American culture. That's art, though. She did it well and made it her own through her choice of topic, wording, and performance. Afterward, she began to sing in a voice that was not operatic or even the most lovely I've ever heard, but whose tones were comforting, pleasant, and nourishing. It was the cream of potato soup of voices. That doesn't sound like a compliment, but it's meant to be. She shared the stage with a Persian woman who, speaking as a person with limp, pale hair, had an enviable bounty and volume of tresses. There was also a guy from Burkina Faso who played a guitar-ish stringed instrument with vim and enthusiasm. My Id gobbled all this up and asked for more.
Lyla announced that the proceeds from her merchandise and album sales for the evening would be going to support La Academia, an inner-city school for kids of color. "They don't know it yet, but it'll be going to them," she said. This was a bit weird, because La Academia announced in March that it is closing. However, the Denver Inner City Parish, "The Parish," still exists, and so maybe that's where the donation will be going.
After Lyla June, a man named Phil Little Thunder sang a song for the rights of indigenous people. Please pardon that I was unable to capture his native name. Both his regalia and singing were impressive. He shared the stage with a white guy who announced that he had learned through a dream that his ancestor committed genocide. This is where my Ego kicked in. A dream? Can we back this up with concrete reference material? The scientist in me wants to know.
During the intermission, I checked out the restrooms (clean fixtures, no paper towel dispensers, floors clean and dry) and then wandered back to the bar and asked for another 3G cocktail.
"Three Gee's?" asked the bartender.
"Yeah. The one with yerba mate and gin."
"Huh. Ok. Whatever you want."
He ducked away and returned with three plastic cups, which, upon tasting, proved to have nothing but yerba mate and gin. I didn't bother trying to correct him. I carried the cups back and shared them with Candace and Toni, exchanging sips of their whiskey gingers, which is what I used to call my Bullet-drinking, redheaded ex-boyfriend.
The Rising Appalachia sisters took the stage after the non-white folks cleared out. This goes to reinforce the fact that, since we were really all here to see them, if you want to say something and you're female, it helps to be thin, white, and objectively hot. Even better if there's two of you and you're indistinguishable as a pair. They spoke in a distinctive cadence which oddly reminded me of Dr. Kevin Fitzgerald. There's also
something to say about the location and audience of this politically-socially charged event: it was preaching to the choir. There's no more welcoming place in America than Boulder for a folk concert talking about social justice. It was musically lovely and a joyful gathering of like-minded souls, but I doubt that anybody there disagreed with the message, or was even unaware of the social and historical situations they were protesting. Could it have been more impactful to stage this event in, say, Aurora?
Rising Appalachia is a pair of sisters, Chloe Smith and Leah Song, from Atlanta who have been playing for over a
decade as a band and performing as activists for community and justice. They sound pretty great, too! The tunes were lively and played on fiddle and guitar with drums and backup instruments. Later on, a pair of male dancers joined them on stage. They wore matching flowy white shirts and were also indistinguishable, but they were clearly enjoying themselves and were reciprocally enjoyable to watch. The sisters played a long and delightful set and then closed out the show.
Can I take a moment to vent my spleen about encores? I hate them. I find it such an irritating and transparent farce. The band acts like they're done.
The audience pretends that they think the show is done. They then perform an appeal for another song and the band pretends that they have changed their minds about more music and returns to the stage. Why not just play your intended set and be done? Why this weird dance? It's like a third-date evasiveness about why you're inviting your date in for "a drink." Anyway, the
sisters returned to the stage and sang a charming, a cappella version of "Just a Closer Walk with Thee," including vocal renderings of brass instruments. And you know? Despite my eyeroll at encores, I liked this one. My Ego finally shut up, my Id reigned, and I loved. every. minute. Which was as it should be because, you know, it's Boulder.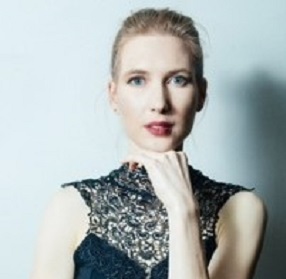 Jessie Hanson lives and works in Denver and couldn't be happier about it. Like the best-possible kind of Jekyl-and-Hyde scenario, she splits her life between science and storytelling. During the day, she performs clinical diagnostics and messes around with test tubes. At night, she performs behind the mic as a standup comedienne, in the air as a circus aerialist, and in rhinestones as burlesque dancer. She begrudges the hyper-inflated cost of a decent pair of false eyelashes. When she's not on stage, she sweating it out as an endurance athlete in triathlons and marathons across the West. She begrudges the hyper-inflated cost of a decent pair of running shoes. She's thrilled to be on board with OnDenver and writing about science, comedy, circus, athletics, and general fun on the Front Range!