Rain Doesn't Mean Staying Inside
I know when it rains, it is easy to give up your outdoor plans and just stay in. I am here to tell you NOT to do that! Just because it is raining does not mean you cannot enjoy the beautiful outdoors in Colorado. Here are some activities you can still do on a rainy weekend.
Run
Whether you run for exercise, fun, or training; the rain should not hold you back. Running in the rain is enjoyable for a variety of reasons. First, the rain is soothing. So, you will be able to clear your head and get exercise at the same time. Second, the rain brings out fresh smells. Third, the rain will cool you down.
Hiking
Hiking isn't just a fair-weather activity. The mountains don't go away when it rains, so you shouldn't either! Remember, there is always a rainbow at the end of the storm. Imagine how beautiful that rainbow would be from atop a mountain. Maybe you will even fine a pot of gold at the end of the rainbow.
Camping
One of the best ways to explore the mountains is by camping. Rain only makes camping better. One of my best camping trips I took was a couple of years ago and it rained all weekend. We didn't let the rain get in the way of spending time together. We put all our chairs under a canopy, drank good beer, and shared great laughs. If the rain gets bad, use the time to enjoy alone time in the tent. Reflect on yourself, read a book, or play cards with friends.
Let Your Inner Kid Out
Remember what it was like to be a kid? As kids, we didn't let rain storms ruin our sense of adventure. We used our imaginations and became sailors or explores as we jumped through puddles and danced in the rain. So why should it be any different now that we are adults? This rainy weekend, let your inner kid out. Enjoy splashing and dancing.
The moral of this story is, don't let rain ruin your weekend. Let rain enhance your weekend. And as someone wise once said, "There's no such thing as bad weather, only unsuitable clothing." So, put on your galosh's and your rain coat and get outside! Have a great weekend!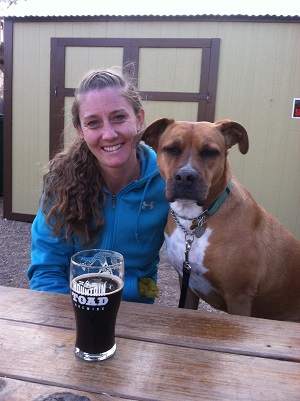 Christie is an outdoor enthusiast from Golden, Co that LOVES doing everything outside. She has an MBA with an emphasis in Sustainability from Brandeis University and a passion for helping others, which she turned into a consulting career. Whether you are looking for social media, marketing, or business strategy, Christie will help grow your business. In her spare time, she enjoys the outdoors and sharing her stories with others through blogs. Christie loves Colorado and hopes her stories help others see Colorado in a way they have never experienced before.