Pizza Lovers Unite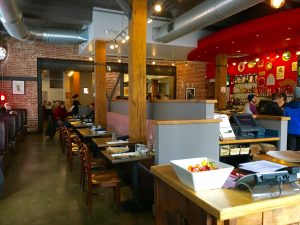 Pizza; a food that generates lots of discussion on how it's best made, but nonetheless, loved by everyone. The New Yorkers claim their pizza is the best, while the Chicagoans claim that deep dish is the only way to go. The debate of whether pineapple belongs on pizza or not is still on-going. Some say less toppings is more, and others say the more the merrier. All in all, people are very passionate about their pizza choices, which they should be. Even though it's hard to satisfy everyone, Lucky Pie does a great job of creating mouth-watering, home-made, fresh ingredient, Neapolitan style pizza (San Marzano tomato sauce and mozzarella). With so many combinations of delicious and local toppings to choose from, everyone's needs will be met.
I hadn't planned to go here, but walking down 16th street in Denver I happened upon Lucky Pie. Pizza sounded like exactly what I wanted for lunch, so I stopped to look at the menu. I hadn't even gotten four items down when I decided it looked good. I walked into the casual wood and brick decorated restaurant, and up to the bar. I wasn't expecting to see twenty-seven beers on tap, but I was pleasantly surprised by the wide variety. Upon reading the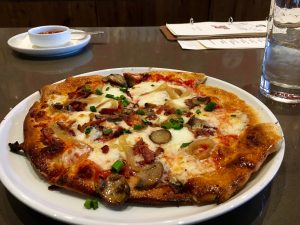 menu further than the first four dishes, I realized they also had hand-made pasta, sandwiches, salads, and a bunch of other small plates. I also noted that all of the food was locally sourced and organic when possible. After a few minutes I decided on The Mario.
I ordered:
The Mario: San Marzano tomato sauce, fresh mozzarella, Hazel Dell mushrooms, caramelized onion, bacon, and scallions
The pizza arrived still steaming, layered with cheese and delicious looking toppings. I bit into the thinner crusted pie, and knew immediately this was going to be good when the cheese string wouldn't break. Sometimes there is more sauce than toppings or more toppings than sauce, but this pizza was perfectly balanced. Once again, the combination of flavors won over my taste buds. The sauce and mozzarella tasted very fresh, while the mushrooms and scallions added a nice hearty flavor. The caramelized onions were definitely necessary to add a little sweetness, but the salty bacon topped it all perfectly. Lastly, the crunchy oil infused crust was just right, not too thick and not too thin. Overall, an excellent pizza that I scarfed down in record time.
From the house made Salumi and cheese, to the organic and hand-made pasta, to the organic flour and artisanal toppings used on the pizzas, it's hard to beat the home-made taste of this restaurant's dishes. With an abundance of food options, along with their large variety of beers on tap, it's guaranteed to be a great time at Lucky Pie.
The Place: Lucky Pie
The Addresses:
–Denver
1610 16th St., Denver, CO 80202
–Louisville
637 Front St., Louisville, CO 80027
–Niwot
7916 Niwot Rd., Niwot, CO 80544
The Goods: Home-made and hand made with fresh ingredients; pasta, salads, sandwiches, and best of all…pizza.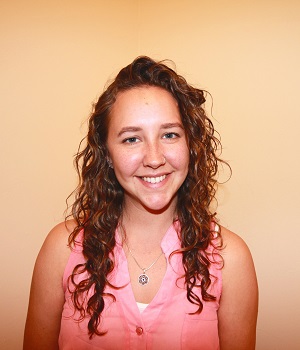 Alicia, a twenty-four year old East coast native, began her writing journey in elementary school with fictional short stories. Her love for writing about foreign people and places continued throughout the rest of her school days, but really began to take off once she graduated college. With a Philosophy degree under her belt, and an aching feeling of wanderlust, she packed up her life and headed off on a solo cross-country road trip. She drove to California where she spent her time blogging her experiences, taking pictures, and exploring the beautiful state by car. After five and a half months, she eventually ended in Colorado where she will continue her love for writing, travel, and grand adventures.