Professor Phelyx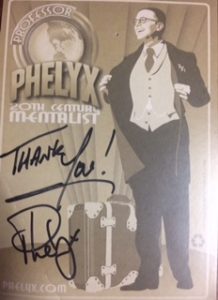 The time has come for me to confess to you, dear readers, that I have a massive, unrequited crush on someone. That someone is Professor Phelyx, mentalist, entertainer, artist, and professional gentleman. I met him a few years ago when I was a backstage newbie and terribly nervous about how unqualified I was. Phelyx took the time to make eye contact, give a genuine smile, ask how I was doing, and listen to the answer. To a shaky little kitten, that bit of humanity was a lifeline. I've been in his thrall ever since.
All live theater is magical. Some of it really is magic. Professor Phelyx weaves a spell of legerdemain and  enchanting banter that could resuscitate a poisoned princess. He's a self-proclaimed mentalist, not a magician. He claims that he's never seen evidence of preternatural activity in his or any other entertainer's work, but I think that's selling short his ability to hypnotize a room and make an hour disappear like a puff of smoke. If that's not magic, I don't know what is.
Despite my longstanding infatuation, I'd never seen Phelyx's full-length show, and so this weekend I packed up my crush and took us both down to the Voodoo Comedy Playhouse to check out the good Professor's offerings. If you enjoy intimate, finely-crafted performances, I recommend that you do the same.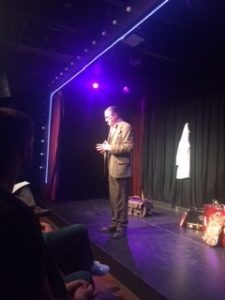 As an entertainer, Phelyx is of the old-fashioned, parlour type. He combines the charms of Jacques Pepin with the presence of Stan Laurel and the bookish dapperness of Stephen Colbert. His show is close-up, personal, engaging, and utterly comfortable. I've seen a lot of live shows and entertainers interacting with the audience. Crowd work is tricky; it's easy to fall into a trap of insulting one audience member to make the rest laugh. Drawing the entire audience up and into your show, and making every one of them feel both included and good about themselves, is damn hard. The Professor does this masterfully and with obvious great personal enjoyment.
I'm going to take a moment to talk about one of my own preferences. I'm a "hands" gal; I admire a gentleman with handsome hands. The Professor himself says, "I put the 'man' in 'manicure.'" As a purveyor of close-up magic and card tricks, his hands move like ballet dancers. They're in constant precision and control, moving cards and telling stories and directing the audience's attention like an orchestra conductor. The effect is hypnotic and almost erotically appealing.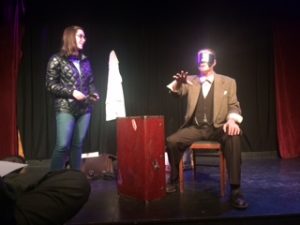 Mentalism (as far as my dismal perception can tell) is about control. Control the cards, control the dialogue, control the room while seeming like there's no direction being imposed at all. And yet…there must be. As the evening progressed, Phelyx time after time pulled the correct card out of the deck, named the specific word in a patron's mind, described exactly an unknown object while blindfolded…I'm a scientist by trade and by training, which makes me extremely skeptical about, well, nearly everything. I know that the act can't be magic in the Harry Potter sense, but I WANT TO KNOW HOW HE DOES IT!!! I don't ask though, because asking a mentalist to reveal his secrets is akin to asking a woman for her age, her weight, and full accounting of all her online dating choices.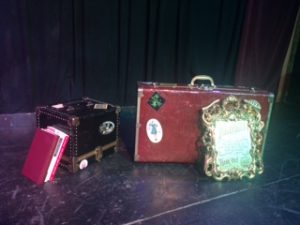 And while we're talking about things that appeal to the feminine nature (I suppose the non-feminine, too, but I can't speak to those), is there anything more flattering than a man really, truly listening to you? Paying you all the attention in the world? I doubt it. But an intimate evening with a mentalist gets you that for a solid hour. It's easy to forget on purpose that he's paying the same attention to everybody else, which is a scenario I've been in in actual dating relationships. It's much better to indulge that fantasy in a magic show than with a definitely-not-exclusive boyfriend. I sat in the crowd and sucked up the gratification like a parched sponge. At $15 a ticket, it's $135 cheaper than therapy and an hour of therapy has never left me feeling that good.
Just in case you didn't think I was enamored enough already, I'm going to tell you  about Phelyx's paint-and-canvas art. Actually, it's paper and pastel or fabric and bleach, but you get the idea. He creates artworks on subjects ranging from engines to abstract forms to classic nudes. (The motif of my home décor is "Naked Ladies" and so I have one of his original drawings hanging in my bedroom.) Check out his sweet suite of commercial art for an indie winery.
If you want to see some impressive mentalism, the Professor is performing again this weekend at the Voodoo. He's also hosting and producing the Bunny Brigade, a wonderful burlesque tribute to the controversial but influential Playboy magazine at Ophelia's Electric Soapbox on April 15. If that's still not enough Phelyx (and I'm sure it won't be), you can see him hosting the show at the delightful 1940's Ball on June 16.
I hung out after the show to try to talk to him more, but like any good magician, he had disappeared (I believe he had another show to get to). Like any smitten fan, I'm eagerly waiting for him to reappear. I hope to see all of you there when he does. Don't worry about encroaching on my crush; there's plenty of room in here for all of us.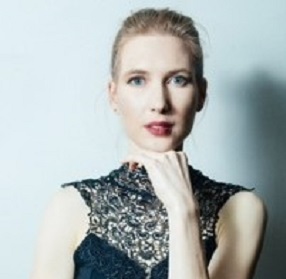 Jessie Hanson lives and works in Denver and couldn't be happier about it. Like the best-possible kind of Jekyl-and-Hyde scenario, she splits her life between science and storytelling. During the day, she performs clinical diagnostics and messes around with test tubes. At night, she performs behind the mic as a standup comedienne, in the air as a circus aerialist, and in rhinestones as burlesque dancer. She begrudges the hyper-inflated cost of a decent pair of false eyelashes. When she's not on stage, she sweating it out as an endurance athlete in triathlons and marathons across the West. She begrudges the hyper-inflated cost of a decent pair of running shoes. She's thrilled to be on board with OnDenver and writing about science, comedy, circus, athletics, and general fun on the Front Range!