Penny Spectacular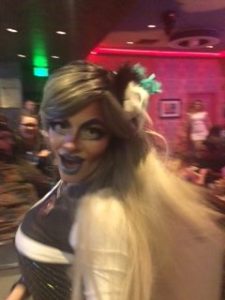 I've lived as a female for decades now, yet mastery of feminine wiles still eludes me. Take makeup. I'm not good at it. When appearing as myself, I err on the side of "nothing" rather than make an error of burlesque proportions. When appearing in burlesque, it sometimes looks like I've applied bronzer with a trowel. Kim Kardashian would weep. I'd weep, too, but that would send my smeary eyeliner coursing down my poorly-contoured cheeks. Early on in my burlesque days, a producer sent me a painfully kind email requesting that I "do something" about my eyeliner and lipstick. My skill has improved since then, but there's still a reason that my personal style leans toward comedy rather than glamour.
The nightlife performers who are really good at makeup are the drag queens. OMG, these peeps have it going on. I adore drag. I love the costume and character and physical embodiment. I love participating in the collective suspended disbelief of the audience when we all *know* that these are not glamorous women, but we greedily agree to believe that they are because it's so damn much fun to do so. It's such a relief to have someone among us step outside our normal social boundaries and use their farce to poke holes in ours. And, my god, that contour job.
I love drag, but I also find it perverse, annoying, admirable, and aspirational when men in drag are prettier than I am. I feel like, "Great, now I'm not just trying to hold my own against other females, I've gotta outshine the men, too." The person who helps me shine my brightest is Penny Spectacular. I met up with her this weekend to celebrate her birthday with some cut cheekbones and vodka Redbulls.
I arrived at her apartment in Capitol Hill ready to worship at the altar of the Jeffree Star Beauty Killer eyeshadow palette. She greeted me in a pair of geometric tights and we got down to business: chips and salsa and full-coverage foundation. Her makeup collection is impressive. She's got powder pots larger than low-ball tumblers and highlighter compacts the size of a ring of birth-control pills. My little clutch of concealer tubes and mascara wands seemed paltry by comparison. We spent 45 minutes doing eyes and foundation and outlining the contours we'd return to, and then snowdrifted an implausible amount of loose powder on top.
"Now," Penny declared. "We let it bake."
Baking is a drag/makeup term for letting the applied layers of foundation, concealer, powder, etc. warm and settle into your skin to create a lasagna of cosmetics. It's also an opportune interlude to fill with a hit or two of THC. Baking while baking. See aforementioned chips and salsa. Back to the bathroom to finish cutting the cheekbones in and applying the final layers of glitter and lashes. Getting it symmetrical is a challenge, even for a pro like Penny.
"Adding a little more, 'just to even it out,' is a dangerous game," she said. "But you have to be bold. I need to look like a man dressed as a woman, not a woman wearing makeup."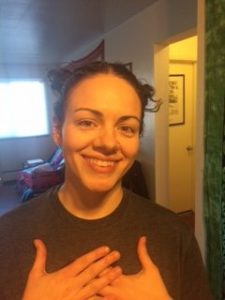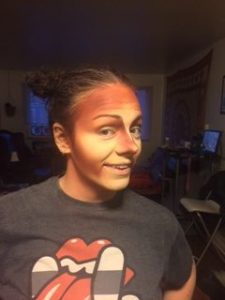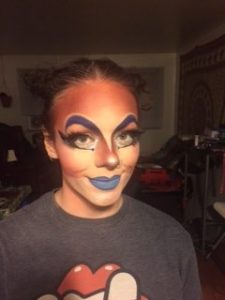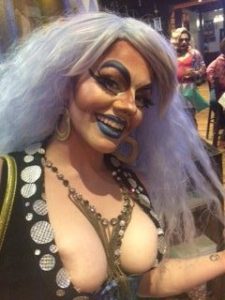 Penny is unusual among drag queens in that she was born biologically female and continues to live her life offstage as a woman. "Femme queen" is her preferred designation for this situation. I asked her if being a woman performing in what has traditionally been a gay men's art form has been challenging or well-accepted in the drag community.
"It's more accepted now than it used to be. But femme queens have to be super good at makeup because they have more pressure to do it really well. I don't want to go to a show and have another queen read me," she said, referring to the drag tradition of creatively criticizing another queen's presentation.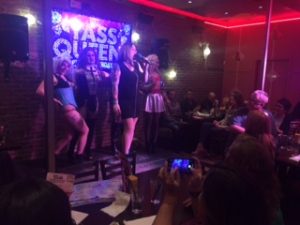 Penny regularly performs with Yass Queen!! under the impeccably-manicured hand of Khloe Katz. Saturday's show at Hamburger Mary's on 17th and Humboldt was Penny's birthday celebration (Dirty Thirty!!). Hamburger Mary's is a popular LGBTQ spot in West City Park known for their live and interactive entertainment (bingo, drag shows, trivia, karaoke) and their huge, juicy hamburgers. In a fit of sad and responsible adulting, I ordered a salad and a glass of water, thus making myself the most boring person to have ever attended a drag show. I'm surprised the staff didn't ask me to leave because I was killing the vibe. The salad ("The Power Hour") was, truthfully, absolutely delicious, which is something I rarely say about anything arugula-based. The Tater Ta-Ta's are highly recommended, as well, if you like fried potato nuggets. If you don't like fried potato nuggets, you're probably not human and therefore not reading this column. I rewarded my salad-adulting by buying myself a Jell-O shot off a drag queen. I never said I was perfect.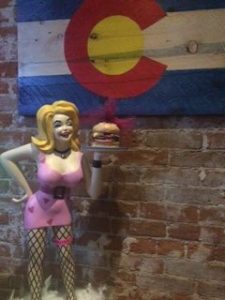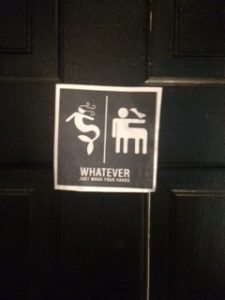 Hamburger Mary's decor is intentionally kitschy. You're greeted at the door by a buxom statue of Mary herself and the walls are covered in odd and oddly fascinating photos. The restrooms are super-clean(!) and divided into "Women" and "Whatever." On principle of investigative journalism, I used them both, comfortably tending to my needs in the company of both and neither gender. I concluded that people in restrooms are there for a predictable reason and that the empire still stands. A restaurant has not dismantled democracy by allowing people to pee in whatever bathroom they want.
The show itself was delightful. The house was packed, which made it hard to hear some of the host's banter, but the queens were impeccably turned out and right up in the audience. They moved through the crowd, engaging with audience members and performing their lip-sync routines up close and personal. If a queen doesn't happen to pass nearby and you want a closer look, wave a dollar bill (or a $5!). Take lots of photos; the queens didn't dress up and make up to not be photographed!
If you want to see some classic drag (and burlesque!), check out Penny's upcoming shows. She'll be performing on March 15 at Yvie's Odd Hour at Tracks nightclub, as well as March 8, March 16, and March 21 at the Clocktower Cabaret. I don't know which routines or costumes she'll be using, but I know that her makeup will be nothing short of spectacular.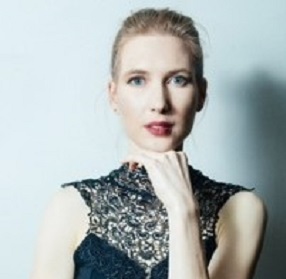 Jessie Hanson lives and works in Denver and couldn't be happier about it. Like the best-possible kind of Jekyl-and-Hyde scenario, she splits her life between science and storytelling. During the day, she performs clinical diagnostics and messes around with test tubes. At night, she performs behind the mic as a standup comedienne, in the air as a circus aerialist, and in rhinestones as burlesque dancer. She begrudges the hyper-inflated cost of a decent pair of false eyelashes. When she's not on stage, she sweating it out as an endurance athlete in triathlons and marathons across the West. She begrudges the hyper-inflated cost of a decent pair of running shoes. She's thrilled to be on board with OnDenver and writing about science, comedy, circus, athletics, and general fun on the Front Range!