Ophelia's Electric Soapbox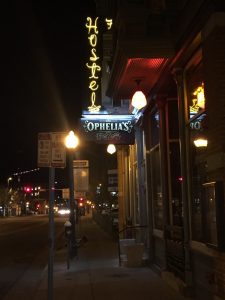 I was immediately intrigued by the name; Ophelia's Electric Soapbox. It has a nice ring to it. Billed as a "gastrobrothel," this place has a little bit of everything. Good food, good drinks, live music and nostalgia. There's even a hostel upstairs.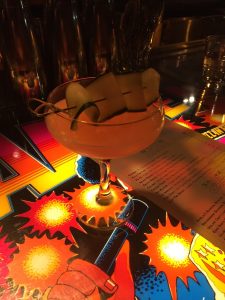 You walk through a tall wooden door off of 20th street and enter into the main barroom. The décor is unique to say the least. It has a kind of classy retro vibe. There's a small lounge area with some sofas and tables. The wallpaper has intricate velvet designs reminiscent of the 70's. Decorative golden orbs hang from the ceiling. Some of the walls are decorated with portraits of nude women. In the center of the room is a large, extensively stocked bar. The bar itself is inlaid with the back panels of old pinball machines. Many of the panels feature celebrities like Evil Knievel and Elvis. One depicts David Hasselhoff fighting off space invaders. It's definitely one of the coolest bars I've ever seen. I also like how the backlighting makes your drinks look extra fancy. Speaking of drinks, the selection is sizeable and the bartenders are awesome. Around the bar there are tables arranged overlooking the stage and another larger room below. Technically, the stage is where a basement would typically go, but the way it's built makes it appear as if the entire ground floor is an expansive balcony. The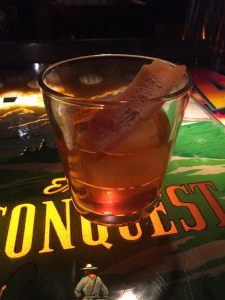 bottom level is a huge room with more tables and a large stage. Above the stage is a giant screen that plays 80's movies when there isn't a band. Ophelia's is a great place to see a show. The sound quality is solid and the lighting is top-notch. They have several shows every week with styles ranging from jazz to folk to rap to synth. They even have the occasional poetry reading.
If you want to get dinner while you're there, and you should, the menu has something for everyone. It includes appetizers, poutine, soups, salads, burgers, steaks, even chicken and waffles. They offer vegan and gluten free options and 75% of their menu is organically sourced. They're also open for brunch. What more could you ask for?
The music and décor alone make Ophelia's worth checking out. The food is an excellent addition to an already spectacular venue. It combines a retro theme with an upscale atmosphere. Like I said, this place has everything. If you weren't already sold at gastrobrothel, take my word for it, Ophelia's deserves the hype.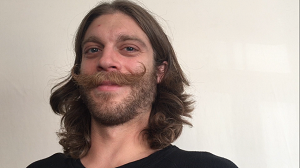 Jared is a local content contributor and aspiring author. He was fortunate enough to grow up in Golden, Colorado and graduated from MSU Denver. While an insatiable love of travel lures him all over the world, his roots remain firmly planted here. He enjoys writing short stories, poetry, children's books, societal observations, and everything else. A nature enthusiast and sunshine connoisseur, Jared is perfectly at home on any mountaintop or patio. He frequents art galleries and concerts, poetry readings and breweries, museums and bookstores. When he isn't making neighbors cringe at his musical attempts he can be found on a snowboard or sailboat, depending on the day. A perpetual adventurer and eternal patron of the road less traveled.