Open Spaces at Bitfactory

Bitfactory is a contemporary art gallery located in the heart of Denver's Santa Fe Art District. They curate rotating exhibitions from up-and-coming local, national, and international artists. The building also houses studios, providing a perfect space for collaboration and artistic influence. Bitfactory is excited to present a group exhibition featuring five accomplished artists. Curated by gallery owner Bill Thomason, Open Spaces showcases stylistic diversity and a variety of mediums centered around landscape works. Audiences can expect to see oil paintings, photography, pastels, and digital art in a diverse show premiering Friday, May 15th. There will be a reception from 6-9pm on opening night.
Kathy Beekman is a local artist with a bachelor of fine arts from Siena Heights University in Michigan. She works with soft pastels, foregoing the use of brushes and preferring to paint with her fingers instead. Her pastel painting techniques were self-taught and developed over decades of experimentation. She takes an intuitive approach over an intellectual one, deliberately transferring mental images onto printmaking paper. Her vibrant barnscapes are highly sought after and have shown in many galleries across the country.
Italian artist Bruno D'Anna blends a wide range of techniques to express his emotions through oil paints. His works are made with a palette knife, incorporating vivid color schemes and bold perspectives. D'Anna is a master of portraying shades of light. He effortlessly captures the way sunshine naturally warms a landscape and how city lights fall on midnight street corners.
Mara Manning is a Michigan-based artist who uses a variety of mediums to create mostly abstract works. Her repertoire includes cold wax and oil, as well as mixed media like pigment sticks, oil pastels, dye stain, artgraph, and more. Each of her paintings tells its own story, embodying feelings of humor or tension, whether actual of perceived. She sometimes sees the paint itself as the real focus of her works, influencing the use of color throughout the painting process.
Jeremy Patlen is a fine art photographer originally from New York. Now based in Denver, he creates imaginative series focused on everything from gender and the worship of wealth, to nighttime landscapes and portraits. He draws inspiration from world travels, natural beauty, vibrant colors, and big personalities. He has a remarkable talent for capturing the intrinsic character of a place or person.
Topher Straus is a visual artist based in Golden. He specializes in acrylic canvas, original aluminum landscape paintings, and aluminum prints. These selected works come from his recent series, Landscapes. They were made using a combination of photography, digital printing, and a sublimation process, in which dyes are bonded to aluminum sheets. Over his two decades as an artist, his works have become widely collected and shown at galleries across the country.
Open Spaces, premiers on Friday, May 15thth, and is scheduled to run through June 11th. Bitfactory Gallery is located at 851 Santa Fe Drive in Denver. Hours are Tuesday thru Saturday, 11am-3pm, and by appointment. Bitfactory will also be partnering with Bonacquisti Wine Company during First Fridays. Visitors will have a chance to purchase award winning fine wines from the local winery, which operates out of an industrial condo in the Sunnyside neighborhood. For more info, or to see more fantastic artists, check out http://bitfactory.net/.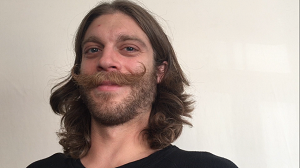 Jared is a local content contributor and aspiring author. He was fortunate enough to grow up in Golden, Colorado and graduated from MSU Denver. While an insatiable love of travel lures him all over the world, his roots remain firmly planted here. He enjoys writing short stories, poetry, children's books, societal observations, and everything else. A nature enthusiast and sunshine connoisseur, Jared is perfectly at home on any mountaintop or patio. He frequents art galleries and concerts, poetry readings and breweries, museums and bookstores. When he isn't making neighbors cringe at his musical attempts he can be found on a snowboard or sailboat, depending on the day. A perpetual adventurer and eternal patron of the road less traveled.