Ooh La La Presents
Denver is a great town for variety. The geography of the Great Plains rams up into the Rocky Mountains in a cacophony of disorderly foothills and stunning shelves of red rock. This geographic jolt seems to inform the city itself, as it vacillates between high culture such as the Denver Center for the Performing Arts and a decidedly underground scene of edgy shows in unpolished venues. I love them both and everything in between!
Speaking of unpolished venues…one of my favorite shows happens at 3 Kings Tavern on South Broadway every monday night. Denver's longest-running burlesque troupe, Ooh La La, puts on a show called "Panties at the Bar" on Monday nights. Tickets are $5, unless you drop your trousers at the door and attend the show in your undies. In that case, it's free. I recommend the latter, but I'm cheap.
The ticket price is appropriate because this place scared the pants off me when I was a newbie burlesque performer. (For those who may not know, burlesque is the art of the striptease. You, as a performer, do a routine on stage that ends with you standing up in front of a crowd in nothing but a thong and pasties.) Getting nearly-naked in public was scary enough, but I had never ventured into South Broadway after dark, much less into a dive bar full of unconventional folks. And the 3 Kings crowd on Mondays is nothing if not unconventional.
The large main bar areas hosts booths, standing tables, pinball machines, and pool tables, along with a roomy seating area/dance floor and a raised stage. There are men's and women's bathrooms, but it's sometimes hard to tell who "should" use which and nobody cares anyway. The graffiti in the toilet stalls is informative and specific. The green room behind the stage is freezing in the winter and sweltering in the summer. Posters, stickers, and clippings from the hundreds of live music shows that 3 Kings has hosted plaster every square inch of the walls. It's wonderful.
The troupe is also wonderful. Learning the art of burlesque has led me down a rabbit hole of new people, experiences, lifestyles, places…"variety," indeed. The Ooh La La girls (and a few boys) are a big part of that. There's a rotating cast of fifty or so performers, about a dozen of which are featured in each show. The troupe members are gay, straight, bi, pan, mono, and poly. Some of us are demure and conventional; others are goth and punk. The common theme we all have is delight in being on stage and in the spotlight. Some underground shows are pretty ragged; the Ooh La La acts are not. Innovation is welcome, but professionalism is expected.
I've seen and performed a lot of burlesque in a lot of venues and I'll vouch for Panties at the Bar being the most *fun* I've ever had. The underground vibe and intimate setting means we as performers are up close and personal with the audience. The late-night-weeknight vibe means you never know quite what's going to appear on stage next. When you check out 3 Kings, you might get a little glitter on ya, but you'll definitely be coming back for more.
(Tickets and info available here.)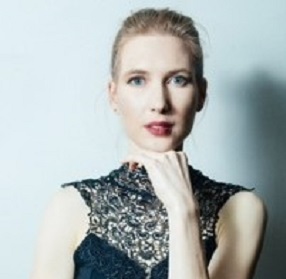 Jessie Hanson lives and works in Denver and couldn't be happier about it. Like the best-possible kind of Jekyl-and-Hyde scenario, she splits her life between science and storytelling. During the day, she performs clinical diagnostics and messes around with test tubes. At night, she performs behind the mic as a standup comedienne, in the air as a circus aerialist, and in rhinestones as burlesque dancer. She begrudges the hyper-inflated cost of a decent pair of false eyelashes. When she's not on stage, she sweating it out as an endurance athlete in triathlons and marathons across the West. She begrudges the hyper-inflated cost of a decent pair of running shoes. She's thrilled to be on board with OnDenver and writing about science, comedy, circus, athletics, and general fun on the Front Range!