Next Saturday at Your Mom's House
Your Mom's House is a rad little bar smack dab in the middle of Cap Hill. The independently owned and operated venue has live music most nights from a variety of touring and local bands. Housed inside the remnants of Snake Pit, Pearl's, and Beauty Bar, they've traded the dryer chairs for stage lights and some awesome artwork. It's a great spot to see intimate shows and enjoy some cheap drinks. Next Saturday, the 14th, Your Mom's House welcomes Space Bacon, with special guests MoonRadish, Mr. Specific, and Slidewok.
Space Bacon is a four man jam band coming out of Brooklyn, NY.  They started playing basement frat parties, and quickly became one of the most talked about bands in the jam scene. Their songs dance between composition and improvisation, incorporating elements of jam music, electronic production, film scores, and even a little metal. They've been stacking up nonstop shows for the last three years, sharing stages with bands like Pigeons Playing Ping Pong, Tauk, and Umphrey's McGee. You can find all of their albums at https://spacebacon.bandcamp.com/. They also put up live recordings from every show, so you can keep up with their latest performances without quitting your job to follow the tour.
MoonRadish is a five member funk band from Denver. Founded in 2017, the group is on a mission to explore and express their creativity as instrumentalists. Their sound is a mellow blend of jazz, rock, and funk. They've been gaining tons of popularity, impressing fans at venues like Moe's Original BBQ, Globe Hall, Be on Key, The Colorado Room, and of course, Your Mom's House. MoonRadish recently dropped their debut EP, and it's definitely worth checking out. Give it a listen at https://www.moonradishband.com/.
Mr. Specific is a three-piece instrumental band based here in Denver. Their songs are melodic and trancey, with strong drum and bass throughout. They like experimenting with complex time signatures and interesting key changes. Mr. Specific has played with national touring bands including EGi, Funk You, Brothers Gow, and members of Dopapod and Lotus. Their debut album, Going Out Swingin', drops Friday the 13th, and you can get it here (https://mrspecific.bandzoogle.com/music). I'm pretty excited to see what they've been working on.
Slidewok is a local psychedelic rock band known for their authentic, high energy performances. Their music is a funky mix of rock, folk, bluegrass, and Latin rhythms. They like to improvise on stage and connect with their audience, making each show a unique, engaging experience. They have a massive repertoire of original music and favorite covers to draw from. Check out their digital album at https://slidewok.bandcamp.com/releases. If you haven't seen Slidewok before, they just might be your new favorite band.
Maybe it's been a while since your saw some good funk bands. Maybe you need a little more mandolin in your life. Honestly, you don't even need a reason to come boogie down. Let's show Space Bacon a good time so they come back soon. Doors open at 7 pm on Saturday, December 14th and tickets are on sale now. Your Mom's House is located at 608 E. 13th Ave in Denver.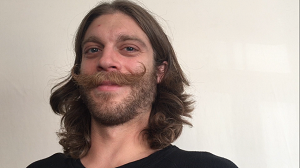 Jared is a local content contributor and aspiring author. He was fortunate enough to grow up in Golden, Colorado and graduated from MSU Denver. While an insatiable love of travel lures him all over the world, his roots remain firmly planted here. He enjoys writing short stories, poetry, children's books, societal observations, and everything else. A nature enthusiast and sunshine connoisseur, Jared is perfectly at home on any mountaintop or patio. He frequents art galleries and concerts, poetry readings and breweries, museums and bookstores. When he isn't making neighbors cringe at his musical attempts he can be found on a snowboard or sailboat, depending on the day. A perpetual adventurer and eternal patron of the road less traveled.