Next Friday at the Hi-Dive
Happy New Year! Nothing like a whole new decade to cleanse the palate. Thanks to everyone who came out to the Food Bank of the Rockies to volunteer with Turkauz. Their New Year's run was fantastic, and hopefully you made it to one of the shows. 2020 is looking amazing right out of the gate. Denver's music scene has been blowing up for a while now and shows no signs of slowing down.  Every year we get more venues, more bands, and more recognition on the national level. Last year we saw the opening of Mission Ballroom, and this year we're getting our very own Meow Wolf location. Needless to say, there's no shortage of prime concerts coming up. Next weekend you can find me at the Hi-Dive. The Broadway bar is always a blast, and next Friday they're welcoming Space In Time, Honey Blazer, and Star Garbage to the stage.
Space In Time is a heavy metal band made up of local rock veterans. They have a psych rock sound reminiscent of bands like Uriah Heep, Deep Purple, and Black Sabbath. Their songs touch on topics from wizards to police brutality and everything in-between. They bring window-shaking vocals, thundering rhythm, and breakneck guitar riffs. They've shared stages with huge bands like Mothership, Pentagram, Diamond Head, and the legendary Red Fang. Space In Time is writing the next chapter of rock history, and you're invited to be a part of the story.
Star Garbage is a four-piece rock band based in Denver. Their music is a gritty, grungy ensemble led by the explosive voice of Alli Walls. Her powerful vocals are paired with a heavy rhythm section featuring bassist Connor Brown and percussionist Isaac Friend. Fuzzy fretwork comes courtesy of Taylor Marvin. Their debut digital album dropped in October and you can find it here. Star Garbage shows are loud and unapologetically rowdy, so get excited.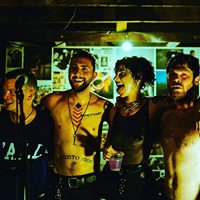 Honey Blazer is new on the block, breaking into the Denver scene last year with a string of shows at the Hi-Dive, Lion's Lair, and Tooey's. Their music is mellow and smooth, like a cigarette and coffee breakfast. They have a folky, Americana feel not unlike a 1970's Neil Young. Honey Blazer has a cache of original ballads, and even a few choice covers up their sleeves. You can preview a few of their songs here. They're currently recording their highly anticipated first album, and I can't wait to see where these guys go from here.
Friday, January 10th, head down to the Hi-Dive for Space In Time, Star Garbage, and Honey Blazer. Start the year off right and show some love for these locals. Tickets are only ten bucks and you can get them here. The Hi-Dive is located at 7 S Broadway in Denver. See you cool cats there.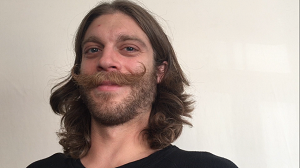 Jared is a local content contributor and aspiring author. He was fortunate enough to grow up in Golden, Colorado and graduated from MSU Denver. While an insatiable love of travel lures him all over the world, his roots remain firmly planted here. He enjoys writing short stories, poetry, children's books, societal observations, and everything else. A nature enthusiast and sunshine connoisseur, Jared is perfectly at home on any mountaintop or patio. He frequents art galleries and concerts, poetry readings and breweries, museums and bookstores. When he isn't making neighbors cringe at his musical attempts he can be found on a snowboard or sailboat, depending on the day. A perpetual adventurer and eternal patron of the road less traveled.