New Year, New Beer
I hope everyone had an excellent holiday season! I was in London, and seemed to have missed the Christmas snow and few days of sub-freezing temps, but I'd be lying if I didn't admit I am a little jealous—there's just nothing like our crisp, blue, Colorado winter days. (PS if you ever find yourself in Dover, UK, do yourself a favor and have some beers at Breakwater Brewery!) Alas, it is 2018 and as far as the eyes can see, this is going to be a pretty exciting year for beer in Denver. I know, hard to believe, right?
Rather than try and break down the dozens of first-of-the-year events coming up this cold season, I've compiled a list of New Beer's Resolutions (see what I did there?), in hopes of herding us all into braving new ideas, forming new habits, perhaps discovering a new love or two in this vast, ever-growing ocean of craft beer here in Colorado. How many resolutions are you willing to keep?
1.     Get Toasty with Stouts—'Tis the season! While it's forever fifty degrees this winter, there are surely some balmy days ahead, and there is nothing more seasonally appropriate than a warming stout. On Friday, January 12th, Jagged Mountain Craft Brewery is hosting what they are calling Stout Wars: a mini competition between the taproom staff, who created six different stouts for you to vote for and crown a winner. If you still want more, Mockery releases Schizophrenic Narcoleptic: their Export Coffee Stout aged twice as long in vanilla extract barrels.
2.     Channel Your College Days and Be a Little Experimental— arguably the newest up-and-coming trend of 2018 is the explosion of experimental beers. No, not experimental flavors and the addition of crazy adjuncts, but the experimentally fermented. In Spring of 2018, highly anticipated new brewery Primitive Beer is set to open in Longmont, as "Colorado's first exclusively spontaneous, barrel-fermented beer blendery." If you are saying, "um, what?" think: traditional Belgian brews mixed with funky, Colorado flair. Want to get ahead of the fermentation craze? Head to Wiley Roots on Friday, January 12th for the release of Galaxy Dry Hopped Funk Yo Couch, in which they've can-conditioned their award winning saison.
3.     Get Outta Town—Denver may be the hub of craft beer, but in just a few short hours, you can be in Rocky Mountain Paradise and sipping a tasty brew. This year, The Passport Program also included a new Mountain Passport (in addition to the Denver Passport), which includes several hidden bars and breweries a relatively short drive from city center through Winter Park, vail, Steamboat, Breckenridge, Idaho Springs, Salida, Silver Plume and more! For $20, you get 2-for-1 coupons at over 27 locations. Make a day trip or weekend out of it and enjoy what first made Denver famous: those snow-tipped Rockies.
4.     Dance While you Drink—Live music is one way to set some breweries' vibes apart and bring you in for a little more than a casual taste of beer after a long day's work. Check the calendars of these notoriously rocking taprooms for live music events regulary: Ratio Beerworks, Black Shirt Brewing, Black Sky, and Vine Street Pub and Brewery. For weekly themed music, Stem Ciders promotes bluegrass every Thursday night, Station 26 has bluegrass brunch one Sunday a month, and Spangalang celebrates their own theme with Jazz nights each and every Tuesday night.
5.     Take the Train—Denver is not new to the concept of beer crawls; in fact, we may have invented it and location in proximity to other taphouses is key in a brewery's success here for exactly that reason. But what do you do when the same old RiNo brewery tour gets stale? Hop on the light rail and see where it takes you. One thing we are not known for here is great public transit, however, even if the train isn't ever your go-to mode of transportation, here is a good reason to hop aboard anyway.  The A-line can have you drinking downtown from Unuin Station at Wynkoop, to Denver Beer Co., Jagged Mountain, Prost, Tivoli, Great Divie, and end at Black Shirt Brewing. From there, a quick jaunt to the D-Line can have you at Spangalang for a D-Train IPA, Goed Zuur for a taproom full of all sours, and back downtown to 10th an Osage and walking distance to Renegade, Black Sky, and Strange Craft.
6.     Go Somewhere Totally New—Old habits die hard, and often, while we always want to support our favorite breweries and brewers, we find ourselves stuck. Look out for new breweries opening and give them a try, even if you have to make a short trek from your own hood (just make sure to have a DD or Uber on deck!).  And keep your eyes peeled for the much anticipated opening of the Grateful Gnome in Berkley very, very soon (fingers crossed)!
Have a happy 2018, everyone!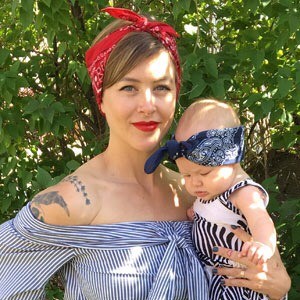 Erica Hoffmeister earned an MFA degree in creative writing and an MA in English from Chapman University of Orange. She has creative work published in the literary journals Shark Reef, Rat's Ass Review, Split Lip Magazine, and others. She has been teaching for over a decade (claiming 8th grade as her favorite grade level because she's an actual crazy person) and currently teaches composition and literature courses for Morgan Community College out of Fort Morgan. Always considering herself a bit of a beer nerd, she met her husband at Our Mutual Friend brewery while on vacation and fell in love with him, Denver, and its beer scene in one fatal swoop. While born and raised in Southern California, don't worry—she's earned her spurs as a transplant by creating her very own Colorado native. As a new mom, she is currently renegotiating her role as a world-traveling, bar-hopping, beer-loving free spirit by taking advantage of Denver's beer culture, where you can find as many babies in breweries on any given afternoon as beers on tap.