Mouthwash: Good for You or Not? You Need to Know the Rest of the Story
Over 200 million Americans use mouthwash. Most of us likely use it to freshen our breath, but it also reduces plaque build up on our teeth, removes food particles that may be trapped in our mouth, and helps prevent cavities.
Recent research has pointed to some disconcerting evidence about how mouthwash negatively influences our health. Let's review the research on the subject and the facts you need to know to make a sound decision for yourself.
Claim: Blood pressure increases with regular mouthwash use.
A Swedish study recently found that rinsing your mouth twice daily with mouthwash increases your blood pressure.
…the rest of the story.
The study used a specific type of mouthwash that contained the ingredient chlorhexidine. Mouthwash with this ingredient is typically prescribed by a dentist and is not found in most over the counter mouthwashes in the U.S. The research is unclear about the effect of over the counter products on blood pressure. High blood pressure is a major risk factor for heart disease.
Claim: Using mouthwash before exercise counteracts lower blood pressure after exercise.
Findings from a study at the University of Plymouth in England found that using mouthwash after a work out can prevent your body from achieving a low blood pressure range for a period of time post-exercise.
…the rest of the story.
The results of the study show that the blood pressure-lowering effect of exercise was diminished by more than 60 percent over the first hour of recovery, and totally abolished two hours after exercise. However, the study required subjects to rinse with mouthwash "periodically" during a two-hour period post-exercise. This may be a case of everything in moderation, as I don't know anyone who repeatedly rinses with mouthwash after a workout.
From an oral health perspective, the best way to improve your heart health is to improve gum health. Reducing the level of unhealthy bacteria in your mouth is a key to reducing inflammation, which can impact heart health.
Mouthwash is an additional strategy for oral health and should not replace a sound oral health routine. The American Dental Association recommends brushing twice daily with a fluoride toothpaste and cleaning your teeth with an interdental cleaner like dental floss, woodsticks or oral irrigators. You should also eat a healthy diet low in sugar and see your dentist regularly.
For more information about the risks and benefits of mouthwash, visit mouthhealthy.org.
.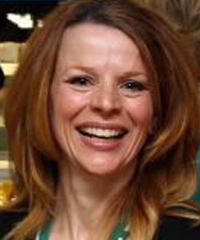 Andrea wants to live in a world where the neighborhoods are walkable, bike lanes are plentiful, and the food is fresh, delicious and readily available. A 20-year veteran of the health and wellness industry, she started her career in the fitness industry while earning a master's degree in Exercise Science and Health Promotion, and then on to the burgeoning field of worksite wellness. Andrea has competed in collegiate level soccer, worked as a personal trainer, fitness instructor, wellness coach, and master trainer, climbed 14ers, and completed cycling centuries and metric centuries. All of these experiences give her the opportunity to view well-being from many different perspectives. When she's not helping others to be their healthiest self, you can find her at a farm to table restaurant, down dogging at the yoga studio, or experiencing the Colorado landscape on a bicycle, snowshoes, cross country skis or on foot.