"Momentum" at Space ANNEX
Space ANNEX has announced a gigantic art exhibition to accompany their grand opening later this month. The contemporary gallery and event space sits in the heart of the Baker neighborhood. Their first show, Momentum, brings together dozens of artists for an expansive, multi-disciplinary display. Space ANNEX encompasses 3,000 square feet of indoor gallery space, a large outdoor sculpture garden, a rooftop patio, and an outdoor bar. They'll be hosting exhibitions on a rotating basis from artists represented by their sister location, Space Gallery. The space is also available for all types of private events.
The inaugural show is an impressive collection that includes paintings, sculptures, ceramics, photography, and everything in between. Momentum is bold, ambitious, and incredibly diverse. It features 75 contributing artists, each with a unique vision and skill set. This is a good opportunity for audiences to get a preview of everything Space ANNEX has to offer. Here are a few artists to look for.
Ben Schwab is a visual artist living in New York. He holds a master's in fine arts from Indiana University. Schwab's work focuses on our connection to the physical spaces we inhabit. He delves deep into what it means to experience our surroundings both in person, and through technology. Using layering and digital manipulation techniques, he creates images of cityscapes with abstract, often with distorted perspectives. Schwab has been featured in numerous solo and group exhibitions across the U.S. and Canada.
Jeff Curry is an artist, photographer, and professor living in Boulder. Being an artist wasn't always his main focus. In another life, he worked at a successful advertising and design firm. In 2009 he decided it was better late than never and redirected his passions towards fine art photography. Curry takes a methodical approach to his works. He's more interested in the process of creation and presentation than a central theme. His portfolio includes photographs of landscapes, graffiti, architecture, portraits, still life, and macro photography. He uses sublimated dyes, multi-layered prints on PVC, and a wide variety of other media. Curry has been featured in a number of group shows and received accolades from art publications worldwide.
Diane Cionni is a Colorado-based artist with a master's in fine arts from the Massachusetts College of Art and Design. Cionni's style, and consequently her art, cannot be confined by traditional borders or ideas. She works with an array of media and dabbles in sculpting, painting, printmaking, photography, and drawing. Her collage-like prints incorporate geometric shapes, abstract patterns, and overlapping designs. She specializes in a monoprint method, which involves meticulously positioning stencils and inked vellums into complex arrangements before putting them through a press. The results are often chaotic and full of underlying intricacies.
Momentum promises to be an extraordinary showcase with works from a long list of eclectic artists.
The opening reception is Thursday, May 23rd, from 6-9 PM. The collection is showing thru June 15th at Space ANNEX, 95 S. Cherokee Street in Denver. Hours are Wednesday-Friday, 11-5 PM, Saturday, 10-3 PM. For more information visit their website at spacegallery.org.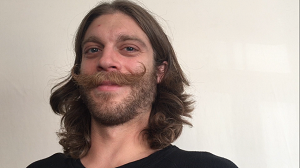 Jared is a local content contributor and aspiring author. He was fortunate enough to grow up in Golden, Colorado and graduated from MSU Denver. While an insatiable love of travel lures him all over the world, his roots remain firmly planted here. He enjoys writing short stories, poetry, children's books, societal observations, and everything else. A nature enthusiast and sunshine connoisseur, Jared is perfectly at home on any mountaintop or patio. He frequents art galleries and concerts, poetry readings and breweries, museums and bookstores. When he isn't making neighbors cringe at his musical attempts he can be found on a snowboard or sailboat, depending on the day. A perpetual adventurer and eternal patron of the road less traveled.