Mirus Gallery
Denver has become a magnet for new art and music projects (Meow Wolf, Two Parts). We're trendsetters. This week we're excited to welcome a new addition to the Denver art community. Though the grand opening was just last week, Mirus already stands out among our robust selection of contemporary art galleries. Located at 1144 Broadway, it's the brainchild of co-curators Paul Hemming and Art Poesia. Already well established on the west coast, Hemming's newest venture provides stunning exhibitions from established and emerging artists in both solo and group shows.
Mirus is part of a broader idea that Hemming began in San Francisco. He started a space called the Zen Compound which incorporates an art gallery (also called Mirus), a coffeehouse, and a work/start-up space for entrepreneurs by day. At night it transforms into a popular dance club. Hemming looks to bring the same idea here. He also owns the Temple club in Denver, conveniently located next door to the new Mirus gallery. We can probably expect some crossover between the two venues. His projects tend to combine music, art, and cultural evolution into a comprehensive experience.
The gallery is decorated in a chic modern fashion. Upon stepping inside you're engulfed in a sea of vibrant colors. There are paintings covering every wall in all sizes and styles. They feature otherworldly landscapes, geometric designs, surreal portraits, colorful renditions of pop culture trends, street art, and collage-like combinations of ancient history and modern science. Mirus is able to take advantage of an excellent artist list previously established at their sister location. The opening show features 20 different artists from around the globe including Android Jones, Kris Kuksi, Adam Ian Psybe, Jose Di Gregorio, and Add Fuel.
These are all heavy hitters in the contemporary art world, and rightfully so. Android Jones in particular has made quite a name for himself since 2005. He's described as a "digital artist" combining technology and classical techniques to create incredibly detailed paintings. He bridges the gap between futuristic and historical, light and dark, the surreal and the tangible. He has been featured all over the world including at Burning Man, on Grateful Dead tours, at the Empire State Building, the Sydney Opera House, and numerous other prominent locations. He also funded the art development company, Massive Black. Best of all, Jones is based in Lyons, Colorado.
Jose Di Gregorio is a Sacramento-based artist specializing in large scale works. He has traveled up and down the east and west coasts creating giant site-specific murals. His pieces tend to incorporate layers of geometric shapes and a broad range of colors. He also chooses interesting spots for his murals, not always focusing on flat walls. He sometimes paints the corner of a building, or an entire room, creating unusual focal points and pushing the boundaries of traditional murals.
Christian Blanxer is a Barcelona based artist with a very unique style. His work is
part street art, part portrait painting, and part surrealism. He makes visual
depictions of human actions, mixed with emotional and situational contexts. Some are realistic portraits with expressive facial features and body language. Others are more dreamlike, blending people, animals, and landscapes into a single seamless image.
It's not too early to get very excited about Mirus. They showcase cutting edge artists with constantly evolving creativity. Their opening exhibition is spectacular. Hemming's vision has been thriving on the west coast and I can't wait to see how it transfers into the Denver art scene. The gallery is free to the public and open Tuesday thru Saturday 12-6P.M. For more details go to www.mirusgallery.com.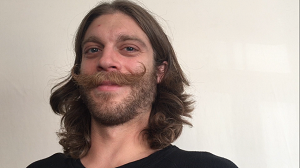 Jared is a local content contributor and aspiring author. He was fortunate enough to grow up in Golden, Colorado and graduated from MSU Denver. While an insatiable love of travel lures him all over the world, his roots remain firmly planted here. He enjoys writing short stories, poetry, children's books, societal observations, and everything else. A nature enthusiast and sunshine connoisseur, Jared is perfectly at home on any mountaintop or patio. He frequents art galleries and concerts, poetry readings and breweries, museums and bookstores. When he isn't making neighbors cringe at his musical attempts he can be found on a snowboard or sailboat, depending on the day. A perpetual adventurer and eternal patron of the road less traveled.