Mark Reynolds – Going Down Swinging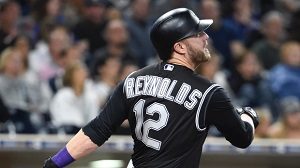 The story is familiar. The young, first baseman reaches the major leagues by swinging for the fences on every pitch. The big league team sacrifices a high strikeout rate and low batting average for long term potential, and tape measure home runs. But Father Time catches up to the powerful first baseman as the strikeout rate continues to rise and his production declines. At 33 years of age, Mark Reynolds should probably be out of baseball, but instead, he may start at first base in the All-Star game as he is currently hitting .302 with 17 homers and 55 RBIs, and the Colorado Rockies sit near the top of the NL West. The rise, and fall, and rise again of Mark Reynolds.
1) Reynolds spends his first few major league seasons with the Arizona Diamondbacks and has a career year of 44 HRs and 102 RBIs in 2009, but in 2010 his 32 HRs and 85 RBI decline are accompanied with a .198 batting average and a whopping 211 strikeouts.
2) Reynolds finds himself in Baltimore where he hits .221 in the hitter friendly park, and his strikeout rate stays alarming high. After a few seasons, he's off to the Cleveland Indians, then the New York Yankees, in the same season. He hits a combined .220 for both teams.
3) Next stop was Milwaukee, where Reynolds hits .196, and then St. Louis, where his 13 homers and .230 signaled the back end of his career.
4) In 2016, the Colorado Rockies signed him to a team friendly contract, but after a broken hand ended the season, it looked like the final chapter had been written. His next step was either retirement, or the one-year/$3 million offer to go play in Korea.
5) Reynolds faced the embarrassment of ending his career as the single season strikeout leader with 223 whiffs in 2009. His ability to swing and miss also put him on the all-time single season strikeout list in 2008, 2010, and 2011 as well. His career batting average stood at .237.
As an insurance policy, the Rockies kept Reynolds for a one-year/$1.5 million contract to backup young first baseman Ian Desmond, who is expected to make $22 million a year in 2018. Who knows if Reynolds numbers will continue to skyrocket or if the Rockies will continue to win? But whatever the scenario, Reynolds will go down swinging.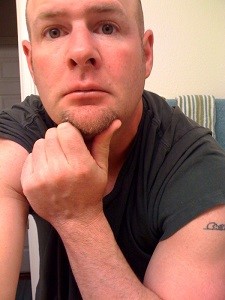 Alan Tapley is an educator, author, and blogger who has lived just outside of Boulder for the last twenty years.  His published work includes two novels, two children's books, a series of cartoons in the Minneapolis Star-Tribune, and multiple sports related articles. His love for family and the state of Colorado is only matched by one thing, his passion for sports.  The first baseball game he ever attended was at Wrigley Field, before there were lights.  At the final Bronco game at the old Mile High, he allegedly cut out a piece of his seat in the South stands.  But regardless of being here for the Avalanche's last Stanley Cup, the Rockies only World Series appearance, and all the Broncos' Super Bowl Victories, his wife never fails to remind him that he wasn't at the University of Colorado in 1990, like she was.  The year the Buffs football team won the National Championship.