Local Literary Sites Worth Citing (& Sighting)
Wander Any Tattered Cover Bookstore
There are three Tattered Cover Bookstores in the greater Denver area. TCB proffer a variety of books in numerous genres, both new and used. The indie-pendent (see what I did there?) book store chain first appeared as a single location totaling 950 ft. with a mere two staff members in 1971, and celebrated four decades of success and expansion in 2011. It's difficult to trace which prominent figures have visited which locations, earning the small book store chain a literary historic reputation that is recognized nationwide.
Some of the authors, significant figures and famous faces who have appeared in various locations of TCB include over forty National Book Award-winning authors: Sherman Alexie, Jaimy Gordon and Mark Doty to name a few, four Nobel Peace Prize-winners: Muhammad Yunus, Jimmy Carter, Al Gore, and Barack Obama, and a mix of celebrities and authors (several belonging to both categories) such as Joan Didion, David Sedaris, J.K. Rowling, Joyce Carol Oates, Shirley Temple, Margaret Atwood, Julia Child, Bill Clinton, Hilary Clinton, Stephanie Meyer, Jimmy Carter, Hunter S. Thompson, Arnold Schwarzenagger, Jane Fonda, Shirley McClain, Pam Grier, Michael Caine, Gene Hackman, Craig Ferguson, Jimmy Stewart, Val Kilmer, and Sarah Ferguson, Duchess of York.
Owner Joyce Meskis is a noteworthy figure herself, cited on the Tattered Cover website as being "a stubborn advocate for the rights of readers, literacy and free expression in America" and having won a paragraph's worth of awards related to her passionate support of first amendment rights.
Tattered Cover on Colfax Avenue, and Coffee Shop Cafe
2526 East Colfax Avenue, Denver, CO 80206

Phone: 303-322-7727  Fax: 303-399-2279

Hours: Mon – Sat, 9am to 9pm; Sun 10am to 6pm
Tattered Cover in Historic LoDo, and Coffee Shop Cafe
1628 16th Street, Denver, CO 80202

Phone: 303-436-1070 Fax: 303-629-1704

Hours: Mon – Fri, 6:30am to 9pm; Sat 9am to 9pm; Sun 10am to 6pm
Tattered Cover at Aspen Grove
7301 S. Santa Fe Drive, Littleton, CO 80120

Phone: 303-470-7050  Fax: 303-470-7047

Store Hours: Mon – Sat 9am to 9pm; Sun 10am – 6pm
Dive into the Denver Public Library Archives
Perhaps the most obvious locations of literary significance listed here is the Denver Public Library. A less obvious instruction might surprise you. Venture to the archives and you will find your trip to the library suddenly elevated in purpose; with a simple request of the reference staff, you can be up close and personal with treasures fit to be museum exhibits (though you can't always touch). Several archives gems will be of particular interest to fans of the Beat Movement. For example, there is a 1971 edition of Allen Ginsberg's famous poem You will also find film footage personally narrated by Ginsberg of an 1978 Beat reunion of the Disembodied Poetics of Naropa University in Boulder titled Fried Shoes, Cooked Diamonds. Kerouac's collection of personal letters are also here. These shelves could keep one occupied for all of his idle hours. If you venture into the archives you will also find Colorado poetry, cowboy poetry, chicano poetry, and American Indian poetry in addition to the aforementioned Beat memorabilia.
Western History/Genealogy
Denver Public Central Library
10 W. 14th Ave. Pkwy. Denver, CO 80204
Reference Telephone: 720-865-182
Hours: 10a.m. Mon.-Sat., Sun. 1p.m.-5p.m
Enjoy Drams and Jams at El Chapultepec
El Chapultepec certainly sticks out, the only spot on the block in the downtown LoDo area that is independently owned and operated–the only spot on the block with an authentically earned old-time feel that's had its doors opened since 1933. Kerouac and company used to frequent the joint (I did it again!). According to a Huffington Post piece about the bar:
Jerry never charged a cover. You could come at any time and simply sit and listen to good music. You didn't even have to buy anything. This was why Jack Kerouac and his crew spent so much time here in 1952. According to Jerry, they'd get high out in the parking lot and then slump in a booth (first one to your right when you enter) and listen to jazz. They didn't have to buy drinks to sit and listen — Jerry tolerated them for free.
1962 Market St.
Denver, Colorado
Hours vary. See Website.
Linger in the City of Leadville
During my personal research, I was lucky to stumble across several lesser-known suggestions from local professors, one suggestion of which took me completely off guard. Thanks for this literary locale & its antecedent goes to Gloria Eastman, Ph.D., professor of English at MSU who hilariously shares with us that several years before publishing his most famous works, Oscar Wilde toured the U.S. in 1882 where he,
lectured on "The Decorative Arts" to a packed house of miners who had paid $1.25 for reserved seats at the Tabor Opera House. Taking the stage in satin breeches and a velvet coat with lace trim, the 6-foot-3-inch Wilde usually clutched a long-stemmed white lily as he discussed Renaissance art.
— insider.msu.denver.edu
The official Tabor Opera House gives the historic site, the city of Leadville and its prospective visitor an enticing backdrop for a visit, sharing:
DRIVE INTO THE MOUNTAINS, TRAVERSING BEAUTIFUL WILKERSON PASS TO THE TWO-MILE-HIGH CITY OF LEADVILLE. ISOLATED GHOST TOWNS LIKE LEADVILLE ARE TUCKED INTO THE MOUNTAINS ALL OVER COLORADO, WHISPERING TALES OF FORTUNES WON AND LOST DURING THE HEYDAY OF THE GOLD RUSH DAYS. THE DISCOVERY OF GOLD IN 1859, AND LATER SILVER AND LEAD, TURNED LEADVILLE INTO ONE OF THE WEALTHIEST CITIES IN THE NATION FOR A TIME, ATTRACTING THE RICH, THE HOPEFUL AND THE INFAMOUS TO ITS STREETS, SHOW HOUSES, SALOONS AND THEATRES BY THE THOUSANDS.
Oscar Wilde is also rumored to have drank at the Silver Dollar Saloon on a number of occasions following his lectures where: "The first course was whisky, the second was whisky, and the third – whisky."
308 Harrison Ave.
Leadville, Colorado
Hours of Operation vary
315 Harrison Ave,
Leadville, CO 80461
Open 11a.m.- 12a.m. 7 days a week
Get More than a Peek at Pike's Peak
The site of inspiration responsible for forcing poets' pens to the page. Here, Walt Whitman wrote "Spirit That Form'd This Scene," "America the Beautiful," Katharine Lee Bates' poem which almost became our national anthem, was written in response to these same sights. Both poets were compelled to travel toward and across the Rocky Mountain terrains, and both were rewarded, and we as readers of these works remain rewarded. What better way to spend a holiday than to glimpse and gather some of that same inspiration, experience that same view that same beauty that brought and beckoned deeply to these poets?
According to the official website:
In 1993, 100 years after Bates ascended Pikes Peak, Colorado Springs' businessman Costas Rombocos donated an "America the Beautiful" monument that was placed atop Pikes The monument can be seen on the observation platform to the south of the Summit House.
– pikespeak.us.com
Pikes Peak Summit
Cascade, Colorado, 80809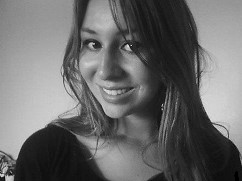 Bianca Glinskas hails from sunny Southern California, where she studied English and Creative Writing at California State University of Long Beach.  Bianca's work has appeared in literary magazines including 
Knock Your Socks Off,
Ordinary Madness,
 and 
Glass Mountain Magazine.
Bianca's column arose as a natural attempt to answer the call of Denver's lively, pulsating literary scene. When she isn't reading or writing, Bianca enjoys doing yoga, playing viola, exploring the outdoors, drinking at breweries, and holing up in coffee shops for hours on end. For any inquiries regarding Bianca's coverage of Denver's literary scene, please do not hesitate to contact her directly at 
bglinskas@gmail.com
.