Lion's Lair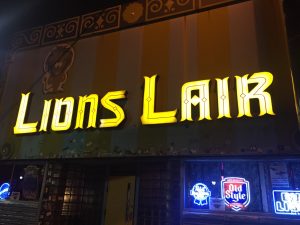 I try to spread the word about a wide range of places to see art or music or even just grab a quick drink.  Everyone has different taste pallets when it comes to entertainment. That being said, my cup of tea is a glass of whiskey, preferably at a dive bar. Nothing beats a small, grungy hangout with cheap drinks. Throw in some local bands and save me a bar stool by the weirdos. The Lion's Lair fits the bill perfectly.
Naturally it's on Colfax, the proverbial Vegas strip of dive bars. It sits at 2022 East Colfax Avenue next to End of Days Tattoo. The faded blue and gold storefront with its roaring lion looks like an MGM/Disney collaboration from the late 70's. The color scheme inside is interesting. One wall is yellow brick, one wall is red brick, and the other two are covered with aging wood paneling. Most of the room is taken up by a large rectangular bar smack dab in the middle. There are some tables around the edges and a small stage in the corner, complete with leopard print curtains. They have PBR and Miller High Life on tap and budget friendly well liquor. You won't impress anyone here with your top shelf drink choices. The bartenders are happy to commiserate with you but be appreciative.
The Lion's Lair has something going on basically every night. They have open mic night on Wednesdays and comedy on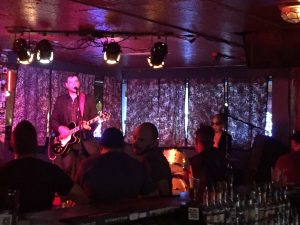 Sundays. The comedy nights are pretty much the classic local stand up scenario, which I'm into. The other nights are booked solid with bands. They tend to be mostly rock or punk rock groups like The Bedlam Bastards, Blue Collar Killers, and Carrie Nation (I love a good historical reference). Countless acts have been through there. Coming up this weekend they have Meet The Giant, Plastic Daggers, and Dead Orchids on the 14th, and JINMO with Jinjas on the 15th. Tickets to both are under ten bucks so no excuses.
This place has been keeping Colfax classy for decades. There's a reason its loved by locals. It's the home of numerous legends, just ask any regular. They all seem to have a story about a Dressy Bessy show they saw (playing again April 17th), or a belly scar they got in the alley out back. The Lion's Lair is old fashioned authentic divey perfection. Stop by and get yourself a drink and a story of your own.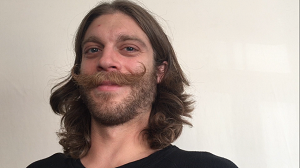 Jared is a local content contributor and aspiring author. He was fortunate enough to grow up in Golden, Colorado and graduated from MSU Denver. While an insatiable love of travel lures him all over the world, his roots remain firmly planted here. He enjoys writing short stories, poetry, children's books, societal observations, and everything else. A nature enthusiast and sunshine connoisseur, Jared is perfectly at home on any mountaintop or patio. He frequents art galleries and concerts, poetry readings and breweries, museums and bookstores. When he isn't making neighbors cringe at his musical attempts he can be found on a snowboard or sailboat, depending on the day. A perpetual adventurer and eternal patron of the road less traveled.