Invisible Horizons and Doble Sentido
On March 6th, a pair of highly anticipated exhibitions will be premiering at the William Havu Gallery. With its extensive artist list and decades of history showing the latest trends in abstraction and realism, the Havu gallery is one of Denver's top tier art venues. Next week, you can see a group show featuring Sushe Felix, Tracy Felix, and Max Lehman titled, Invisible Horizons. Concurrently, on the mezzanine, will be a show for Mo'Print 2020 titled, Doble Sentido. This solo exhibition features a collection of vibrant works from artist Tony Ortega.
Sushe Felix is a Denver based fine artist. An accomplished painter and sculptor, she specializes in abstract works focused on the movements of nature and the landscape. Her style is influenced by transcendental painters of the Southwest and the Modernist movement of the 1930s and 40s. Her works are part of collections at many museums and galleries throughout the region, including the Denver Art Museum, the Colorado Springs Fine Arts Center, and the Kirkland Museum of Fine and Decorative Art.
Tracy Felix is a local painter specializing in captivating landscapes. His large oil on panel works depict stunning natural scenes bursting with color. Felix accentuates his subjects' geological features and brightens certain hues to enhance the natural beauty of snowcapped peaks and cascading waterfalls. He draws on traditions from the Hudson River School of painters and American Regionalists. Felix's work has shown at the Manitou Galleries, Wilde Meyer Gallery, and the Denver Art Museum among many others.
Max Lehman is a contemporary ceramic sculptor based in New Mexico. He attended ASU, studying Media Arts and Pre-Columbian Art History. Lehman typically works with clay, but he also uses digital media to design and develop his sculptures. His creations are a combination of cultural references, traditions, and ideas. His selected works mix iconography from the ancient Aztec and Maya civilizations, with a contemporary urban art twist. His work has shown at a number of prestigious galleries throughout the Southwest.
Tony Ortega is a local visual artist with an MFA in drawing and painting from the University of Colorado. He currently teaches drawing and printmaking at Regis University. Ortega's illustrious career spans nearly four decades and encompasses a number of disciplines including painting, drawing, printmaking, and photography. His work is regularly included in exhibitions in museums and galleries all over the world. Doble Sentido features colored etchings and prints rich with cultural diversity. Ortega combines Latin tradition and American pop culture in a multidisciplinary series done in partnership with Mo'Prints. The volunteer supported organization works to create original prints that inspire, educate, and promote awareness in communities throughout the state.
Invisible Horizons and Doble Sentido will be on display from March 6th thru April 25th. You can learn more about Mo'Prints at https://www.moprint.org/. William Havu Gallery is located at 1040 Cherokee Street in Denver. Gallery hours are Tuesday-Friday, 10-5pm, and 11-6pm on Saturday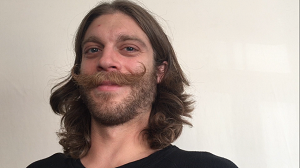 Jared is a local content contributor and aspiring author. He was fortunate enough to grow up in Golden, Colorado and graduated from MSU Denver. While an insatiable love of travel lures him all over the world, his roots remain firmly planted here. He enjoys writing short stories, poetry, children's books, societal observations, and everything else. A nature enthusiast and sunshine connoisseur, Jared is perfectly at home on any mountaintop or patio. He frequents art galleries and concerts, poetry readings and breweries, museums and bookstores. When he isn't making neighbors cringe at his musical attempts he can be found on a snowboard or sailboat, depending on the day. A perpetual adventurer and eternal patron of the road less traveled.