How to Talk to Your Family About Cannabis During the Holidays
It's holiday season! That means a lot of you have been visiting family, and some still have family to visit! These family gatherings can be a great opportunity to talk to your family about cannabis. After decades of negative propaganda campaigns, and the failed war on drugs, it's more important than ever to spread the truth about this plant. You can make a difference by educating your loved ones. Here's a few tips for having those conversations this holiday season.
Ease Into It
You don't need to start immediately exclaiming how great the cannabis plant is, how it has all these benefits, and how it needs to be legalized. Start off slow. Bring up a recent topic in the news, like how the World Anti-Doping Agency just removed CBD from the Banned Substances List. This can be a great way to begin the conversation about how cannabis really is a medicinal plant. Introducing hemp foods is another subtle way to bring up cannabis.
Be Prepared
You should at least know the basics about cannabis in order to properly educate your family. Know the difference between hemp and marijuana, THC, and CBD. Be able to tell them about the endocannabinoid system, and a good talking point is there being no record of a cannabis overdose anywhere in the world.
Provide Proof
There's nothing better than cold hard facts, but explaining how consuming cannabis helps you can be proof enough. This is what makes coming out of the green closet so important. By letting your family know you consume cannabis, and aren't a "lazy stoner", or drug addicted degenerate, you serve as a concrete positive example. If they do want proof cannabis is a medicine, direct them to U.S. Patent 6630507 which states cannabis has antioxidant and neuroprotectant properties. The very government who determines it's legality officially declared it medicinally beneficial as of 2003. It's hard to argue with that.
Ripple Effect
One of the best ways to talk to your family about cannabis is pointing how much good comes from legalization. States that have legalized cannabis have seen a reduction in opioid addiction, which is a current nationwide epidemic. The need for workers creates jobs, and opportunities for entrepreneurs. Then the taxes on the sales result in hundreds of millions of dollars. This gets spread out between things like schools, local governments, and accounts to be handled by state legislatures for countless projects.
Keep Calm
If an argument does get started, remember to keep calm. There's no point in getting upset with your family over this discussion. This is a time for joy and love. Know your limits and boundaries. If things start to get out of hand, let the situation cool off for a bit.
Either way, with these tips, you'll be ready to talk to your family about cannabis this holiday season! You don't have to convince anyone to change their mind, just plant the seed that could open their mind to new belief. Have any other tips you'd like to share? Let us know in the comments below!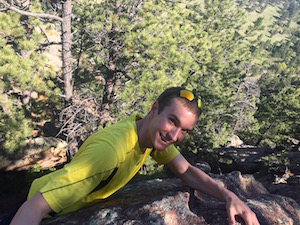 Antonio is a sponsored cannabis athlete and the Co-Owner of Marijuana Fitness Nutrition, which encourages living a healthy and active lifestyle while promoting marijuana's many benefits. A lifelong writer, with 15+ years of cannabis experience, he moved to Colorado in 2015, from Columbia, MO. It is here, in the incredible state of Colorado, where he's found who he truly is. He earned his B.A. in Psychology at Columbia College while quickly climbing the ladder of bank management, before he and his wife decided to leave it all behind, to create more meaningful lives. He and his wife now advocate for their biggest passions, marijuana, fitness, and nutrition. Even when not advocating for the cause, Antonio spends his life orbiting around these three topics. If not in the gym, or enjoying Colorado's many outdoor activities, he's in the kitchen fueling organically for his next activity, all while consuming cannabis. On the rare chance you can catch him lounging, it will be on his plush couch, with his wife and two cats, watching Netflix through a veil of smoke.