Grimm's Scary Tales
October is known as "gig-tober" amongst performers because the modern incarnation of Halloween lends itself so well to dressing up and being dramatic; every troupe in town has a zombie-themed show running this month, and I'm here to talk about one of them. It's Audacious Theatre's Grimm's Scary Tales. The production nicely represents the two things that humans fear: death and the unexplained (which arguably includes death). October is the season when we get to exorcise and process those fears in a way that involves slutty outfits and huge volumes of high-fructose corn syrup. How completely *human* it is for us to express death, sex, and eating all in one invented holiday. Happy Halloween!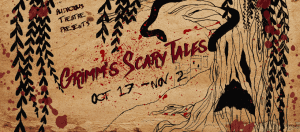 Let's start with the Scary Tales. The brothers Grimm have provided the backbone of European fairytales for centuries and they're known for their grim and gory nature. Fairies are not Tinkerbell and fairytales are not for children. Filled with spilled blood and grotesque dual natures, the Grimms' stories tell us about ourselves and reveal the frailty, folly, and fallacy of being human. All too often, those attributes are exemplified in our innate tendencies toward violence and in the grotesqueries of death. We use the slight remove of calling this "folklore" to give ourselves enough space to process these inevitable horrors through a tolerable pathway. In the case of Scary Tales, that pathway is side stairs to the basement under Felt billiards hall in Englewood.
There's nothing scarier to a school district's austerity budget than theater kids, and those are what greet you as you descend the concrete stairwell into the venue. The dark parking lot and damp cement add a note of verisimilitude to the whole experience. You get your ticket and are offered the chance to buy a plastic poncho before descending the interior steps because "things might get messy." I bought a poncho and descended into a basement that would have been creepy on Christmas, where I found a bar with a menu that offered six mixed drinks and "spaghetti and meatballs."
"Is that real?" I asked the bartender. "Like, actual spaghetti and meatballs?"
"Yes," he replied. "I can go upstairs and get it for you." Well, then.
I mention this exchange only because I've never seen an alcohol menu that included a pasta option. I skipped the long-chain-carbo-loading and settled for a short-chain-carb-heavy "Candy Corn Cocktail," which had pineapple juice and candy corn and whipped cream and tasted like what my 14-year-old self had hoped liquor would be.
The show begins in the bar itself, with actors whose costuming reminisces about the Mos Eisley Cantina—a crown of plumbing tubes and bits, belts strung with nuts and bolts, etc. If a hardware store had a baby with an army-navy surplus supply in a galaxy far, far away, it might look similar. I say that with appreciation, not disparagement. It's a cool effect. The story is introduced by ripping a sheet of parchment out of an enormous, magical tome, the title read aloud and then enacted for us by the players, while the footsteps of the Felt patrons clomp on the ceiling. Oddly, this last bit adds a layer of creepiness to the whole endeavor.
One of the things that I love about live theater is the magic of conjuring up an entire world out of a mere suggestion, verbal or physical. The Audacious folks have done a great job in creating a creepy space and a coherent aesthetic across the scenes. They've constructed several set locations in the basement that create different locations for the tales, yet seem to belong together. My personal favorites were a "thorn bush" built out of bicycle handlebars and a "horse-drawn carriage" that was a shopping cart in a previous life. With the plumbing costuming flourishes and the basement setting, it all tied together in a coherent experience.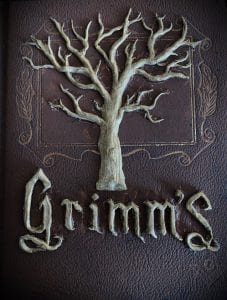 The actual content of the fairytales is horrifying. Monsters, dismemberment, slaughters, magical spells—there was a lot of hanging by the neck until dead. The classic themes of people wearing animal forms and animals doing people activities were represented. I had no idea that hedgehogs were so ferocious and enormous. But in fairytales, they certainly are. In the midst of the horror and gore, the show had some genuinely funny moments. I'll call out Hans the (ferocious) Hedgehog and the unnamed dog as each having laugh-out-loud moment, among others.
The actors, split between adults who used to be theater kids in high school and youngsters who soon will be, pulled the whole thing off with enthusiasm, aplomb, and very little "amateur rattle." The performances were quite polished. The kids, in particular, added a note of fun and creepiness. I mean, watching sibling children butcher each other is horrifying in a way that adult assassinations can't match. I involuntarily recalled being pinned to the ground by my older sister in the same exact way, even if the outcome of those childhood spats was ultimately less bloody.
I won't spoil the story by revealing how it "got messy," but it certainly did. I was happy to have the poncho. There was a fair amount of  "blood" throughout the whole program (note: I am informed that this is "detergent and red-velvet cake mix and it's totally washable and non-toxic"), the poignant scent of which lent it an odd combination of horror and kindergarten. When the show closed and we trooped back to the bar, I considered again the plate of spaghetti. There was something oddly fitting about ending the evening of gore with a platter of ground-up meat and red sauce—a final immersive element in an immersive production.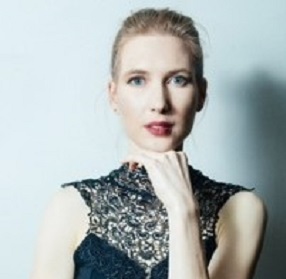 Jessie Hanson lives and works in Denver and couldn't be happier about it. Like the best-possible kind of Jekyl-and-Hyde scenario, she splits her life between science and storytelling. During the day, she performs clinical diagnostics and messes around with test tubes. At night, she performs behind the mic as a standup comedienne, in the air as a circus aerialist, and in rhinestones as burlesque dancer. She begrudges the hyper-inflated cost of a decent pair of false eyelashes. When she's not on stage, she sweating it out as an endurance athlete in triathlons and marathons across the West. She begrudges the hyper-inflated cost of a decent pair of running shoes. She's thrilled to be on board with OnDenver and writing about science, comedy, circus, athletics, and general fun on the Front Range!