Greatness Has Been Found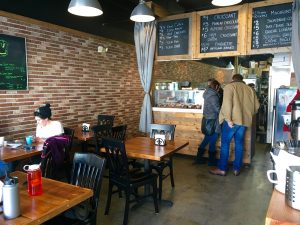 A couple of key things separate "good" bakeries from "great" bakeries. The pastry dough (although obvious), is a key factor. If you don't have crumbs all over your plate, your table, and yourself, while eating a croissant, you know the dough is lacking. A great bakery must also have a selection of fresh breads for sandwich purposes, or for just eating all at once. And last but not least, there should always be desserts, because let's be honest, you can't eat a French pastry without a French dessert to go with it. It just so happens that La Fillete (French for little girl), has all three of those things…you just have to get there early before they're all gone.
If you didn't know where La Fillete was already, you might miss it. Tucked away on East 8th Ave in a quiet area of Denver, this great bakery sits awaiting the hungry/hungover masses. I walked inside to the small, yet cozy seating area, and was pulled towards the case of pastries. Staring back at me were beautiful croissants, galettes (round pastries with filling in the middle), cookies, and cakes. The neat thing about this bakery in particular is that they change their menu seasonally, so they use whatever ingredients are the most fresh at the time. I immediately ordered a raspberry galette and an almond croissant.  After looking at the menu a little longer, I realized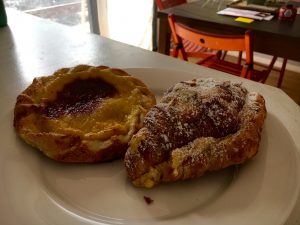 that they had breakfast sandwiches too, game changer. I quickly circled on the piece of paper what breakfast sandwich concoction I wanted, and ended up ordering a slice of quiche too somehow. I paid and headed over to an open table with a bench. A few moments later the manager came over to clean off my table, mentioning something about "all the pastry flakes." I didn't mind though because I knew that meant the pastries were great, not just good. I watched as the manager walked around making friendly conversation with the customers as he filled up their coffee or cleared their plates. After a few minutes he brought out the quiche and my breakfast sandwich.
I ordered:
-Breakfast sandwich: One lightly fried egg, mushrooms, cheddar cheese, on focaccia bread
-Veggie Quiche
I went out on a limb with the focaccia bread because I was already getting a croissant, so I wasn't sure how it was going to work out. I'm so glad I got it though because the sandwich was perfect in all ways. The egg was cooked just right to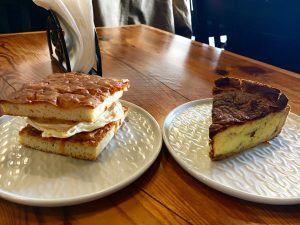 where the yolk was runny, and the mushrooms were chopped up very fine so there was an even amount of them throughout the sandwich. The cheese definitely made the sandwich better, adding a rich and gooey texture. The bread however, was the best part. It added way more flavor, some fluffiness from the inside, and a little bit of crunch from the outside. After devouring the sandwich, I tried the quiche next. It was very smooth to cut through, and the flavor was fantastic. All of the veggies came through really well with the eggs, but the crust pulled it all together. It definitely added a sweet, buttery flavor to compliment the savory veggies. Also, it crumbled all over the plate when I tried to try the crust by itself, again, a great sign. Since I had essentially just eaten two breakfasts, I decided to save the croissant and the galette for later. Once I got home, I cut them up and shared them with friends. It's safe to say they didn't last long. The almond croissant was definitely flakey enough, with layers of pastry dough coming off at each bite. The inside had a nice surprise though. In the middle there was a gooey almond flavored jam, which sent my taste buds into heaven. I had never had a galette before so I was intrigued to see what it would be like. It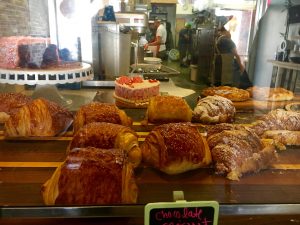 exceeded expectations with its rich raspberry center and dense pastry crust. After finishing the rest of the pastries, I sat on the couch completely content with my morning of delicious treats at the bakery.
Whether you want to embody the French culture and enjoy a cup of coffee in the morning with your croissant, or you'd rather stick to the American ways and consume a tasty breakfast sandwich, La Fillete is the place for you. The service, the atmosphere, and most of all the pastries themselves are definitely all "great."
The Place: La Fillete
The Address: 4416 East 8th Ave., Denver, CO 80220
The Goods: Pastries, cakes, cookies, breakfast sandwiches, coffee, and "greatness."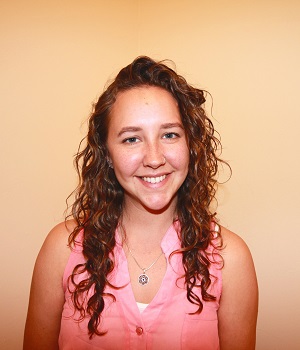 Alicia, a twenty-four year old East coast native, began her writing journey in elementary school with fictional short stories. Her love for writing about foreign people and places continued throughout the rest of her school days, but really began to take off once she graduated college. With a Philosophy degree under her belt, and an aching feeling of wanderlust, she packed up her life and headed off on a solo cross-country road trip. She drove to California where she spent her time blogging her experiences, taking pictures, and exploring the beautiful state by car. After five and a half months, she eventually ended in Colorado where she will continue her love for writing, travel, and grand adventures.