Gnome Away From Home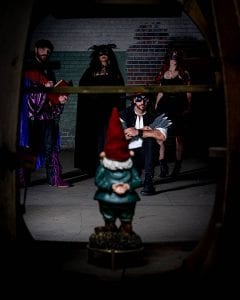 If we ever needed a blithe fairy tale about gnomes and knaves and wolves and witches, this is the time. I can't tell you how many months we've all been sealed off into our little isolation chambers because time has become meaningless. Performing artists have struggled to find new formats to connect just as audiences have struggled to find connections on new platforms. Or rather, we've struggled to stay safely apart while feeling like we're still in this together. Rainbow Militia, a Denver-based immersive-theater/circus troupe, has taken the occasion to create something that feels specific to this moment of spatial claustrophobia and social vacancy.
Which brings us to Gnome Away from Home, the theatrical production. There's a little house in the Berkeley neighborhood that has been taken over by Rainbow Militia, redecorated and divvied-up into quarantine-friendly nuggets, and then used to stage a circus production. The premise is this: a gnome, Fibblesticks Dabbledoo, has been evicted from his residence so that a Giant Conglomeration can build a Horrible Building. The homeless gnome must now go on a walkabout in order to find a new place to live. Each stage space and performance in the house represents a possible new home and community for the gnome and the audience must help the gnome choose where to relocate.
The production begins in the front yard, where the audience members meet in small groups of six or less ("quaranteams") for the now-routine temperature checks. (Remember when it was weird to take your shoes off at the airport?) Face masks are mandatory, and each team must have a "sanitation fairy" in charge of deploying the provided cleaning products behind the group. (Remember when "designated driver" became a thing?) Then each group is ushered into the house and the beginning of the journey. We start by meeting the Gnome (Jeff Paley), a charming fellow with a red beard, on the front porch, sealed tightly behind a sheet of plastic. Fibblesticks explains his dilemma to us while doing some magical things with bubbles and smoke. Then the door to the house swings open (touchless entry is a selling point for this production), and we move into the house and its sequential performance spaces.
We meander through the building, climbing and crawling as needed, and peer through the doorways into the various bedrooms, hallways, and closets that have been transformed into improvised stages. All of the performers, like Fibblesticks, are separated from the audience by sheets of plastic tightly sealed over the door jambs to keep airspaces separate and thus protect both viewers and actors. We see some familiar folks from Grimm-type fairy tales and some new characters original to this production. The performances vary a lot, from puppetry to monologue to stilt-walking and circus props. The experience finishes with a joyful outdoor music-and-dance celebration (Larea Edwards & Christin Grant and Laura Goldhamer).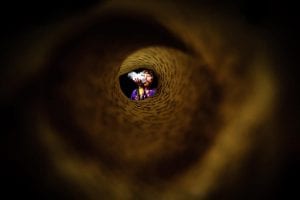 James Brunt as the Wolf stands out as a gifted monologist who carries his biting social commentary with grace and force and the final scene with the stilt walker (Staza Stone) is psychedelically head-spinning. The set (Tom Varani) amazes with the depth and detail of the dressings and props, as the space itself guides the audience up, down, around, and through–it's interactive and intimate to the end of the experience. However, if there's one snag that Rainbow Militia tends to hit, it's that they're circus artists first and actors second. Their physical performances are top-notch in the aerial arts and circus skills; their acting can be a bit bumpy. I have a soft spot for puppets, but even I wanted the narrator of the shadow puppet portion to be smoother in her storytelling, less improvised and more polished on the script. I wanted the same from Fibblesticks, too. Hansel & Gretel in Quarantine (Deirdra Angelucci & Cerene Shepard) didn't seem to have a lot of reason to be there. The Knaves & Knives (Bryan Connolly), though, showed some knife handling would have been impressive even in dead silence.
I've written about Rainbow Militia before. I've got a lot of circus envy about them; immersive theater is having a moment (or was, before the pandemic) and they're the ones doing immersives AND circus in the same productions. I keep coming back because what they do is fun and fascinating and always a risk. It's rewarding to watch the attempt and see if it will work. It mostly does, and Gnome Away from Home is no exception. There's something delicious about seeing art and artists triumph with joy and color and creativity over the wretchedness of a global pestilence. Life finds a way and love will keep us connected, even if it's shouted through face masks and swabbed down with bleach wipes afterward.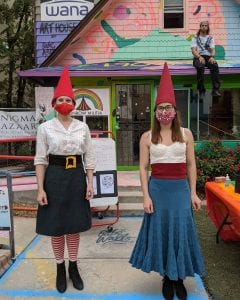 If we ever needed a blithe fairy tale about gnomes and knaves and wolves and witches, this is the time and Rainbow Militia delivers it. This is also the moment that cleaves living memories into "before and after." We will never forget these months (years?) of social distancing and economic peril. Art is the way we process all this disruption and devastation. The Gnome Away from Home reflects our current lives in its physical process–the plastic sheets, the sanitation fairy, the socially-distant performance spaces–this is how our lives look and feel in this moment. It's strange and awkward and we none of us know what we're supposed to do and so we're just trying real hard and hoping for the best. Rainbow Militia tried something huge with this unprecedented production–and I'm glad I didn't miss it. It's the most fun I've had since before I didn't know what a sourdough starter was. Tickets are limited, so grab yours before this experience is gone like social distancing after a safe and effective vaccine.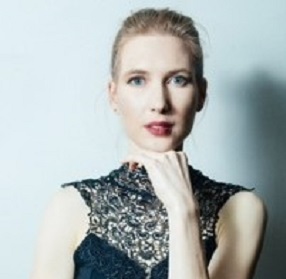 Jessie Hanson lives and works in Denver and couldn't be happier about it. Like the best-possible kind of Jekyl-and-Hyde scenario, she splits her life between science and storytelling. During the day, she performs clinical diagnostics and messes around with test tubes. At night, she performs behind the mic as a standup comedienne, in the air as a circus aerialist, and in rhinestones as burlesque dancer. She begrudges the hyper-inflated cost of a decent pair of false eyelashes. When she's not on stage, she sweating it out as an endurance athlete in triathlons and marathons across the West. She begrudges the hyper-inflated cost of a decent pair of running shoes. She's thrilled to be on board with OnDenver and writing about science, comedy, circus, athletics, and general fun on the Front Range!