Gallery 1505
Sometimes it can be hard to find the right piece of art for your particular space. There's more to it than just finding a painting you like and hanging it any old place. You wouldn't want your house to get that weird hotel room vibe, where the art looks obligatory. Have you ever looked at the posters on the ceiling at the dentist's office and wondered how much thought went into choosing them? Art should be more than just a distraction to fill space. Let's face it, while any art is better than a blank wall, some of it can seem like the visual equivalent of elevator music. When you're looking for art, you want to find something meaningful to you. Gallery 1505 is a great place to explore your individual style. If you like wearable designs, they've got handmade jewelry. Maybe you'd like a custom portrait of your beloved family pet? Not a problem. Perhaps you're a fan of comic book art? They have that too. Gallery 1505 represents a wide range of artists working with many different media. Below are just a few of the MANY awesome artists currently on display.
Christopher Clark is a self-taught artist based in Denver. He considers himself a lifelong learner and draws inspiration for his paintings from Bob Ross, Star Wars, comic books, 19th-century Impressionists, and Italian culture. Specializing in oil paints, his work covers a mix of genres including portraits, landscapes, still life, historical figures, and pop culture icons. Looking through his works you'll see a DeLorean surrounded by a ring of fire, Frank Sinatra crooning into a microphone, the ever-menacing Blucifer, Italian gondolas, and sun-drenched aspen groves. His Star Wars paintings in particular are so fantastic that they caught the attention of George Lucas himself and led to a dream job. Clark currently works for both Lucasfilm and Marvel Fine art. His work has been part of dozens of shows and collections throughout the U.S. and U.K.
Behnaz Ahmadian is a local artist/art instructor specializing in acrylics. She has a love of patterns and color variations, both of which are prevalent in her works. Some of her most interesting paintings feature pears, but painted like quilts. They're adorned with intricate patterns full of minute detail and vibrant colors. Sometimes she personifies them by adding in a family of pears. Ahmadian also has a passion for immortalizing people's pets in custom portraits, capturing their distinct personalities with all of the magnificence a member of the family deserves.
Talia Swartz is a Denver-based artist, originally from the Midwest. She holds a Bachelor's degree in Art Education from the University of Toledo and a Master's in Painting from Adams State University. She paints beautiful landscapes, incorporating geometric elements. Expert use of fine lines and foreground/background emphasis are common in her work. The inspiration for her paintings come from personal experience. She paints places from her past, creating a visual bond between where she has been and where she is now. Her work has been part of numerous collections across North America.
Gallery 1505 has a huge selection of art available. They offer paintings, pottery, sculptures, jewelry, wood crafts, mixed media and much more. Their artist list is large, and made up of mostly emerging and mid-career artists with diverse backgrounds, styles and techniques. In addition to the art exhibitions, they have periodic live performances unlike anything you'll see at other galleries. For example, artist Rudi Monterroso recently performed his signature Flamenco painting, which involves dancing the Flamenco Monterroso while painting abstract-expressionist art with his feet. They also host weekly events for the First Friday art walk and a brunch on select Sundays. Everybody loves brunch; why not enjoy it surrounded by beautiful art? The gallery is located at 1505 South Pearl Street in Denver and is open Tuesday through Saturday. For more info check out their website at gallery1505.com.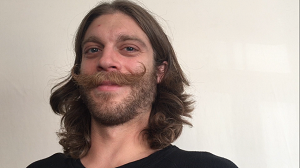 Jared is a local content contributor and aspiring author. He was fortunate enough to grow up in Golden, Colorado and graduated from MSU Denver. While an insatiable love of travel lures him all over the world, his roots remain firmly planted here. He enjoys writing short stories, poetry, children's books, societal observations, and everything else. A nature enthusiast and sunshine connoisseur, Jared is perfectly at home on any mountaintop or patio. He frequents art galleries and concerts, poetry readings and breweries, museums and bookstores. When he isn't making neighbors cringe at his musical attempts he can be found on a snowboard or sailboat, depending on the day. A perpetual adventurer and eternal patron of the road less traveled.