Four Artists to Look for at Visions West Contemporary
Visions West is a contemporary art gallery in the heart of downtown Denver. With a broad artist list that includes names from around the globe, they curate shows that consistently push boundaries. They seek out artists who exhibit exceptional diversity, unique style, and most importantly, passion in their work. They also focus heavily on art that involves nature, and the influence it has on individuals and society as a whole. Their exhibitions span a wide range of media, from sculptures, to dioramas, to oil paintings, and even ornate birdcages.
For their first exhibition of the year, Visions West is offering a sample of some of the artists that will be featured in 2019. This showcase, titled What Lies Ahead, will run from January 11th through February 23rd. While each artist will have more comprehensive shows in the months to come, this is an opportunity for viewers to get a taste of what can be expected. Here are a few of the artists I'm particularly excited about.
John Defeo is a local painter with a deep connection to nature. He holds an MFA from CU Boulder and also studied in Florence, Italy. Specializing in landscapes, Defeo's work exhibits a reverence for the unspoiled beauty found outside modern society and its concrete makeup. He finds his inspiration in the space between natural occurrences and man-made deliberateness. His paintings remind viewers that the wilderness is all around us, and imminently accessible. In addition to painting, Defeo also delves into rug weaving, enjoying the experimental freedom it provides. His creations have been shown worldwide, with solo shows in Denver, Chicago, and New York.
June Glasson is a Wyoming-based artist with a penchant for representing power dynamics through art. She holds a BFA from Cornell University and works with a variety of media. She has a background in sculpture, woodworking, dioramas, and classical painting, but lately has been working mostly with oil paints and ink on paper. After spending decades in cities like New York, Berlin, and Bangkok, she traded metropolitan life for the small town feel of Laramie. A common theme throughout her work is the empowerment and embodiment of femininity. Her paintings have been featured in numerous exhibitions and recently in the film Our Idiot Brother.
Future Retrieval is the collaborative effort of studio artists Katie Parker and Guy Michael Davis. Founded in 2008, they create evocative porcelain sculptures using state-of-the-art digital fabrication techniques. 3D scanning and printing allow artists to fabricate and duplicate ideas with much more precision than sculpting by hand. It also creates a digital file which can be easily altered or edited without taking up real space in a studio. The work is not all done by machine, however; Future Revival uses technology as just another tool in the workshop. The size of the printed pieces is limited and the artists still have to design, arrange and assemble the works by hand. Technology simply makes the process more efficient.
You can check out these artists and MANY more featured in What Lies Ahead. Visions West offers a platform for artists from around the world to share what inspires them. This particular show features eight artists with very distinct styles. From Future Revival's porcelain designs, to June Glasson's "mountain drag" paintings, Visions West offers viewers a diverse range of styles, ideas, and media not typically seen in one place. The gallery is located at 2605 Walnut Street in Denver. They're open Tuesday through Saturday, 10:30-5:30. For more information, check out visionswestcontemporary.com.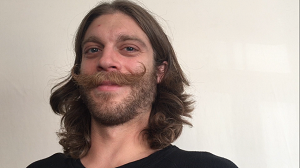 Jared is a local content contributor and aspiring author. He was fortunate enough to grow up in Golden, Colorado and graduated from MSU Denver. While an insatiable love of travel lures him all over the world, his roots remain firmly planted here. He enjoys writing short stories, poetry, children's books, societal observations, and everything else. A nature enthusiast and sunshine connoisseur, Jared is perfectly at home on any mountaintop or patio. He frequents art galleries and concerts, poetry readings and breweries, museums and bookstores. When he isn't making neighbors cringe at his musical attempts he can be found on a snowboard or sailboat, depending on the day. A perpetual adventurer and eternal patron of the road less traveled.