For You For All – Station 26 Brewing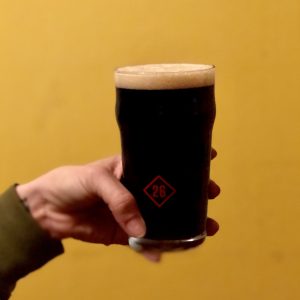 Chances are, even if you have never found yourself in the actual converted firehouse that houses Station 26 Brewing, you've most likely had their beer. Station 26 is one of the widest distributed local breweries around town, with their cans finding ample shelf space in local and major liquor stores alike. The Juicy Banger IPA is their flagship IPA, and the Tangerine Cream their award-winning fan favorite—both brews canned and drank in large quantities due to their well-deserved popularity. If you are still reading this and have never had the privilege to visit Station 26, read on! There's a reason why this mellow, under the radar brewery has garnered such local favoritism over the past few years.
Sitting in Park Hill, right on the edge of the Stapleton suburbs, it is incredible how busy this place can get on any given night. As a result of their precarious location, Station 26 entertains a wide variety of clientele: from the suburban sprawl families that bring their kids and dogs, to the city kids, to business associates staying in the hotels that line Quebec St, and even the lone regulars who have lived in that very neighborhood their whole lives, and everyone in between. There's a reason why so many different kinds of beer drinkers end up here, inhabiting the same warming place. It's mellow, it's beautiful, and the beer is dependably good. Aside from an occasional Strawberry Milkshake IPA, or their bold, 4th Birthday Beer Quad with Plums, the beers you get at Station are straightforward and steadfast. The names aren't complicated, nor is the beer itself. That's not to say it's boring around these parts—quite the opposite.
There is personality within every detail of the taproom; an old Denver firehouse, it remains genuine and overall unchanged while functionally converted. The traces left behind of design include old fireman's poles and the tap wall covered to the ceiling with firehouse patches. An homage to a heroic building of the past, the repurpose effort is classy and beautiful. You just want to forge through the crowd (or stake a spot at the bar early afternoon) and drink a pint of the Colorado Cream ale (or my favorite—the perfectly balanced Cherrywood Smoked Porter), if only to take it all in. For some of us, it may seem off the beaten track, but this fact only intensifies its element of uniqueness. Not to mention their merch, which is as spot on as the rest of the simple-yet-effective branding, emblazoned with their logo and the mission statement marked on each menu: For You For All.
Station 26 also is self-contained, providing their own food truck. They have monthly events, including the always popular Bluegrass Brunch the 2nd Sunday of every month!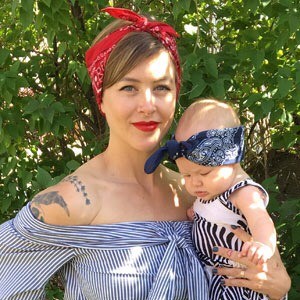 Erica Hoffmeister earned an MFA degree in creative writing and an MA in English from Chapman University of Orange. She has creative work published in the literary journals Shark Reef, Rat's Ass Review, Split Lip Magazine, and others. She has been teaching for over a decade (claiming 8th grade as her favorite grade level because she's an actual crazy person) and currently teaches composition and literature courses for Morgan Community College out of Fort Morgan. Always considering herself a bit of a beer nerd, she met her husband at Our Mutual Friend brewery while on vacation and fell in love with him, Denver, and its beer scene in one fatal swoop. While born and raised in Southern California, don't worry—she's earned her spurs as a transplant by creating her very own Colorado native. As a new mom, she is currently renegotiating her role as a world-traveling, bar-hopping, beer-loving free spirit by taking advantage of Denver's beer culture, where you can find as many babies in breweries on any given afternoon as beers on tap.