fooLPRoof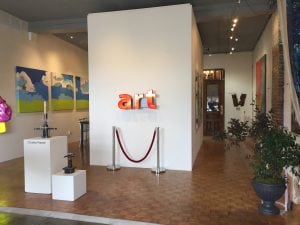 There's a wonderful new addition to the art district in Rino. Now at 3240 Larimer street, fooLPRoof is a contemporary art gallery, and it really is a must-see.
The creative Director behind fooLPRoof is Laura Phelps Rogers. She's a highly accomplished artist whose work has been featured nationwide. Her numerous achievements include the 2016 Award of Excellence from The Sculptural Precedent, The 2013 Emmanuel Gallery Juror's Choice Award, and the   Colorado Artists Guild's Best Sculpture in 2012 among many others. Rogers has worked closely with the local art community for a number of years. Her work has been featured in Westword's Colorado Creatives, at many local galleries, and the state capital. She specializes in sculptures, metallurgy, photography, and mixed media compositions. Many of Rogers' works are site-specific, and location is key. She often incorporates themes
of historical and contemporary societal concepts, as well as nature, and the use of everyday items like clothing.
Rogers was kind enough to speak to me about the recent grand opening and her vision for the future of fooLPRoof. She
said she wants this space to be inviting to both the passerby and art collectors alike. She has worked with hundreds of other artists over the years and she's excited to give them a space to exhibit their pieces. While a small part of the gallery is reserved for Rogers' work, the majority of it is dedicated to other artists. 25 of them currently. As soon as
you step inside you're surrounded by sculptures, neon light creations, food arrangements, paintings, and one of a kind clothing. There isn't an overall genre or theme to the art, it's open to all kinds of creativity. The gallery itself is deceptively large. It's housed in a red brick building on Larimer, marked by a white sign above the door that simply says "art." The entrance opens up into a main room filled with pieces from about a dozen different artists. Further back are two more sections with large paintings, three dimensional displays, and sculptures, including one of a small dog by artist Isaac Sandoval that I found particularly delightful.
One of the things I liked about fooLPRoof was the variety of art types. The exhibits covered everything from metallurgy to photography. I was pleasantly surprised to see so many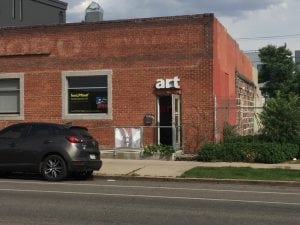 artists and exhibits in one space. This upscale gallery is in a perfect location near many local eateries and neighboring Infinite Monkey Theorem Winery. Slots are available for artists in six-week increments. There is also availability for workshops, pop-up exhibits and any other art-related events. For more information go to www.lprgallery.com.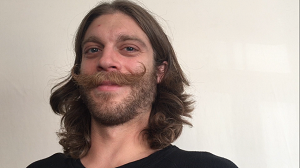 Jared is a local content contributor and aspiring author. He was fortunate enough to grow up in Golden, Colorado and graduated from MSU Denver. While an insatiable love of travel lures him all over the world, his roots remain firmly planted here. He enjoys writing short stories, poetry, children's books, societal observations, and everything else. A nature enthusiast and sunshine connoisseur, Jared is perfectly at home on any mountaintop or patio. He frequents art galleries and concerts, poetry readings and breweries, museums and bookstores. When he isn't making neighbors cringe at his musical attempts he can be found on a snowboard or sailboat, depending on the day. A perpetual adventurer and eternal patron of the road less traveled.