Fill up at Lumpy Ridge Brewing
Happy Fall everyone! It's official, that low autumnal glow has lit up our mile high skies and a cool breeze has shifted us into the September equinox. Which means, over the next few weeks, we will all be taking short drives through our beloved mountains to watch the aspens change their colors and the rockies catch fire in orange and yellow hues. It's the best time of year, and one of the many reasons I love to call Denver home. There are several favorite scenic drives to catch all the color action this season, but one of my favorites is through Rocky Mountain National Park by way of Estes Park. A short 90 minute drive from downtown (unless you're like me and like to hit a few breweries on the way up and take a few hours!), you can be at the gateway to gorgeousness. I like to creep my way up, then take highway 7 west of Estes Parkback home and view it all in the perfect afternoon sunlight. OK cool, you're thinking, but what does this have to do with beer?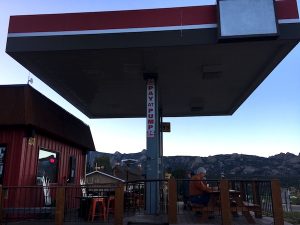 A few miles from the center of town and the strip of T-shirts and tourist traps, there sits LumpyRidge Brewing in an old converted gas station. Named after the mountainous view right above the lake, Lumpy Ridge, this spot is a special one. I had just finished relenting to my husband about the "brewery look" that so many brewing companies (many with obviously generous donors and investors) have geared their brand and atheistic towards, and frankly, it is beginning to bore me. Sure, the facilities are impressive, gorgeous, clean…but I am craving some damn character. Something different. Somewhere that stands apart from the cookie cutter track brewery Denver standard. I was pleasantly surprised when I got my wish at our last stop of the day in Estes Park that evening spent at Lumpy Ridge.
Converted gas station is describing the tap-area vaguely: most of the gas station has been left intact, from the old signage, the pump area, to the open up window you can order from without setting foot inside. Where you once pumped gas, you can now sit around fire pits and enjoy a beer with a view. The seating area is made up almost entirely outside, and I am curious as how it works in the snowy months, as there are only a few barstools set up in the very small space inside.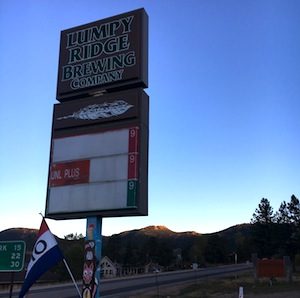 Nothing like Colorado, where even sub-freezing temps and snowfall can't keep the beer-drinkers at bay. Inside is anything but cookie cutter standard–instead, it feels warm and homey, with rock posters and random, kitschy art plastering the walls. It reminds me of my favorite dive bar, a place I'd frequent often if I lived in the area, and where I will be sure to frequent every time I'm in Estes from now on. As a last stop brewery of a long tasting day, I only had one beer: the 5.8% Thurman Stout (have you all figured out my favorite style yet?), which was perfect to sip on watching the sunset wearing a hoodie for the first time in months.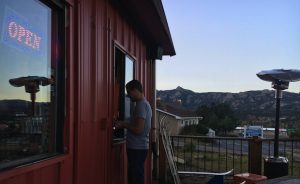 Lumpy Ridge prides themselves on making simple beer: another favorable fact in my opinion.No gimmicks, no fancy bullshit, no million dollar sterile brewhouse. Just a re-purposed gas station at the top of a hill serving regular, good beer, to the good people of Estes Park. Go be a tourist, take some Instagram-worthy pics of the glowing aspens, and end your day here at Lumpy Ridge. You won't miss the city for a second!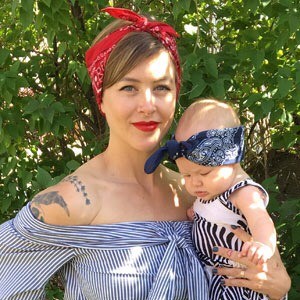 Erica Hoffmeister earned an MFA degree in creative writing and an MA in English from Chapman University of Orange. She has creative work published in the literary journals Shark Reef, Rat's Ass Review, Split Lip Magazine, and others. She has been teaching for over a decade (claiming 8th grade as her favorite grade level because she's an actual crazy person) and currently teaches composition and literature courses for Morgan Community College out of Fort Morgan. Always considering herself a bit of a beer nerd, she met her husband at Our Mutual Friend brewery while on vacation and fell in love with him, Denver, and its beer scene in one fatal swoop. While born and raised in Southern California, don't worry—she's earned her spurs as a transplant by creating her very own Colorado native. As a new mom, she is currently renegotiating her role as a world-traveling, bar-hopping, beer-loving free spirit by taking advantage of Denver's beer culture, where you can find as many babies in breweries on any given afternoon as beers on tap.