Faces of Denver – The Family at Hunter Bay Roasters
Hunter Bay Roasters, a brand new addition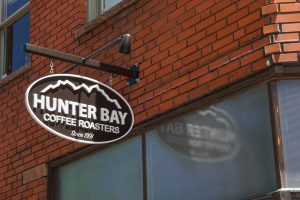 to the Denver area, is a high-energy coffee shop right in the heart of Olde Town Arvada. Hunter Bay's roots are in Missoula, Montana, and if you've ever been through Missoula, you may just confuse it for a Colorado mountain town. The outdoor culture and adventurous yet socially conscious vibe that is instilled in Hunter Bay is a perfect fit for Olde Town Arvada, making it an instant hit among the local community. Grabbing a coffee or kombucha here feels a bit like a Friday night at a brewery, and it's the kind of place where the barista knows your name and asks if you want the usual when you walk in. The social atmosphere is a great place to get your mind right for busting out a paper or for taking your latest Tinder match out for a first date (no joke, tell your barista you're on an online date and they'll give you 10% off)!
When opening a location here in Colorado, it was important to Hunter Bay that it became part of the community, and not simply a satellite shop. To do so, Hunter Bay has decided to roast and hand pack its coffee beans in house, making them as local as you can get. Additionally, Hunter Bay isn't just located in a historic part of the Denver Metro area, but is actually in a building that used to be a Ford Model-T factory, so you can drink a cold brew in the same spot some of the first cars were made (feel free to impress your next Tinder date with that fun fact). Hunter Bay and its employees are also dedicated to putting time and money back into the local community, partnering with Chris Anthony's Glide Project. Hunter Bay will be donating part of the proceeds of an upcoming blend to fund scholarships for underprivileged kids in the area to get up on slopes, ski, and learn mountain/avalanche safety.
Hunter Bay makes sure to take care of all the people along their distribution chain. At the heart of Hunter Bays business model is ethical sourcing, as they purchase their beans through direct trade. This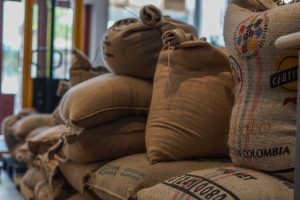 means that Hunter Bay coffee is bought from small communities where the money goes directly to the farmers. "It feels good to sell this coffee to a customer," says Torey, a member of the Hunter Bay family. Part of Hunter Bay's mission statement on their website, hunterbay.com, is "we strive to meet the highest ecological and social standards in every step of the process." Aside from the coffee, Hunter Bay sources its food ingredients locally, and always has a Happy Leaf Kombucha (brewed just down the road in Edgewater) on tap.
Whether you're starting your weekday, looking for a spot to focus on an assignment, rolling the dice on an online date, or just wanting to stop in for some live music (often being played by the Judge of Arvada) on your way to the Sunday Farmers Market, Hunter Bay is an awesome option with a great atmosphere, friendly staff, and exceptional coffee. Check them out on Instagram @baristasathunterbayarvada, where you can always see what's happening down at the local roaster!