Faces of Denver – Michael "Santa" Thein!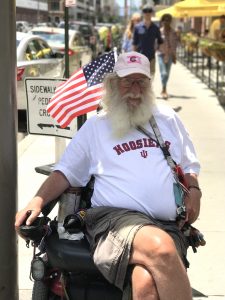 Meet Michael "Santa" Thein. The Santa nickname coming from what people like to call him, and between his physical appearance and persona, it is an accurately fitting name. Michael is a very buoyant, upbeat character, radiating with charm as he sits in his wheelchair on the corner of 16th and Champa. He sits with a smile watching people pass by, asking for high fives and small donations-not donations for himself, but donations for the homeless community that he likes to help out. This is where the Santa nickname comes into play, Michael is a very generous and caring person, who is constantly collecting donations for food and clothing and giving it back to other homeless people.
"Santa" has been living in Denver since 1983, moving here in the 80's after initially spending most of his earlier life in Lincoln, Nebraska. He grew up in a German household where most of his family spoke German, and his grandmother would constantly speak to him in German. But after leaving home and being away from that environment, he forgot most of the German that he knew, which he says is something he deeply regrets. Michael joined the Navy when he was 18, and was based out of Great Lakes, Illinois where he was working on becoming an MP (Military Police). But unfortunately, he was dealing with a "bully" petty officer that Michael got into an altercation with, and because of that, was honorably discharged from the military. Michael was willing to serve a good chunk of his life in the Navy if it wasn't for the unfortunate incident.
Because of his disability, Michael receives disability checks, which allows him to spend most his time volunteering for various Homeless shelters, such as Open Door on Wadsworth. When he is not watching baseball games, he likes to spend the weekends sitting on 16th street, interacting with pedestrians, collecting donations, and bringing smiles to people faces. He says he has been sitting on the corner of 16th and Champa every weekend now for 5 years, and that "nobody is going to ever come to this spot and steal my turf."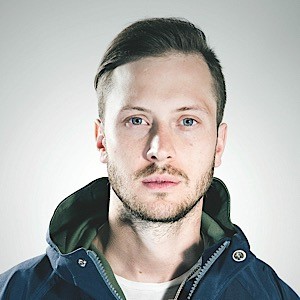 Cameron is a Colorado native born and raised in Littleton, CO. Growing up in the beautiful landscape of the Colorado area, Cameron developed early on an enthusiasm for photography. After spending many hours skimming through the pages of National Geographic and being enthralled by the photos in it -combined with the old analog cameras his grandpa gave him- he decided to pursue a minor degree in Photography from the University of Colorado Denver. His love for meeting new people and studying different cultures compelled him to obtain a B.A. in Sociology. Weddings, portraits, real estate properties, and automobiles are some things he has photographed throughout his career. Cameron has a huge passion for traveling and, after spending much time in Southeast Asia, has a constant travel itch that always needs some scratching. If you don't see him with a camera in his hand then you most likely will see him with a guitar in his hand (or a big plate of food.) He plans on taking pictures for National Geographic one day, and hopes to always be experiencing new places around the world.