Faces of Denver – Erika Hildner!
Erika Hildner has to be one of Colorado's most creative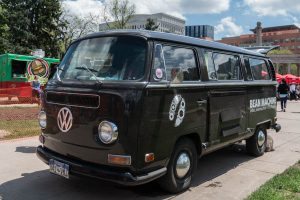 entrepreneurs! Born in Montana, yet a Colorado resident for the past 15 years, Erika has a strong love for VW vans stemming from her childhood. 5 years ago, Erika made the decision to quit a job she hated and take that love to a whole new level.  She purchased a 1970 VW Transporter and turned it into what it is today, the Bean Machine. The Bean Machine is a mobile coffee shop providing gourmet coffee, tea, and juices to the Denver area; from private clients to events like Civic Center EATS and the Horseshoe Market on 46th and Tennyson this weekend.
While Erika has learned countless lessons through starting and running her own business over the last 5 years, one that stood out was how to file a business insurance claim. One unfortunate day, The Bean Machine caught fire while cruising down I70.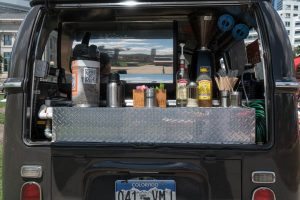 Erika quickly exited, pulled into a parking lot, and opened her engine compartment to find her beloved vans motor engulfed in flames. Luckily Erika keeps a fire extinguisher in the van and was able to put out the fire before the body or brewing equipment was damaged; however the Bean Machine was in need of a new engine.
Erika believes that "great coffee starts with fair trade, organic, and responsible sourced product." If you ever catch Erika and the Bean Machine brewing near you, I highly recommend her Bhakti Chai!