Drew Lock: Is He Great, or Just Okay?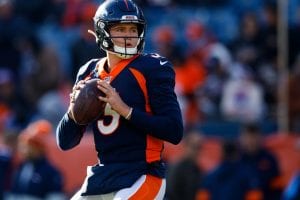 I have the same argument with my buddies every Sunday when it comes to the NFL and assessing the recipe for success: I believe you need a borderline Hall of Fame type quarterback to win it all in today's game, and anything less is simply a path towards mediocracy.
But what does that have to do with Drew Lock and the Denver Broncos?
I argue time and again that thirteen of the last fifteen Super Bowls were won by Hall of Fame members, or soon-to-be member quarterbacks, but they insist on bringing up the two outliers in Nick Foles and Joe Flacco. I reiterate the fact that twenty-three of the last twenty-seven championships were won by names like Manning, Aikman, and Brady. And yet, they insist on throwing in Trent Dilfer and Brad Johnson to throw shade on my hypothesis.
But what does that have to do with Drew Lock and the Denver Broncos?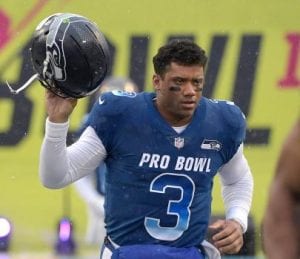 It is week sixteen of the NFL schedule, and the playoff teams are pretty much decided.  Of the sixteen teams that are fighting for it all, Tom Brady (NE), Aaron Rodgers (GB) Drew Brees (NO), and Russell Wilson (SEA) have basically had their passports stamped for Canton. And while it is far too early, Pat Mahomes (KC) has been sensational, Lamar Jackson (Bal) is your likely MVP, and Deshaun Watson likely passes the smell test.
Is Minnesota's Kirk Cousin a future Hall of Famer?  Well, his three-year/$84 Million contract says that the Vikings believe he is. But his career record is 44-42 and he's never won a playoff game.
Is Jimmy Garopplo a future Hall-of-Fame player? His game and his stats (27 TDs and 13 INTs) say I'm not sure. But his overall record (20-5) says dust off the gold jacket, just in case.
Philly and Carson Wentz? Hard to judge when you win that crappy division, but over the past four games, and when healthy, Wentz looks to be a franchise quarterback. And Tennessee or Pittsburgh?  Let's be honest. Nine wins and just happy to be there. That leaves just the Buffalo Bills. Far too early to judge Josh Allen, but with wins over the NY Jets (probably twice), the NY Giants, Cincy, Miami (twice), and Washington, I'm suspecting you're a one-hit-wonder.
But what does that have to do with Drew Lock and the Denver Broncos?
The answer is everything.
Bronco Nation would be thrilled if Drew Lock developed into Denver's starting quarterback for years to come. That would allow the Broncos to draft offensive linemen, add a dynamic receiver, and turn the third youngest team in the NFL into a growing piece of playoff potential.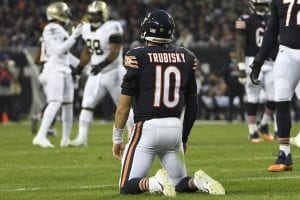 But develop into what? If Lock ends up being just slightly better than Case Keenum, it's not good enough. If he's the next Mitchell Trubisky, we're not making the playoffs anytime soon.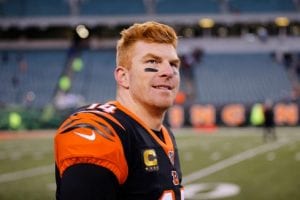 He can't be a Jameis Winston and show promise but keep turning the ball over, a Baker Mayfield and fail to mature, an Andy Dalton and be good enough to play ten years but never win, so according to my theory…he needs to be special.
My buddies argue that history says that special quarterbacks can be found with the 42nd pick in the second round. Look at Russell Wilson (75th pick) and Tom Brady (199th pick). And I hope they are right.
But the next game, and more so the next year, are two are scary times. History has shown that Denver has been immensely successful with a John Elway or Peyton Manning type talent at the helm and struggled with a Kyle Orton, Brock Osweiler, or Brian Griese.
So, no rush. And I'm willing to wait a couple years if the Broncos are. But I just need to ask the inevitable question.
Is Drew Lock closer to becoming the next John Elway? Or another Trevor Siemian? My guess is that he is somewhere in the middle of the two, which is better that what we've had lately, but it's not a solution.
Images via sports.yahoo.com, milehighreport.com, denverpost.com, cincinnatiinquirer.com, sbnation.com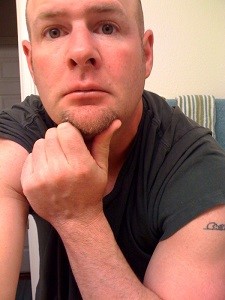 Alan Tapley is an educator, author, and blogger who has lived just outside of Boulder for the last twenty years.  His published work includes two novels, two children's books, a series of cartoons in the Minneapolis Star-Tribune, and multiple sports related articles. His love for family and the state of Colorado is only matched by one thing, his passion for sports.  The first baseball game he ever attended was at Wrigley Field, before there were lights.  At the final Bronco game at the old Mile High, he allegedly cut out a piece of his seat in the South stands.  But regardless of being here for the Avalanche's last Stanley Cup, the Rockies only World Series appearance, and all the Broncos' Super Bowl Victories, his wife never fails to remind him that he wasn't at the University of Colorado in 1990, like she was.  The year the Buffs football team won the National Championship.