Denver Nuggets – Shopping Overseas Again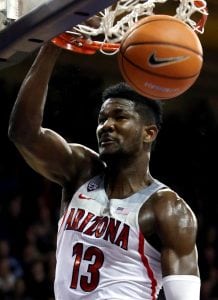 The NBA draft will be held on June 21st and the Denver Nuggets will have to wait to see who is available at pick number 14.  Assuming that no trades are made before draft day, my mock draft looks like this.
Phoenix Suns – DeAndre Ayton (7'0 Center/Arizona).  Outstanding athlete for a big man, Ayton dominates the boards with his physicality and can still make the 10-footer to keep the other NBA centers honest.  Along with Devin Booker, the Suns finally have the makings of an actual NBA team.
Sacramento Kings – Luka Donic (6'8 SG/SF/Slovenia). The Kings are the worst in the league at evaluating and developing talent, and GM Vlade Divac probably only has one more chance to save his job so he'll roll the dice on the European prodigy.  While he may turn out to be another Ricky Rubio, Donic will at least get playing time and sell jerseys.
Atlanta Hawks – Marvin Bagley (6'11 PF/Duke). Best player available on a team that needs everything.  Bagley can score from inside and out but shoots only 62% from the free throw line. Bagley will play ten years in the NBA, but so will the Plumlee brothers.
Memphis Grizzlies– Jaren Jackson Jr. (6'11 PF/Michigan St.). Memphis is not only rebuilding, but they are old and rebuilding.  Jackson has the most upside in the entire draft and the Grizzlies have nothing but time to develop him.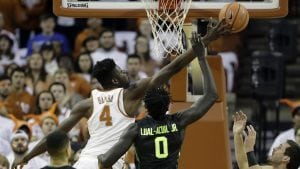 Dallas Mavericks – Mohamed Bamba (7'0 Center/Texas). Bamba is a shot blocking dynamo with a 7'10 wingspan that's perfect for today's NBA.  Put four guys around the perimeter and a big time shot blocker and rebounder in the post.  Too bad the Mavericks don't have the other four guys yet.
Orlando Magic – Trae Young (6'2 PG/Oklahoma). At only 6'2 and 180 lbs., Young may have trouble living up to the NBA game and Steph Curry comparisons.  But Young is a fan favorite who can really shoot and distribute the ball.  Besides, if Young ends up being just average, he'll fit right in with the Magic.
Chicago Bulls – Michael Porter Jr. (6'10 PF/Missouri). The Bulls are the first team on the board willing to risk a first round pick on injured potential.  If healthy, Chicago has the steal of the draft.  The fact that his first name is Michael doesn't hurt either.
Cleveland Cavaliers – Mikai Bridges (6'7 SG/Villinova). Bridges is the safest pick available at this spot.  If Lebron is back, Bridges adds outside shooting and flexibility with his size.  If Lebron is gone, he's still the best player available.
New York Knicks – Wendell Carter Jr. (6'10 PF/Duke). The Knicks would love to select Collin Sexton and plug him in at point, but eventually you have to stop drafting or trading for point guards that underachieve.
Philadelphia 76ers – Kevin Knox (6'9 SF/Kentucky). Knox can play the small or power forward position.  With the current depth and talent of the 76ers, you may as well pick a one-and-done from Kentucky and hope for the best.
Charlotte Hornets – Miles Bridges (6'6 SF/Michigan St.). Considering the draft history of Hornets owner Michael Jordan and new GM, Mitch Kupchak, look for Charlotte to pick the most talented player whose game and size fails to translate at the next level.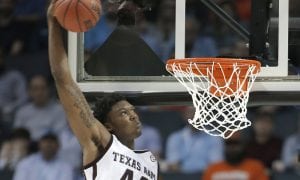 Los Angeles Clippers – Collin Sexton (6'2 PG/Alabama) and Robert Williams (6'9 PF/Texas A&M).  With two picks, look for the Clippers to go with the best available.
Denver Nuggets – Dzanan Musa (6'9 SF/Bosnia).  Shai Gilgeous-Alexander would probably be the safer pick, but with Robert Williams and a host of others off the board, look for the Nuggets to go overseas again, and look for Musa to join the Nuggets in two or three years.
Images via NetsDaily, ArizonaDailyStar, ChicagoSunTimes, USAtoday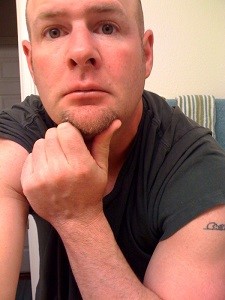 Alan Tapley is an educator, author, and blogger who has lived just outside of Boulder for the last twenty years.  His published work includes two novels, two children's books, a series of cartoons in the Minneapolis Star-Tribune, and multiple sports related articles. His love for family and the state of Colorado is only matched by one thing, his passion for sports.  The first baseball game he ever attended was at Wrigley Field, before there were lights.  At the final Bronco game at the old Mile High, he allegedly cut out a piece of his seat in the South stands.  But regardless of being here for the Avalanche's last Stanley Cup, the Rockies only World Series appearance, and all the Broncos' Super Bowl Victories, his wife never fails to remind him that he wasn't at the University of Colorado in 1990, like she was.  The year the Buffs football team won the National Championship.