David B. Smith Galley – Christopher Russell
Denver is blessed with an extraordinary selection of art galleries, and a thriving community behind them. Local artists and internationally recognized names find homes in every neighborhood. Though the sheer number of choices can be overwhelming, they're all unique and amazing. One place that never disappoints is the David B. Smith galley. Specializing in contemporary art, they feature world renowned artists with rotating exhibitions monthly. Their current
show, by Christopher Russell is exceptional.
Christopher Russell is an incredibly talented artist and photographer based in Portland, Oregon. He received an M.F.A. from the Art Center College of Design in California. Critically acclaimed by numerous editorials including the L.A. Times, the Washington Post, the New York Times and ArtForum, Russell's works are masterful and creative. His pieces have been featured in private and public collections in Los Angeles, Tokyo, Antwerp, New York, the Netherlands, and many more. One artistic outlet seems insufficient for this man's overflowing talent pool. Russell is also an accomplished author and illustrator. His books include novels like Sniper, which
delves into the circumstances surrounding the DC snipers, as well as photography books like, Landscape and Pattern Book.
His latest exhibition features works from his series, The Explorers. Russell uses an imaginative combination of photography and a scraping technique called sgraffito. He takes photographs of nature, blurred through a veil. He then prints them out and adds paint to certain portions. The paint is then meticulously scraped away leaving a second layer of images. A scenic forest background explodes into a flurry of tiny leaves. Mountains on the horizon shatter into geometric fractals. Ghostly shipwrecks emerge from a sea of ripples in a blazing sunset. Beams of light shining through tree branches
dissipate into flocks of doves. The results are mesmerizing. Like a double exposure from two different dimensions or time periods. Russell is a multifaceted creator who never fails to astound audiences whether he wields a pen, a camera, a scalpel, or a paintbrush.
The David B. Smith Gallery is a perfect place to see the latest artists, exhibitions, and trends. It's coveted gallery space features both emerging and internationally recognized artists. The gallery sits at 1543 A Wazee Street, hours are Wednesday through Friday 12-6 pm, Saturday 12-5pm. Christopher Russell's series is showing through November 10th and is a must-see.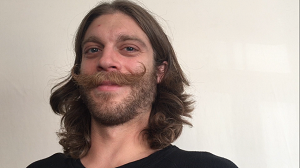 Jared is a local content contributor and aspiring author. He was fortunate enough to grow up in Golden, Colorado and graduated from MSU Denver. While an insatiable love of travel lures him all over the world, his roots remain firmly planted here. He enjoys writing short stories, poetry, children's books, societal observations, and everything else. A nature enthusiast and sunshine connoisseur, Jared is perfectly at home on any mountaintop or patio. He frequents art galleries and concerts, poetry readings and breweries, museums and bookstores. When he isn't making neighbors cringe at his musical attempts he can be found on a snowboard or sailboat, depending on the day. A perpetual adventurer and eternal patron of the road less traveled.