CU Buffs – Keeping Their Resolutions
For most of us, this is the time of year that our New Year's resolutions tend to fall apart.  With the Colorado Buffaloes 68-59 victory over UCLA last Saturday night, it's apparent that Tad Boyle and the Buffs have much greater self-control.  George King scored 26 points, grabbed 10 boards, and the Buffaloes shot a red-hot 11 of 22 from three-point range for their first win ever at Pauley Pavilion.
The victory over the first place Bruins was their third win in four games in what has been a remarkable start to the new year.  With a Jan. 4th overtime win against 4th ranked Arizona State, followed by a three-point upset of 14th ranked Arizona two days later, it is clear that whatever the Buffaloes have been focused on to better themselves, has been working.
At 11-7 (3-3 in the Pac-12) combined with the early season struggles of other Pac-12 teams it's fair to curb one's enthusiasm, especially considering the Buffaloes road woes.  But I think with big-time play comes big-time nicknames.  And in the spirit of former Buff, Chauncey (Mr. Big Shot) Billups, let's try a few on for size while the team is still rolling.
George King, who I will call "King George." Kind of obvious and to be honest, there were as many as six British King George's that once ruled the land and I'm sure all of them had a morbid history that you don't want to be associated with, but after his performance against UCLA and 18 points and 9 rebounds over ASU, King hasn't inherited the throne like the others. He's earned it.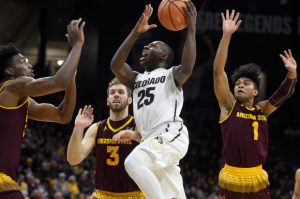 McKinley Wright IV – "Mount McKinley" makes sense as the freshman point-guard climbs the Buffaloes all-time leader board in points, steals, and assists.  But I like "If loving McKinley is wrong, I don't wanna be Wright."  Yeah, it's lengthy.  But after 19 points and 5 assists versus ASU, and 16 points and 10 assists over the Wildcats, you can trust the ball in his hands when the moment is big.
Walton, Collier, and Schwartz – Together I call them "The Law Firm."  Against Arizona Dallas Walton poured in 15 points, Dominique Collier added 14, and D'Shawn Schwartz threw in 10 more.  I'm not sure if any of them are Pre-Law at CU, but they sure look good on the court and bring a strong defense.
I thought about adding Namon Wright and pairing him with McKinley for a "Wright Brothers" angle, or describing the way Tyler Bey runs up and down the court as my favorite episode of "Bey-Watch," but I'll wait to see how the season progresses.  Until then, here is hoping that Colorado keeps with its New Year's resolutions and the wins keep coming.
Images via Pac12, DenverPost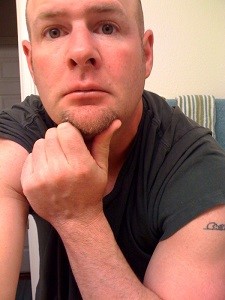 Alan Tapley is an educator, author, and blogger who has lived just outside of Boulder for the last twenty years.  His published work includes two novels, two children's books, a series of cartoons in the Minneapolis Star-Tribune, and multiple sports related articles. His love for family and the state of Colorado is only matched by one thing, his passion for sports.  The first baseball game he ever attended was at Wrigley Field, before there were lights.  At the final Bronco game at the old Mile High, he allegedly cut out a piece of his seat in the South stands.  But regardless of being here for the Avalanche's last Stanley Cup, the Rockies only World Series appearance, and all the Broncos' Super Bowl Victories, his wife never fails to remind him that he wasn't at the University of Colorado in 1990, like she was.  The year the Buffs football team won the National Championship.