Colorado Woman Becomes First to Swim English Channel 4 Times in a Row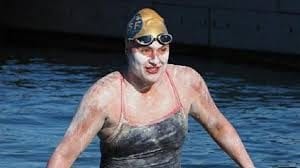 Sarah Thomas, a 37-year-old breast cancer survivor, has accomplished a first by swimming the English Channel four times in a row, a feat that took 54 hours to accomplish.
The swim was due to be about 80 miles, but because of strong tides, Thomas ended up swimming closer to 130 miles.
Thomas was cheered on by the crowd as she finished, and she was given champagne and chocolate to celebrate. She said that she felt slightly sick after spending so much time in the water, but other than that she was fine. Thomas said, "I just can't believe we did it. I'm really just pretty numb. There was a lot of people on the beach to meet me and wish me well and it was really nice of them, but I feel just mostly stunned."
Elaine Howeley, a member of Thomas's team, described her friend's achievement as "unfathomable, super human, just extraordinary. She has pushed out the boundaries of the sport of marathon swimming," she added.
This is not the first time the super woman has accomplished such an amazing athletic skill–in 2016, Thomas swam 82 miles across Lake Powell in 56 hours.
In August 2017, she swam 104.6 miles in Lake Champlain on the US/Canada border, but was later was diagnosed with cancer.
Thomas dedicated this Channel swim to all breast cancer survivors.
Thomas stated, "Every length had something that was really hard about it. Coming back from France the last time was definitely hard. It took forever and the current pushed me all over. I got stung in the face by a jellyfish. [The water] wasn't as cold as I thought it might be but it was still chilly."