Climbing a Colorado 14er for the First Time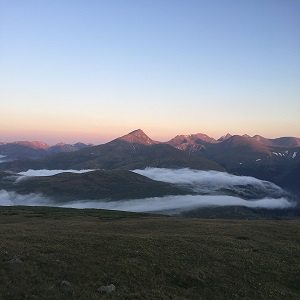 It is that time of year when thousands of people start making their way up one or more of the 14ers Colorado offers. I thought I would share my first 14er experience up Mount Bierstadt.
We selected Mount Bierstadt for two reasons. First, it is one of the closest 14ers to Denver. Second, it is a beginner-friendly 14er. Notice I did not say easy. That is because 14ers, even class 1 or 2, are not easy. In order to safely summit, you will need to be mentally and physically prepared. I am a runner and consider myself fit, but there is no way of knowing how your body will handle the altitude and the climb. That is why it is a good idea to start with an "easier" one and work your way up.
The preparation starts long before the actual day of the climb. We monitored the weather to ensure safe conditions on the day we wanted to climb. The weather changes rapidly so if conditions were not good, we were prepared to call off our climb. It is a bummer when this happens; but the good news is, the mountain isn't going anywhere. Along with checking the weather, we had checklists of items to bring on the day of the climb. These items included: rain gear, fleece, layers, hats, gloves, head lamps, first aid kit, food, and lots of water. If you do not have the appropriate clothes, go to the store and buy them. Finally, in terms of preparation, getting in shape is essential. We did local hikes and high incline walks on the treadmill to make sure our bodies were ready.
After all our preparation, the day to climb finally came. Our goal was to get off the mountain before the afternoon thunder storms rolled in, so we left the house by 2:00 am. When we got to Bierstadt it was still dark, so the first part of our climb involved head lamps. It is also important to note, this is a very popular hike. Lots of other groups started at the same time us. So, we got to know the people around us.
As we climbed, the sun started to rise over the mountains. It was gorgeous as the fog cleared and the sun brightened the valley. The climb up was pretty slow. To stay hydrated and energized, we took plenty of food and water breaks. We also pulled over frequently to put on and take off layers. And sometimes it was nice to stop, look around, and catch our breath.
This seems like an appropriate time to talk about potty breaks. As you can imagine, you will not find a toilet on the climb up and when you get above tree line there will be no trees to pee behind. The good news is, there are boulders to give you a little privacy. But odds are, someone will see you pee and you will see someone else pee. That is just nature. It is important to bring a leak proof bag to throw any toilet paper. Remember Leave No Trace.
To get to the peak, we had to scale some rocks. This can be a little tricky, especially considering the weather at the summit is not always as good as the weather at the base. Our summit day was bitter cold and windy. Because of this, we didn't spend a long time at the top. We took in the views, took pictures, and headed back down.
Our decent was much quicker than our ascent. The hike took us about 4.5 hours' round trip. But be prepared to spend anywhere between 4-8 hours hiking depending on the mountain and the route you choose. Exhaustion set it at the car. It was an amazing experience and I recommend you try it. However, this is not a normal hike so you need to be prepared. Below are my tips and resources for you to use:
Safety Tips
Layers- bring them because the weather can turn very quickly. Layers are also used for protection from the sun. And don't forget about layers for your furry friends!
Water and food- you will burn a lot of energy hiking so make sure you have plenty of food and water for you and your dog (if you bring one).
Get an early start- If you start too late, you are likely to encounter rougher weather.
Altitude sickness is real- know the signs and bring a first aid kit.
Resources
Enjoy your first Colorado 14er!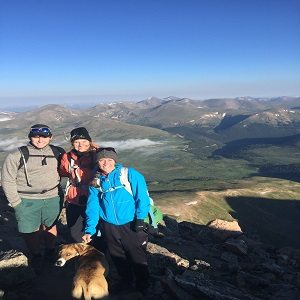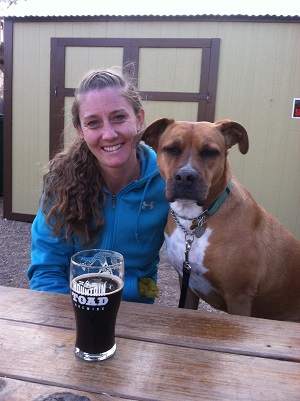 Christie is an outdoor enthusiast from Golden, Co that LOVES doing everything outside. She has an MBA with an emphasis in Sustainability from Brandeis University and a passion for helping others, which she turned into a consulting career. Whether you are looking for social media, marketing, or business strategy, Christie will help grow your business. In her spare time, she enjoys the outdoors and sharing her stories with others through blogs. Christie loves Colorado and hopes her stories help others see Colorado in a way they have never experienced before.